New WSU Course Set to Open
By: Jeff Shelley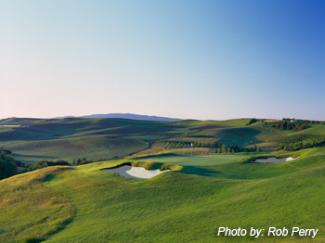 Photo by: Rob Perry
As Washington State University prepares to open its new golf course, in one sense the school will surpass its sister institution in Seattle, the University of Washington. UW may have a bigger student body and receive more federal grants, but it doesn't have a top-flight golf course on campus.
Palouse Ridge Golf Club, an intriguing and very attractive design by Tacoma-based architect John Harbottle, is set for an official grand opening in September. The new layout replaces a former perfunctory, though popular, nine-hole track that had become obsolete.
In addition to the 7,305-yard course, the $12.3 million golf complex on the southeastern edge of campus involves a 7,000-square-foot clubhouse and a huge driving range and practice facility. WSU has one of the West's premier turf-management programs, and students will now have a living "laboratory" at which to learn the ropes of golf course maintenance.
Besides serving as home for the Cougar men's and women's golf teams, both led by Texas-born head coach Walt Williams, Palouse Ridge was built to host Pac-10 and NCAA championships. Williams is an unabashed fan of the course crafted by Harbottle. "Even with a substandard nine-holer and no place to practice, we've had a phenomenal program. The new course is already helping us quite a bit in the recruitment of top prospects to the school."
Williams believes the new track "is big enough and tough enough from the back tees to give the top players in the country a tussle. It certainly is capable of hosting a national championship." Williams is also thrilled to finally have a home field advantage. "Every tournament we've played over the past 10 years during my tenure as coach has been contested at someone else's home course. Not having a home course on which to host events has long been a deficiency for us. Starting this fall, it'll be nice to have a home course - and a home course advantage."

The course will be put to the test sooner rather than later, as it's set to host the 2012 and 2014 women's and men's Pac-10 championships. The Cougars also plan to bid for 2010 NCAA women's regional and NCAA championships in 2014 or 2015, and perhaps a future USGA Men's Mid-Amateur.

I toured the layout with Harbottle before playing it during a media excursion. Harbottle is a UW grad who jokingly said, "WSU loves Huskies working for them." He's been one of the nation's busiest architects in recent years, having crafted such high-profile tracks as Timilick Tahoe (a co-design with Johnny Miller) in Truckee, Calif.; Juniper Golf Club in Redmond, Ore.; Stevinson Ranch in California; and the much-heralded Olympic Course at Gold Mountain in Bremerton, Wash. Nearing his 50th birthday, the former Pete Dye protégé has also reinvigorated such classics as The Country Club at Salt Lake; Hillcrest Country Club in Los Angeles; and Marin Country Club in Novato, Calif.

His task for Palouse Ridge was pretty clear as WSU officials sought for the course to be: a community asset; serve as an education, research and teaching facility; be capable of hosting major amateur competitions; and become a cornerstone for economic development in the region. Future plans include a hotel near the course.

He says the course, built by Oliphant Golf of Wisconsin, "exceeded my expectations. And as far as the school's concerned, they're very, very happy."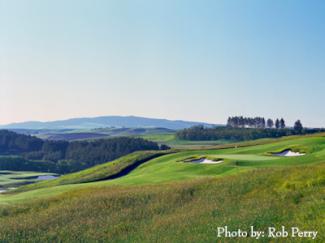 A lifelong fan of Alister MacKenzie, Harbottle added, "There's nothing penal about the golf course. Pick the right tees and you can have a lot of fun."

Another MacKenzie touch are the course's jagged-edged, tall grass-rimmed bunkers. As an ode to the former camouflage specialist in the British army, Harbottle's furry, furrowed creatures are quite visible from the tees. But when you walk off a green and look back down the fairway, nary one of the white-sand traps can be seen. Looks like MacKenzie has influenced yet another generation of golf course architects.

For the most part, what you see is what you get at Palouse Ridge. Though there are only 100 acres of irrigated turf, the layout sprawls over 315 acres, winding over and around the hills and dales endemic in the fabled Palouse, a stark but beautiful part of the world renowned for its fertile soil and endless miles of wheat fields. Many elevated tees give golfers wonderful vistas of these premier agricultural climes, with farmsteads, cattle and horse ranches within eyeshot. (Many of the neighboring operations are working "laboratories" for WSU students and researchers. The state's largest land-grant university, the school's original name was Washington Agricultural College and School of Science.)

Approximately 800,000 cubic yards were moved during construction, with the shaping handled, for the most part, by Matt Flint, who assisted Dye when he built the Ocean Course at Kiawah Island. The greens were built with moderate slopes so that superintendent Todd Lupkes, a WSU grad, can make them as fast as necessary for tournament play. Ponds, streams and canals wind in and through the course, while tall fescue borders most fairways. One of the unique aspects of Harbottle's design is that on the back nine there are three par-3s, three par-4s and three par-5s, with two of the three-shotters at Nos. 17 and 18.

During construction, a native sage area called the Palouse Prairie Strip - with some of the low-growing trees hundreds of years old - was fenced in near the fifth hole. Also preserved was Round Top, a historic site on the back nine with a 360-degree view of the valley that has been enjoyed by generations of Pullman residents.
Also, just west of the eighth hole, a tough 447-yard par-4 by the way, is WSU's Bear Research Center, which when I visited had 12 grizzly bears in residence. The giant creatures are brought to Pullman from various points around the West when they've been injured or proven dangerous to people.

The university hired CourseCo of Petaluma, Calif., to handle all the operations, including maintenance of the golfing grounds. Led by Tom Isaak and John Telischak, the company - and the 14 courses it manages - is renowned for its environmental sensitivity and work with local communities. Palouse Ridge, its first operation in the Pacific Northwest, is on track for recognition as an Audubon Signature facility. Overseeing the golf operations is Bruce Perisho, a native of Wenatchee, Wash., who previous worked at courses in Colorado and in the Northwest.

According to Mel Taylor, WSU's executive director of real estate and external affairs, eying the course's role as an environmental model was crucial to the project's mission. "Perhaps our most important initiative was to ensure that the golf course blended into the environment. We didn't want palm trees in Pullman. We wanted the golf course to be part of the Palouse."
Taylor added: "Harbottle hit the sweet spot (with his design). He immediately grasped the fact that the new course and practice facility had implications for the economy, the environment and the university."

The course has endured some controversy. Led by a WSU staffer, Scotty Cornelius, water-conservation groups have challenged the school's water rights following a decision by a King County Superior Court judge - on the other side of the state in Seattle - that struck down parts of the Municipal Water Law, the regulation governing water usage in Washington. That ruling is now being appealed.

The Palouse Water Conservation Network, the Palouse Group Sierra Club and Cornelius filed suit in July 2008 against WSU, the Washington Department of Ecology and the state's Pollution Control Hearings Board. The suit alleges that WSU, when it consolidated seven wells to five in 2006 - which actually lowered its water usage from 630 million gallons in 2001 to approximately 500 million gallons in 2007, including irrigation of the new golf course - gives the school the right to greatly increase the amount of water it can pump.
In fact, CourseCo and conservation efforts by the school, led by the head of WSU's Facility Department, Rob Corcoran, will see the overall usage by the school - including the new and considerably larger course - actually use less water than with the former nine-hole layout.

For its part, WSU plans to fight the groups through legal channels. "We do not believe that the recent court ruling in King County will have any impact on the consolidation of our water rights, but that apparently will be an issue that will be answered through litigation," said James Tinney, a WSU spokesman.

The key issue here is that Palouse Ridge boasts one of the nation's most sophisticated irrigation systems, one with advanced technology that will achieve 90% efficiency (compared to 30% for most home watering systems). WSU's $2 million system utilizes 30 computerized field monitors networked to a main computer, while an on-site satellite weather station linked to 2,000 sprinkler heads allows precise application of water, factoring in such variables as evaporation, precipitation and microclimates to conserve usage. Officials estimate that the course will need about 55 million gallons of water annually, an amazingly low amount considering other courses in such arid zones use upwards of 2 million gallons a day - with less sophisticated systems - during the dog days of summer.

Regardless of the efforts of Cornelius and his fellow killjoys, Washington State University students, faculty and alumni have a real asset on their hands with Palouse Ridge Golf Club.
No less a figurehead than WSU president Dr. Elson S. Floyd concurs. "Palouse Ridge Golf Club will be an outstanding amenity for our students, faculty and staff as well as for returning alumni and other visitors to the Pullman area. At Washington State University, we pride ourselves on being world-class, and we are truly delighted to have a golf course that lives up to that standard."

For more information or a tee time, call 509/335-4342 or visit www.palouseridge.com.