New York Upsets Philly, Defends Writer Cup Title at Forsgate
With a stirring late rally New York's golf writing team, the Loveable Lugnuts, defeated the Fighting Donkeys of Philadelphia, successfully defending their title and narrowing the all-time series deficit to 4-2 Philly. Golf architect Doug Smith and blogger Barry Solomon led New York, while Long Island radio and TV icon C.J. Papa, African-American Golf Magazine's Bill Fullard, writer and broadcaster Nick Nicholas and perennial star player Dan Boerger also scored points in the NYC victory, which was triggered by both solid play late, and a stunning collapse on 18 by numerous Philly contenders.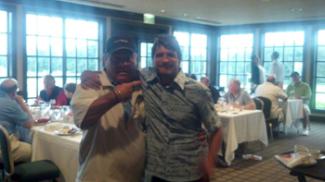 Philly Captain Mike Kern & NYC Vice Captain Jay Flemma
"Truly great teams do two things: they defeat a team that was better then them, and they come from behind in the last second to win," explained NYC vice-captain Jay Flemma, thrust into the captaincy this year by the absence of captain Hank Gola of the Daily News. "This team did both, and I couldn't be more proud of them. The Donkeys were mule-kicking us early, but the guys hung close, scraping and clawing, and when the door opened on 18, they came through in the clutch. They showed everyone the heart and guts of a true New York City sports champion today."

Medalist Doug Smith was, as usual, the heart and soul of the team, gutting out his gritty round after a ghastly start. "I was shanking 7-irons on the range and totally lost out there," he said. "I started double-double and thought I was in for one of those days."

But then Smith righted the ship, playing even-par golf over the difficult Forsgate back nine to lead the team. Both his par and C.J. Papa's miraculous bogey save helped surge NYC into the lead when Philly player after a Philly player took huge numbers at 17, the gargantuan, yet iconic Biarritz hole, and the long 18th with it's uphill carry to the green clinging precipitously to a ledge-top.
"The drive on 18 was the defining moment of the round for me," stated Papa. "I was leaking oil coming home, but I knew were mounting a comeback. I breathed such a sigh of relief after the tee shot, I hit the next one over the green!"

That's normally death - bushes, shrubs, trees, flower beds and the clubhouse. But Papa's sublime short game got him up and down from the deck of that sinking ship and scored a critical point for New York.

Then the rallied continued as both Boerger and Fullard came home with solid finishes, also scoring for NYC. And when Barry Solomon put the finishing touches on a gritty, gutsy, workmanlike round over the Banks Course - showing all its teeth and fury, New York's run to victory was complete.

"Doug and Dan are the superstars of the team, and C.J. and Bill can always be counted on for leading with their golf clubs, but the unsung hero of the day was Barry," Flemma confided. "First he made some impossible recoveries. The 60-foot putt he made over the hog's back at 11 was just ludicrous, it was silly, yet electrifying at once. But then he hung so tight in the clutch over the crucible of those finishing holes . . . you gotta love the guy's heart."
Even Philly captain Mike Kern, both graceful and classy in defeat, was impressed. "Those guys deserved it, our team played great today, but they went out and took it, and we tip our caps to them. It just shows what a wonderful event this is," Kern said, good-naturedly mugging for the cameras afterwards with Flemma.

"Let me tell you something about the Donks," responded Flemma. "Philly is a great team. They totally reflect the grit and determination all their sports teams possess, and they will be back with a vengeance next year. They have pride and talent and a great motivator in Kern - a class act all the way - and they will come out swinging like Philly guys always do. This is a great rivalry, a phenomenal tournament, and the best fun we have all year. It's our Ryder Cup!"

"It is our Ryder Cup!" echoed player after player on both teams proudly and gratefully, the teams then tucking into a world-class steak and lobster dinner, celebrating the incomparable camaraderie of golf over one of the game's most historic and hallowed grounds. The mighty, majestic Banks course at Forsgate, historically important as the last course of the Macdonald-Raynor-Banks Bloodline, was the real winner. Though the set-up was made slightly easier this year in terms of length (a seemingly short 6,400 yards), the course ate up the golfers like the hungry Tyrannosaur it is.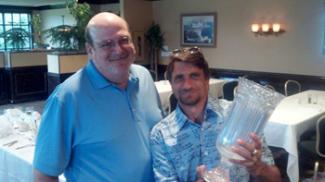 Jay Flemma Shares Trophy with
the Clutch Barry Solomon
"That's the hardest and longest 6,400-yard course I've ever played," gasped player after player. In particular the par-3s, normally breather holes in a round, are among the hardest at Forsgate, requiring the golfer to be on high alert for a double bogey or worse. While all four are templates typical of Bloodline courses - Short, Eden, Reverse Redan and Biarritz, all are longer at Forsgate than at other Bloodline courses, as if Bank knew this was the last of that precious heritage and wanted to throw everything plus the kitchen sink at the golfer. The Biarritz stretches to a behemoth 272 yards, all carry and narrow as well, while both the Eden (No. 3) and the Redan (7) are also all-carry and guarded by bunkers as deep as a chasm.

"It' the hardest Eden hole I've ever played," affirmed veteran golf design pundit Bill "Redanman" Vostinek. "All uphill, all carry and into the wind, I hit a full 3-wood today." That's a lot of club for a 180-yard hole.

"It is the toughest Eden hole I've ever seen," agreed Flemma, holding the trophy so tightly you'd think it would leap out of his hands and run down the fairway.

So as the sun sets over venerable Forsgate, New York can bask in the glow of an upset victory and promising future. Gola and Cannizzaro should return next year. Flemma, plagued this year by a nagging rib injury hopes to be 100 percent for the next contest and, with the hope of adding AWITP's Bruce Moulton and Golf Digest's Max Adler and Ashley Mayo, New York may narrow the "on-paper" gap between their Loveable Lugnuts and the Fighting Donkeys of Philadelphia. Adler is a flat-out stud who can shoot 69 while sleepwalking. Mayo breathes fire with her golf clubs, slinging it with the best of the female amateurs, while Moulton is unflappable in the clutch. They'll add needed depth to the line-up.
Meanwhile Philly will regroup and come out swinging next year as well.

"I miss the champagne and haze of the victory smoke," said one Philly player. "We'll have that motivating us for the next 12 months . . . that and the memory of what a great event this is. The biggest congratulations go to Forsgate. This special place makes time capsule moments all golf should be proud of."