New York's Ulster County Holds Some Hidden Gems
By: John Torsiello
You might not think of Ulster County, N.Y. as a golfing getaway, but this area of the Northern Catskills is full of great daily-fee golf and a heck of a lot of things to do before or after you play.

The pace is slower, simpler, and the scenery is splendid, allowing the visitor to unwind, whether that means touring a local museum, walking a woodland path, dining at a fine restaurant, shopping in the area's many antique stores or browsing through eclectic art galleries and cool pottery shops.

Once you've managed to chill out a bit from your busy lifestyle and career at one of the area's hotels or bed and breakfast establishments, there are plenty of outdoor pursuits to tackle, like hang-gliding, boating, sailing, fishing, rock climbing and, of course, great golf.
Rick Remsnyder, the affable Ulster County Tourism Director and a golf journalist, told me that the golf is indeed good in Ulster County. "Probably the best known are the resort courses," he said.

I agree.

One of the most storied is the 432-room Nevele Grande Resort and Country Club in Ellenville, nestled on 1,000 acres in a valley and bordered by the Shawangunk Mountain range. It's been rated a four-star course by Golf Digest and has hosted the rich and famous as well as some of the best professionals in the world. The track is not overly long, but a number of doglegs and water make it a shotmaker's delight.

The Nevele Grande's course is renowned for its conditioning and views of the rolling hills of the area. It was renovated during the 1980s with noted course architect Tom Fazio laying a hand to the remake, although he is not credited with the redesign.

The first hole on the Red Course is a tough way to open a round. The hole plays 415 yards from the tips and is a par-4 that doglegs right. Cut off as much of the corner as you dare, but woods are on the right and there's water on the left all the way from tee to green.
Numbers five and six, both par-4s, have water protecting the approaches to their greens, and the ninth is a very good, 366-yard dogleg left par-4 that again is protected by water left as well as nasty fairway bunkers to the right of the fairway landing area.

The resort's White Course is an eclectic mix of holes, from the driveable par-4 fourth and sixth holes to beefy par-3s, the second and eighth, both of which play 214 yards from the tips.

The resort has eight outdoor and five indoor tennis courts, indoor and outdoor pools, a state-of-the-art fitness center, basketball courts, softball, bocci and shuffleboard for the non-golfers or the multi-sport athletes among us.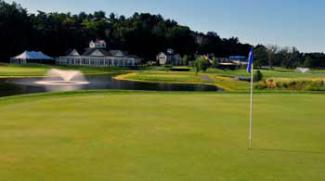 Lazy Swan Golf Course
Lazy Swan Golf and Country Club Village in Saugerties is one of the prettiest layouts in the area. Some of the holes pass through the woods, others are open in nature, and there is enough water to keep things real interesting.

I thought the seventh hole here, a 485-yard par-5, to be one of the prettiest holes in Ulster County. Hitting from an elevated tee to a narrow fairway about 100 feet below, you face a daunting challenge in trying to avoid a lateral hazard left and a pond right of the fairway. Land safely in the fairway on this extreme dogleg right and you can hit the green in two. A bowl-shaped green is protected by deep greenside bunkers left and right, however. Par is a good score and I found it can best be attained by a conservative, three-shot approach.
The Fallsview Golf Course at Honor's Haven Resort and Spa in Ellenville, designed by Robert Trent Jones, Sr., is probably the best nine holes in Ulster County, Remsnyder told me. "It's a tremendous golf course and was used along with nine holes from the current Nevele Grande course for a Cleveland Tour event a few years back. The yardage from the back tees is in the area of 3,450 yards and it's a typical Trent Jones design, well bunkered, with nice conditions."

Certainly one of the toughest holes in Ulster County is the eighth at Fallsview, a 417-yard par-4. It plays uphill, which means you'll have to tack on another 20 yards or so to the total yardage. Though it is not defended by any bunkers or hazards, I found it difficult because your tee shot must land in the left side of the fairway or the second shot will be blocked out by tall pines. Another severe challenge is the steeply-sloped back-to-front green, which, when lightning fast, is like putting on Augusta National's treacherous putting surfaces.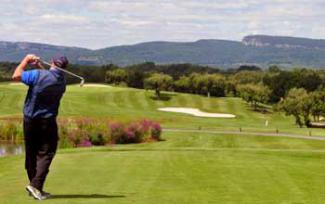 Apple Greens Golf Course
Apple Greens Golf Course in Highland has 27 holes cut right through apple orchards. The locals were correct when they told me Apple Greens' 10th on the Highland Nine, a 310-yard, par-4, is a great risk-reward hole. Take the chance and hit your tee shot as close as you can in front of a pond or try and carry it 230 to 240 yards over the water. I don't have the latter shot so laying up was a must. Even if you do lay up, all you have is a short pitch shot to a green that is shaped like, what else, an apple on the course's signature hole.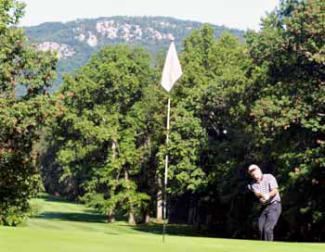 New Paltz Golf Course
Although it's only nine holes, you have to throw the course at the legendary Mohonk Mountain House Resort in New Paltz into the mix for must-plays in Ulster County. The resort once offered a full 18 holes but nine have been abandoned. Still, the scenery, conditioning and challenge of the remaining nine, called the Mohonk Golf Course, makes it a nice way to begin or end a day of relaxation and fun at this five-star resort.

Stone Dock Golf Club in High Falls is another solid nine-hole layout that plays 3,325 yards from the tips. The track's signature hole is the short, 310-yard par-4 fourth that demands a tee shot across a ravine with the Rondout River behind the green.

The nine-hole Shawangunk Country Club was opened in 1918 and is a fun test of golf for players of all abilities. The 2,760-yard track plays to a par of 34 and has a slope rating of 122, which tells you a little something about its challenge despite its short overall yardage.

New Paltz Golf Course is another good nine-hole layout that plays almost 3,500 yards from the tips. It's set against the backdrop of the Shawangunk Mountains and its fifth fairway borders the Wallkill River.

I found the first hole at New Paltz, a 555-yard, par-5, as tough an opening hole as you will encounter anywhere. It's a gentle dogleg to the left and a well-positioned drive down the right-center of the fairway leaves an approach shot to a relatively flat green. Trees line both sides of the fairway, however, so a precise drive is necessary. If you hit a drive down the left side, there is no opportunity to go for the green. It's a true three-shot hole.
For further information about golf in Ulster County, call 845-340-3568 or visit www.ulstertourism.info.
John Torsiello is an editor/writer living in Connecticut. He has written extensively about all aspects of the golf industry for a number of national and regional publications. He is a regular contributor to "Golf Course Industry," "Lawn and Landscape," "Golfing" and "Fairway Living" magazines as well as various online publications. He has strong, ongoing relationships with industry professionals and has worked closely with course owners, architects, developers, course superintendents and general managers around the country. He has won a number of awards for his writing, including first place from the Turf and Ornamental Communicators Association for a piece that appeared in "Golf Course Industry" magazine.