Newport Dunes Opens to Rave Reviews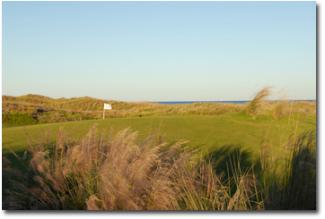 Though the new Arnold Palmer Design golf course in Port Aransas, Texas, Newport Dunes Golf Club in Port Aransas, Texas, opened this autumn, the Arnold Palmer-designed course is already being recognized as one of the few true links courses in the United States. It has no trees and lots of wind and roll, making it a must-play destination for links lovers.
"I always wanted to design a golf course in the traditional style, and I am excited to have had the opportunity with Newport Dunes. It is a hidden gem that will draw the attention of golfers throughout the region and across the country," Palmer said of the latest work by his Arnold Palmer Design Company, whose headquarters are based at Palmer's Bay Hill Club & Lodge in Orlando, Fla.
Palmer's firm was founded in 1972 and has designed approximately 300 golf courses around the world. Newport Dunes is located on historic Mustang Island in the town of Port Aransas, a location along the Gulf of Mexico noted - in addition to golf - for its deep-sea fishing, bird-watching, beach, ocean and leisure activities.
The par-71 golf course stretches 6,985 yards from the tips and plays through Texas coast sand dunes. It features warm gulf breezes, fast and rolling greens, and deep stacked and walled bunkers.
"The signature holes are Nos. 13, 14, and 15," Palmer said. "These holes are located along the Gulf of Mexico and are routed through natural sand dunes. Each of the holes offers spectacular views of the beach and the ocean. The course is designed in the true links style with pot bunkers that are very similar to the classic courses such as St. Andrews.
"The courses are very windy with native dunes grasses, which contribute to the Scottish feel," Palmer continued. "The differences between Scotland and this course are that the fairways are wider here and the entire course is planted with paspalum, mowed at fairway height with no rough. We feel this will help the high handicap players and in general make the course enjoyable for golfers of all skill levels."
For more information or a tee time, visit http://www.newportdunesgolf.com/layout9.asp?id=190&page=4467.