Nicaraguan Golf Development with an American Twist
The first nine holes of Montecristo Golf Club - a Mike Young design - are scheduled to open in mid-2013 as a featured amenity of Montecristo Lifestyle Estates in Nicaragua. The Central American oceanfront community and residential resort sits on 2,000 acres an hour west of Managua's international airport.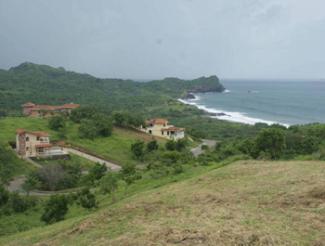 Views from Higher Point at Montecristo
The project is backed by a former Long Island doctor and her husband, who descends from generations of Nicaraguan leaders. The couple has returned to his homeland where they are rediscovering the value of life.

In the mid-1990s, the husband-and-wife team of Lori and Jorge Estrada was living in a Chicago suburb. A native New Yorker, Lori was working as an orthopedic specialist. Jorge - a Nicaraguan whose ancestors include three of the Central American country's former presidents - specialized in hospital management and administration, and later ran a real estate business. Together, the couple was raising three young children.

"Two words," said Lori Estrada to describe their former day-to-day routine, "busy and hectic."

Seeking a better quality of life, the Estradas moved to Nicaragua in 1997 when their children were 14, 7 and 5. Their initial project involved using their medical expertise to open Nicaragua's first orthopedic facility. Later, they developed a number of community outreach programs.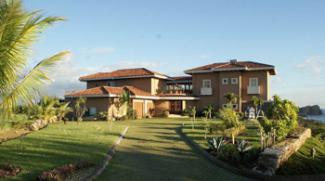 One of the Upscale Homes at Montecristo
Now, the Estradas have turned their sights toward a piece of Pacific Ocean coastline. In this setting, the Estradas are not simply developing a world-class residential resort. They are creating their own Shangri-La: A tranquil and inviting beachfront community in which to live and raise family.

They named the community Montecristo Lifestyle Estates or, simply, "Montecristo." Here, a lifestyle destination is unfolding on 2,000 acres of Nicaragua's most spectacular coastline. Montecristo offers residents and guests sparkling blue seas, long horizons, empty beaches, crashing surf and hidden coves.

Yet what truly sets Montecristo apart is the individual touch provided by Lori and Jorge, who personally meet every guest and provide guided tours. And, through the purchase process to building to move-in, the Estradas are on-site assisting property owners to make their transition as easy as possible. In addition, they tour the construction site regularly and add personal touches along the way, helping give each home its own personality.

"We pay attention to all the little details that make their home special - after all, they might be my neighbors," said Lori. "We are always there for them and easy to find. This is our home and we are committed to this development on a very personal level."
Vicki and Larry Davis came to Montecristo from Quincy, Ill., where Larry works as a family practice physician and Vicki as a teacher. Looking ahead to retirement, the Davis family sought a slower pace and better quality of life when they first started searching for property along the Pacific Coast. "It was all very nice," said Larry Davis, "but the beauty at Montecristo is incredible and we fell in love at first sight.

"Lori and Jorge had a huge impact on us from the very beginning," Larry added. "They are wonderful people - trustworthy, very passionate about their country. They give us the feeling that we are part of a huge vision, a greater plan - a community, good relationships, good values - and a place where we would have opportunities to give back. It's a feeling that you get when you are here."

The Davis family constructed their home in Cumbres, one of Montecristo's six neighborhoods that have been designed to suit every type of lifestyle - from casitas, town homes and villas on the beach to spacious estate lots overlooking the golf course. The newest community, Laguna Del Mar, has broken ground and new golf cottages and beach casitas are under construction.

With a vision and commitment to developing a top oceanfront community in Central America, the Estradas insist upon the highest standard for even the smallest detail. Many of the concepts come from their own experiences and ideas, and as the owners of Montecristo they are free to handle financing on a very personal level and construct agreements that work well for everyone.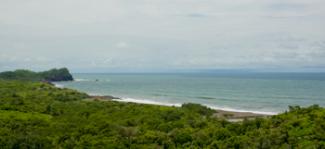 View from a Home Site in Cumbres Neighborhood
"We have tried to think of something for everyone, and in a sense we have designed it for us, to include what we would like to see as services, amenities, concepts," said Lori Estrada. "That's why we are contracting the experts to design it for us."

The Montecristo team is comprised of engineers, topographers, architects, builders and land planners from both the United States and Nicaragua, each selected for their area of expertise. One of the first hires was Athens, Ga.-based golf architect Young, who has designed in the Oceanica Golf Club at Montecristo Beach one of Nicaragua's only upscale, resort-quality golf courses.

Playing along a point where the Rio Soledad meets the Pacific Ocean, the 7,060-yard, par-71 Montecristo Golf Club takes maximum advantage of a site with more than 300 feet of elevation change. The front nine, scheduled to open in mid-2013, occupies a relatively flat plain, with the river to the south and the ocean to the west.

The back nine climbs into the mountains providing spectacular views of the ocean, river and interior in all directions. And while the panoramas of the water are superb, the inland vistas - looking across mountain ridges and sprawling valleys - are equally dramatic. Add in the wind, which is certain to a factor, and Montecristo Golf Club promises to be as challenging as it is beautiful.

"The golf course is designed on a truly incredible piece of land," said Young, architect of more than 40 courses in five different countries, and who is working with his son, Ashley, on the Montecristo project. "Building a golf course on such dramatic property and using skilled American labor plus local Nicaraguan workers means things don't always evolve quite as quickly as you would like, but in the long run the golf course is going to not only introduce a new way of life to this culture but also offer numerous opportunities to people here that don't necessarily exist today."
Montecristo's amenities are also special. The Estradas share a passion for horses and own several Andalusian purebreds that will be corralled at Montecristo's planned equestrian center, where dressage and training clinics will be offered. In addition, miles of riding trails weaving in and out of the community are designed as an alternative, environmentally friendly form of transport. Other community activities run from water sports and tennis to art and salsa lessons.

Montecristo certainly has allure. "Montecristo is a magical environment," said Vicki Davis. "It's a feeling that you get when you are there. As beautiful homes begin to decorate the hills, there is still a very natural and pure atmosphere."

For more information, visit www.MontecristoLife.com.