Nicklaus Course Planned for Mountains of Western Carolina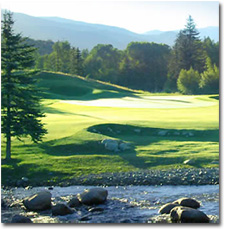 With thousands of acres atop the mountains of Western North Carolina in one of the nation's hottest real estate markets, Devinshire Land Development Company decided to hire one of golf's most prominent architects.

"We knew that even with our world-class luxury resort and equestrian amenities, we would need our golf offering to be at the game's highest level," said Devin McCarthy, developer of the Queens Gap project. "And to get to that level, only one name could get us there: Jack Nicklaus."

With a wide variety of amenities, Queens Gap, a luxury residential resort in Rutherfordton, N.C., will also boast a Jack Nicklaus Signature Golf Course.

"Before we ever put pencil to paper or shovel to dirt, we know the canvas exists for something truly special at Queens Gap," Nicklaus said. "The mountainous terrain and naturally occurring elements, like large boulders and mountain streams, provide us a challenging, interesting and unique opportunity. With the impressive and dramatic long mountain views all along the course, the vistas at Queens Gap will be spectacular."
Every Jack Nicklaus Signature Golf Course features extensive personal involvement by Jack Nicklaus, with numerous visits to oversee the design process – from the first walks of the raw property to opening day.
"What goes into creating a project of this magnitude is the collaborative effort of a dedicated team, but what eventually ends up on top of that piece of ground will not only have my name on it, but a lot of me in it," Nicklaus added. "When I am given a piece of property and am asked to design a golf course, I take my most important cues from the person who hires me. I want to create a golf course that will fulfill the owner's needs, desires and goals. When the golf course is completed, I evaluate my success in terms of whether I have met those criteria.
"My job is to turn the vision Devin and his entire team have into a golf course that the members will be proud of the day it opens. If Queens Gap is happy when we are finished, then I feel we have been successful."
Along with the Nicklaus Course, the 3,500-acre private Queens Gap development will offer residents and guests an equestrian center, a tennis complex, a resort-style pool, luxurious clubhouse, and an outfitters lodge for fishing enthusiasts. Other amenities include a spa, fitness and wellness pavilion situated on a mountain ridge which affords 80-mile views across the surrounding mountain ranges, miles of walking and hiking trails, and fly-fishing where the Broad River and Cove Creek merge, any area filled with trout, bass and bluegill.
Queens Gap's initial property release is scheduled for fall 2006. Queens Gap is located near three major Carolina cities: it's an hour from Asheville, 90 minutes from Charlotte and 75 minutes from Greenville, S.C.
For additional information about Queens Gap, visit www.queensgap.com.