Nicklaus Donates Design Services for Wounded Veterans Course near Tacoma
Shortly after Jack Nicklaus arrived at Tacoma Country & Golf Club for a clinic and fundraiser for nearby American Lake Veterans Golf Course, the clouds parted and the "Golden Bear" basked in the sunshine and adoration of fans from several generations.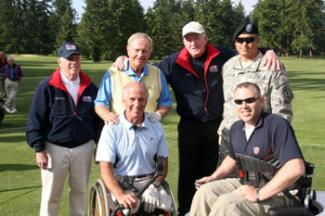 Clinic Members (Nicklaus & Still in back center)
Between discussing his warm-up routine ("So he won't hurt himself") and demonstrating the nuances of gripping the club, ripping a drive and chipping the ball, the legendary golfer traded quips with his 1969 Ryder Cup teammate, Ken Still, a native of Tacoma, who also served as the master of ceremonies for the event. He's also a board member and volunteer for Friends of American Lake Veterans Golf Course and had recruited his lifelong friend to help with the renovation and expansion of the unique facility near the VA Hospital in nearby Lakewood, Wash.

Little did Still know how committed Nicklaus would become. The all-time major winner who's become an internationally sought-after designer can command top dollar for his services, but with this project is contributing design services valued at $500,000 to create nine new holes at American Lake Veterans Golf Course.
Nicklaus agreed to serve as honorary co-chair of the campaign to raise funds for building the new course and making other improvements at the existing nine holes so the golf experience becomes more accessible. He traveled to Palm Desert, Calif. in November and now Tacoma, Wash. to conduct clinics and fundraisers for "Friends of American Lake Veterans Golf Course."

And just for good measure, he brought along a box of hybrid clubs from Nicklaus Golf Equipment, presenting one to each of the wounded veterans who took part in the clinic and donating the remainder to ALVGC for the loaner sets at the course.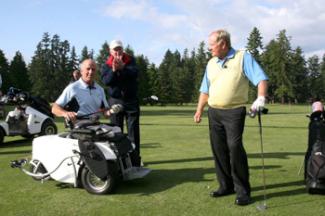 Jim Martinson, Ken Still & Jack Nicklaus
When his donation of services was announced, Nicklaus, the 2008 recipient of the Woodrow Wilson Award for Corporate Citizenship, remarked, "I was moved to see the amazing efforts at American Lake Veterans Golf Course where our wounded warriors learn to play golf with the help of an incredible army of volunteers."

At this week's clinic he reiterated his respect for those who have served and sacrificed by quietly stating, "This is done out of love."

Mutual admiration was palpable throughout the clinic, which was sponsored by "Bill McGovern & Friends," with generous support from Tacoma Country & Golf Club.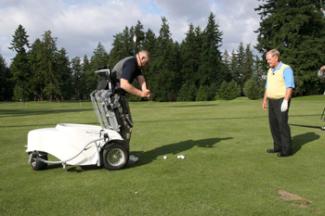 Lt. Col. Danny Dudek Shows His Swing
For Vietnam veteran Jim Martinson, who lost both legs in 1968, one piece of advice that resonated from Nicklaus had to do with playing within your capabilities. "If I can get to where I can do a bogey every hole at my time and where I'm in my life right now, that'll be great. Someday, maybe I'll move on to par, but be happy with where you're at and enjoy the game," said Martinson, a Paralympics gold medalist who took up golf last year. He plays from a SoloRider, an adaptive cart designed for golfers with physical impairments.

Also taking part in the Nicklaus clinic was Lt. Col. Danny Dudek. While serving in Iraq in 2007, Dudek's feet were paralyzed from a roadside bomb. He also has limited mobility in his hips from the same incident. Dudek spent four months in rehabilitation and then worked as the Joint Base Lewis-McChord Warrior Transition Unit executive officer. A year ago he took command of its Warrior Transitional Battalion, the first Wounded Warrior to assume that position. He resumed playing golf last year and during the clinic wowed onlookers with his ball-striking abilities.
Clinic participant Army Spc. Michael Ballard views golf as an important part of his rehabilitation. Shortly after being deployed to Afghanistan, Ballard, a medic in a Stryker brigade, sustained permanent damage to his right femur and left knee from an improvised explosive device (IED). The avid golfer also has an artificial right hip as a result of his injuries. Ballard makes daily visits to the gym, but says, "Golf can't be duplicated in a gym."

Following the clinic and demonstration with the veterans, Nicklaus, the winner of 18 majors, patiently posed for pictures and signed autographs before resuming his "official" duties at a fund-raising reception in the clubhouse. Fans retrieved balls Nicklaus used during the clinic to present for autographs; one fan even scooped up divots, which he planned to transplant to his own field of dreams.
After an overnight stay as guests of Emerald Queen Casino (a donation to "Friends of ALVGC"), Nicklaus and members of his design team visited American Lake Veterans Golf Course to scope out the site of the new nine holes and confer with veterans on ways to enhance the accessibility of the existing nine.

The timeline for starting construction has not been finalized. Harold "Pepper" Roberts, founder and president of Friends of American Lake Veterans Golf Course, the 501(c)3 tax-exempt fund-raising arm for the course, hopes to have two-thirds of the needed $3 million in the bank before breaking ground.

Donations are welcomed and may be made online at www.veterangolf.org or by mail to: Friends of American Lake Veterans Golf Course, PO Box 99608, Tacoma, WA 98496. More information on the campaign, titled "A Course in Courage - Healing America's Veterans through Golf" is on the website.
About the Facility

American Lake Veterans Golf Course is the nation's only course specifically designed for the rehabilitation of wounded and disabled veterans. The existing facility, which completed an 8,400-square-foot Rehabilitation and Learning Center that opened earlier this year, is operated, maintained and managed by more than 160 volunteers.

When the next phase is completed, ALVGC could become a prototype that may be replicated near other military installations around the country. Among its benefits, the course provides a much-needed mental and physical rehabilitation and recreational outlet where the growing influx of wounded and disabled warriors can regain hope, strength and confidence in a positive, therapeutic and accepting social environment.