Nicklaus & Els to Design Course in South Africa
The lure of big game and a love for championship golf have led to the first-ever design collaboration of Jack Nicklaus and Ernie Els. Two of golf's greatest golfers are teaming up to create a world-class layout at Waterberg, one of the fastest-growing areas in South Africa. Waterberg is located 90 minutes north of Johannesburg in the northeast region of South Africa, and is well positioned to capitalize on the burgeoning market for weekend homes.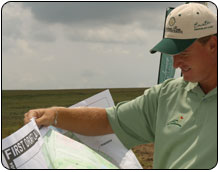 Nicklaus and Els joined the ownership group in acquiring an existing game farm. The farm will be developed into a golf estate inside a "best of breed" game reserve, thus creating a unique and exciting residential and resort facility. Occupying over 6,900 acres of bushveld, Waterberg boasts an abundance of water in a malaria-free area. Residents will be able to view almost all of the major species of game on the property, including four of the Big 5.
"Ernie and I have never designed a golf course together," Nicklaus said, "and this is the first time that a golf course has been designed to become one with the game reserve."
"Waterberg represents a special opportunity for me, both professionally and personally," added Els. "It gives me the chance to work closely with Jack, which I am really looking forward to. I share his enthusiasm and have very high expectations that we will create a special golf course."
The estate borders on one of South Africa's four UNESCO Biosphere Reserves. A team of experts has been appointed to research the best and most responsible use of the land, at all times adhering to the principles prescribed by the program designed by Biosphere Reserves.
"The sensitive integration of the development with the environment, as well as the local community, is of paramount importance to us," said project manager and the owners' representative, Tony Georgiou. "Our housing concepts and the accompanying architectural and landscape guidelines bear testimony to the commitment that we have made to uplifting and enhancing the environment."
An experienced consortium is developing the property. Nicklaus and Els have a stake in the development company, whose partners include Wilson Bayly Holmes Ovcon, a company listed on South Africa's JSE Securities Exchange and which has a construction portfolio in excess of $500 million a year; and Golf Data, the leading golf course construction firm in South Africa. The team also includes Jonathan Stern, a New York-based property developer with 20 years experience in developments such as The Ritz-Carlton Golf Club, a Jack Nicklaus Signature Golf Course development in Jupiter, Fla.
In addition to 280 residential lots, there will be 260 golf and bush lodges, as well as a luxury hotel that will contain conference facilities and a wellness center. Approval for the project is anticipated in early 2005, and residential sales should begin in March.
Expected to cost $250 million, the project will focus the global spotlight on the Waterberg area. "We will raise the bar substantially and set new standards in all aspects of golf course design and construction, ecotourism and resource management, as manifested by our development framework," Georgiou said. "Any investors looking at real estate in this sector of the market would do well to consider Waterberg, which is expected to establish a new trend in modern living through the convergence of recreation and nature into quality family time."
For more information on Waterberg, visit www.waterbergestate.com. For more information on Jack Nicklaus or Nicklaus Design, visit www.nicklaus.com, and for Ernie Els, visit www.ernieels.com.