Nicklaus Gives Thumbs-Up to Work at Kaua'i Lagoons
Jack Nicklaus returned to Kaua'i Lagoons Golf Club to review the extensive renovation taking place there and left satisfied that the course will be better than ever when it reopens in May 2011.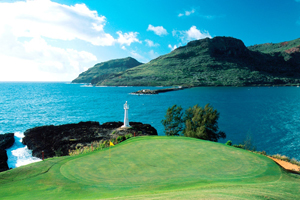 Kauai Lagoons Kiele Course
"It's great to be back here in Hawaii and at Kaua'i Lagoons, which has always been one of my favorite golf courses," said Nicklaus, the course's original designer. "The new holes we are building are going to fit in nicely with what golfers have come to expect from the Kiele Golf Course - great golf holes with beautiful ocean panoramic views."

Upon completion, Kaua'i Lagoons will feature 27 Jack Nicklaus Signature holes, including the longest stretch of ocean holes in Hawaii.

The massive project is currently in the first of three phases. Phase I broke ground in June and is expected to be completed in May. It involves building three new holes - including a new ocean hole - and renovating six others on the Kiele Back 9. All of these holes will receive new irrigation, greens, bunkers, and drainage.
Currently 18 of the 36 holes designed by Nicklaus at Kaua'i Lagoons - adjacent to the Kaua'i Marriott Resort on Kalapaki Beach - are in play, consisting of nine holes from Kiele and nine from Mokihana Golf Course.

During his five-hour tour of the project, Nicklaus observed the renovation on the Kiele back nine as well as the changes that are being planned for the Kiele front nine and the Mokihana holes. The golf icon also engaged with fans during the visit and signed a number of autographs.

"It was exciting to have Mr. Nicklaus back here at Kaua'i Lagoons," said director of golf Scott Ashworth. "He has a tremendous amount of energy and focus for this project because he is so fond of the golf course."
Kaua'i Marriott Resort on Kalapaki Beach just completed a $50 million makeover last month. Earlier this summer, the resort was included on Conde Nast Traveler's prestigious list of "Top 80 Golf Resorts" and last year GolfWorld magazine named it a "Top 50 Resort Course."

For more information about Kaua'i Lagoons Golf Club, visit www.kauailagoonsgolf.com.
Poipu Bay Improving Greens, Bunkers & Tees

The greens renovation project underway at Poipu Bay Golf Course is progressing, with its targeted reopening in December on track. The course is installing Seashore Paspalum, an eco-friendly turf that requires less water and chemicals, as well as enhancing more than a dozen bunkers and tee boxes.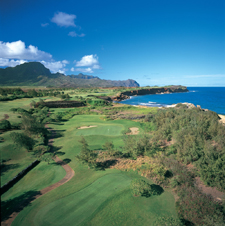 Poipu Bay's 16th & 17th Holes
"We have all of the greens cut down pretty good right now and in a month or so they'll be playable," said director of golf Craig Sasada of the project, which began on April 1. "When we open in December, the greens will be absolutely pristine. Our guests will really notice the difference. They will walk off the course amazed at how great the new greens roll."

Poipu Bay, the former home of the PGA Grand Slam of Golf, is a Robert Trent Jones Jr. design that is adjacent to the Grand Hyatt Kaua'i Resort & Spa on the South Shore of Kaua'i. The golf resort is regularly rated among the best in the world. Poipu Bay's golf shop has remained open during the project.
For more information, visit www.poipubaygolf.com.