Nicklaus to Design his First Course in Chile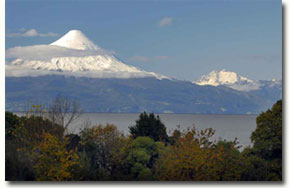 Jack Nicklaus and Jaime Said, president and founder of Patagonia Virgin Frutillar Golf & Resort, have signed an agreement to bring the first Jack Nicklaus Signature Golf Course to the Republic of Chile. The official signing was a significant step in bringing to life Patagonia Virgin Frutillar Golf & Resort, an upscale resort and residential community situated in the picturesque town of Frutillar in the Patagonia region of South America.

Chile is located in the Southern tip of South America by the South Pacific Ocean between Argentina and Peru. The colonial town of Frutillar sits in the Lakes Region and borders Llanquihue Lake. Known for its historical 19th-century German architecture, Frutillar offers views of neighboring volcanoes, including Osorno, which stands as "guardian" to what many consider one of the world's most breath-taking destinations.

Chile is considered one of the strongest and most stable of the world's emerging economies, characterized by the quality of the country's institutions, competitiveness, economic freedom and the strength of its financial system.
"We not long ago opened our first Nicklaus Design golf course in South America, and while there, I had the opportunity to travel and fish the Patagonia region, so I witnessed first-hand the beauty and virtually untapped potential of this area," said Nicklaus, whose design firm is involved with projects under development in 32 different countries. "We are excited and honored to be given the opportunity to bring the first Nicklaus Design golf course to Chile, and to be given the important responsibility to further introduce and grow the game of golf in this country.
"The golf course site itself is ideally located on the Patagonian Lakes area, which with the combination of the mountains, the volcanoes, the native forest and the gentle contours of the property, gives us an opportunity to create something very special."
Patagonia Virgin Frutillar Golf & Resort will become the most exclusive destination in Patagonia. It will be the first integrated resort and residential community in the Chilean Patagonia. It will include a luxury hotel with a spa, wellness center and meeting facilities; a variety of residential offerings totaling more than 400 units; a village consisting of high-end retail shops; sports facilities; marina services; sailing activities; a polo field; 40 hectares (almost 100 acres) of native forest; and an 18-hole golf course.
"We are very excited about the signing of this contract with Nicklaus Design and I am quite sure that it paves the way to a comprehensive luxury project, where the hotel, the services provided and the remaining amenities combine in perfect fashion," said Andres Rubio, CEO of Patagonia Virgin Frutillar Golf & Resort.
The Jack Nicklaus Signature Golf Course will be available for hotel guests and lot/home owners at Patagonia Virgin Frutillar Golf & Resort.
"Patagonia is one of the most renowned destinations in the world," said Arturo Garcia Rosa of HVS International, a hotel and tourism consulting firm with extensive knowledge of the region. "People who have visited the area become big fans. Patagonia is the place that everybody dreams to visit and reside. It is magic and generates a mix of emotions that visitors never forget. Patagonia Virgin Frutillar Golf & Resort should establish a new landmark in the area."