Nicklaus-Designed Summit Rock GC Endures Delay & Gets it Right
By: Steve Habel
It's easy to call Summit Rock Golf Club a success story. After all, the new Jack Nicklaus-designed course is located in Horseshoe Bay, a well-heeled and highly desirable community about 60 miles northwest of the Texas capital of Austin.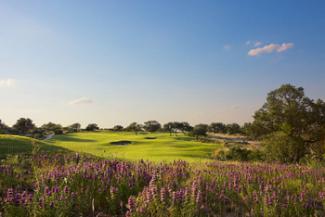 Summit Rock GC
Heck, any golf course built in America these days is a triumph. For some, the fact that the new track even made it to completion and now welcomes golfers is a wonder.

There was never any doubt that the scenic Texas Hill Country site or the Golden Bear's plan for the course, the centerpiece of a 1,600-acre community near Lake LBJ, could succeed. But with the economy in the dumpster and the state of Texas, especially the nearby Highland Lakes area, enduring droughts that still haven't dissipated, the completion of the project, which began in 2006, seemed optimistic at best.

That the Nicklaus design team, led by Chet Williams, got it right is a testament to stick-to-itive-ness, and a boon for golfers. For Nicklaus's firm, it was the only new golf course it had on the table this year in the continental United States. For the property owners and nearby, successful Horseshoe Bay Resort (already home to three Robert Trent Jones-designed courses), it was a way to show the world that Texans are moving forward despite financial and environmental hurdles.

Nicklaus officially opened Summit Rock on October 30, 2012, playing four holes (in an impressive 3-under-par) and discussing the project with about 300 club members and guests. It was no surprise that all involved beamed with community pride and sense of accomplishment at its debut.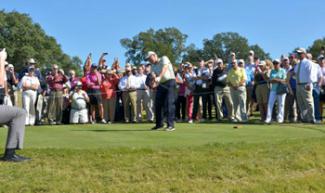 Nicklaus Christens Summit Rock in October 2012
Members have been playing the course for about a year, and Summit Rock has hosted a handful of tournaments even though its expansive, planned clubhouse and amenities center are still not under construction. "Those who have played the course have been blown away," Nicklaus said at the grand opening. "Well, we had a lot of time to get it right."

Summit Rock is a private, par-72 course meant to have a natural, rugged look while being enjoyable for players of all skills. "The Texas Hill Country, as a whole, is beautiful and creates opportunities for unique and interesting golf course designs," Nicklaus noted.

"During the design of Summit Rock, my team and I were challenged to think creatively about how to incorporate the natural terrain and add plenty of spice to the course, while still making the holes playable across the range of players the course will see. The end result is a distinctive course that gives the player more options than most."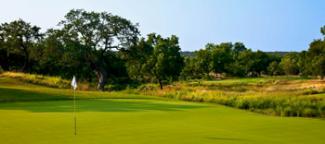 No. 15 Green at Summit Rock GC
A Heady Mix

Summit Rock offers several daring holes on a site of about 200 acres. From its back set of five tees, at 7,258 yards, the layout carries a rating of 76.0 and a 145 Slope. Even from the members tees (6,554 yards) players will be tested with a rating of 72.8 and a Slope of 137.

"There are places where you can gamble," Nicklaus reassured the gathering. "There are great views, and the terrain is not severe. It shouldn't be all that difficult."

Yet the course is marked by rock ledges and outcroppings and curls past - and occasionally spans - ravines and box canyons. It moves from holes lined by mesquite, oak and native grasses up to a ridge that offers wonderful vistas of the rolling Hill Country and Lake LBJ. Elevation is about 1,700 feet at the course's highest point. Once beyond the ridge, the course winds down to the long and demanding finishing holes.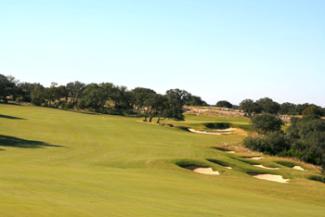 The 10th at Summit Rock
The Bermuda fairways at Summit Rock are generally wide and welcoming, with about 50 bunkers that give players more of a directional sense than to be penal. It's the wavy and quick bentgrass greens that make one fitful. There aren't any crazy grades here, but a series of tiers, bowls and flowing slopes must be negotiated. Another element that gives Summit Rock some teeth is wind, especially up on the exposed ridge.

The first two holes - a 407-yard par-4 and 545-yard par-5 - allow players to get some rhythm with a driver. The opener has a forced carry to a big landing area with seven bunkers along the left, followed by a natural area that cuts across the fairway. No. 2 can be reached in two thanks to a short-grass run-up to the green between two bunkers.

The course then moves to the ridge, where it reaches a zenith at the 587-yard fifth, a par-5 with a forced carry off the tee to a downhill landing area. After an uphill lay-up, the fairway descends to a deep-but-narrow green fronted left by a bunker.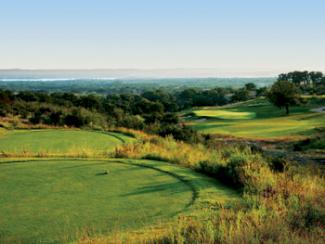 No. 12 from the Lower Tees at Summit Rock GC
The 323-yard par-4 seventh has a grove of post oaks protecting its elevated green. Though tempting to try and get home in one, a more prudent play is with a 3-wood or a hybrid to the left-center fairway beyond a shamrock-shaped fairway bunker; from there, the player gets an uphill, but open look at an oval-shaped putting surface.

Things are turned up a notch at the first three holes on the home half, a stretch featuring two of Summit Rock's longest two-shotters - the twisting, lurching 469-yard 10th and 498-yard 11th.

The former ends at a green seemingly dangling off a hill - with a deep roll-off area on the right, while the latter requires a drive that must miss a creek bed crossing the fairway. The second shot must miss a post oak tree to find a narrow green guarded in front by a deep bunker.

The drive at the 230-yard par-3 12th might be the toughest at Summit Rock. Its kidney-shaped green rests some 80 feet below, with a native area to the left and a ball-grabbing tree right. The vistas from this tee are quite photogenic.
No. 17, a 441-yard dogleg-left, has a lake lining its left flank and tall post oaks on the right. The hole is further protected by a 50-yard-long fairway bunker. Summit Rock's closer is a dandy, an uphill, 582-yard par-5 that twice plays over native areas before concluding at a raised green fronted by two bunkers.

During a Summit Rock round you'll likely be visited by grazing deer and other fauna. Besides such natural attributes, the club offers an expansive driving range as well as practice putting and chipping greens.

Future community amenities include the Summit House (golf clubhouse), a recreational fish lake, comfort stations (they're finished and absolutely amazing), walking and jogging trails, and the Summit Rock Organic Farm and Apiary, which will provide fruit, vegetables and wildflower honey to the community.

Another planned amenity is the Smokehouse, a dining venue with an open-air pergola and large, screened-in porch. Upon completion, the Smokehouse will boast indoor dining areas, outdoor gathering places, fireplaces and fire pits, and a menu featuring smoke-cured meats and fish.

For more information, see www.summitrockhsb.com.
Steve Habel is one of Cybergolf's world correspondents, contributing news stories, features, equipment and book reviews and personality profiles from his base in Central Texas. He also works as a contributing editor for Horns Illustrated magazine, a publication focusing on University of Texas sports, and is a contributing writer for Golfers' Guide and Golf Oklahoma magazine, Texas Links magazines and Golfers Guide. Habel's main blog (www.shotoverthegreen.blogspot.com) features news on golf and the Longhorns, and another (www.checkinginandplayingthrough.blogspot.com) chronicles his many travels, including playing more than 600 golf courses since 2008. Habel is a member of the Golf Writers Association of America and the Texas Golf Writers Association.