Nicklauses to Design Second Course at Verandah
The Bonita Bay Group has announced that Jack Nicklaus and Jack Nicklaus II will design the second 18-hole championship golf course at Verandah, the company's 1,456-acre master-planned community along the Orange River in Fort Myers.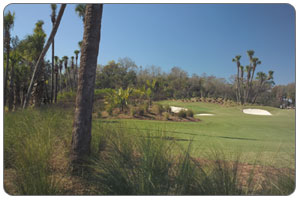 At least nine holes of the course will be built in 2006, said Kitty Green, general manager of Verandah and vice president of The Bonita Bay Group. "Jack and Jackie Nicklaus share our vision of a great golf experience," said Green. "Their course will provide the perfect complement to Old Orange, Verandah's Bob Cupp-designed course that opened in December 2003. Having Bob Cupp and Jack Nicklaus in one community reaffirms The Bonita Bay Group's commitment to an exceptional golf experience at Verandah."
Preliminary design plans for the course, which will be woven into Verandah's natural setting, have been completed and will accentuate the attributes of the site, said Ralph Haskins, senior project manager of The Bonita Bay Group. "The Nicklauses plan to use a lot of the natural features already there – oaks, pine trees and palmettos," he said. "They've paid a lot of attention to the existing vegetation on the site. They'll use what's there and accentuate it with other native material."
Through their North Palm Beach-based Nicklaus Design, the Nicklauses have created 275 golf courses worldwide, including The Talon, the championship layout at TwinEagles in Naples that has hosted the ACE Group Classic since 2002. Nicklaus courses have consistently made the top-100 rankings given by Golf Digest, Golf Magazine and Golfweek.
Nearly 40 of the Nicklaus Design courses in the U.S. are involved in Audubon International programs, a factor Green said was important to The Bonita Bay Group, which has created more Audubon-certified properties than any other company in the world. "Verandah is the first community in Florida to be certified by the Florida Green Building Coalition as a green land development," she said. "It was important to us to work with a golf course designer who would respect and enhance the natural environment."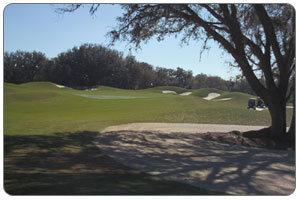 Since turning pro in 1962, Jack Nicklaus – nicknamed the Golden Bear – has claimed 73 Tour victories. His international wins include three British Opens and six Australian Opens. Nicklaus has received numerous accolades from the press and the PGA: Golfer of the Century, Golfer of the Decade and Greatest Golfer/Athlete; he is also a five-time PGA Player of the Year. He joined the Champions Tour in 1990 and was named Golf World's Golf Course Architect of the Year in 1993.
The Verandah Club offers resident, nonresident and corporate memberships, as well as access to the amenities in Verandah's River Village. Verandah, which started residential sales in February 2003, was named Florida's first green land development two months later by the Florida Green Building Coalition. Each single-family home at Verandah has been constructed to meet the coalition's requirements for "green home" certification. Residents can choose construction and feature options to conserve natural resources, improve indoor air quality and reduce energy consumption.
Verandah's single-family homebuilders are offering increased energy efficiency through Florida Power & Light Company's BuildSmart™ program. Structured wiring is being built into each home to facilitate always-on, high-speed Internet access, as well as a wide range of options for home automation.
Nearly 70 percent of Verandah's 1,456 acres will be retained as open spaces. These include natural preserve areas, parks, wetlands, lakes, golf course and a conservation buffer to help maintain the character of the community's riverfront. Verandah will offer more than nine miles of walkways, paths and fitness trails.
The Golf House pro shop and Old Orange golf course opened in December 2003, along with the Oak Park, a community treehouse, and Verandah's Boat House, which features Blossom's general store, a canoe and kayak livery, and multi-level decks overlooking the river. The River House, containing the Alligator Pear restaurant and Jesse Fish lounge, opened in January 2005. Other amenities planned for the River Village – the community's social hub with individual buildings nestled into an expansive oak hammock – include a nature center and tennis and fitness center.

Verandah offers estate, custom and traditional single-family homes, villas and coach homes, with packages priced from the $200,000s to more than $1 million. The Verandah Sales Center is located two miles east of I-75 on State Road 80. For more information, visit www.Verandah.com or call 866/314-2839.