Nike's Sasquatch for Women, Too
By: Nancy Berkley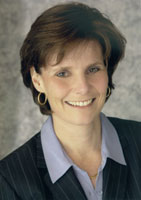 Five Minutes with Cindy Davis, General Manager of Nike Golf U.S.

By Nancy Berkley

As General Manager of Nike Golf U.S., Cindy Davis, is one of the most important women in the golf industry. She played tournament golf in college, worked at the top ranks at the LPGA, and launched the Nancy Lopez line of clubs for the Arnold Palmer Company. Cindy joined Nike in January 2005 at the beginning of what may be a landmark year for women's golf as well as for Nike Golf as it launches its Sasquatch driver. I asked Cindy for five minutes of her time to answer a few questions.

NB. Cindy, I think that Nike is putting more of its marketing power into women's golf than previously. For example, I noticed that the early teaser advertisements for Nike's new Sasquatch clubs (to be launched November 1) included lots more women golfers. Can you tell me what was behind that? Does Nike see more buying power in the women's market than previously?
CD. We always pay attention to the power of the women's market across every product category we offer - clubs, apparel, footwear and balls. Women are discerning consumers who take a serious look at not only quality and value, but how their purchase will enhance their playing experience. We are extremely excited about the Sasquatch driver launch and the immensely positive impact it could have on all golfers - women and men, high and low handicap. To date it has received rave reviews from our retail partners, our global Tour athletes, our elite PGA Professional staff -- basically everyone who has had an opportunity to test it. Nike Tour staffer Grace Park already has been playing it on the LPGA Tour, and we were thrilled with Michelle Wie's enthusiasm to have it in her bag when she made her professional debut a few weeks ago.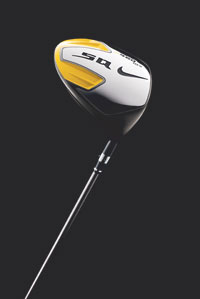 NB Very often, new club technology is marketed first for low-handicap men. The ads, the descriptions, the photos usually show guys hitting power shots. I know that there will be a line of women's Sasquatch clubs. Will they be marketed just for scratch female golfers? How will the ads be different?

CD We have two Sasquatch models, the Sasquatch 460 and the Sasquatch Tour 460. Between those two models and the different shaft choices of flex and length there is a Sasquatch that will be the perfect game enhancing club for any golfer of any performance level. As such, you'll see that the heart of our marketing campaign speaking to the brilliance of the new geometry in the Sasquatch's design. Every golfer across the board will benefit from the incorporation of a Powerbow that allows the center of gravity to be moved lower and further back than any other club which, in turn, creates a higher moment of inertia at impact. In short, this results in less club head twisting during off-center hits, a higher trajectory and more distance. Every woman, high or low handicap, should want this driver in her bag.

NM I can't resist asking whether Michelle Wie will be using Sasquatch clubs. Will she? If not Sasquatch, can you give us a hint about where you see Michelle fitting in to the women's golf market?

CD We are enthused that Michelle Wie thought so highly of the Sasquatch that she made her professional Tour debut with it in her arsenal of clubs. Michelle is going to make Nike Golf and women's golf in general extremely proud. She'll push conventional limits, she'll dare to challenge, and she'll do it all with a refreshing style and charm.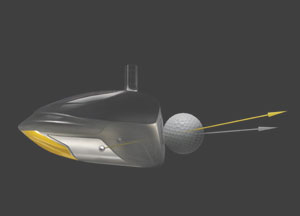 NB I took a look at the Nike Golf website www.nikegolf.com, and it still is all about men – really Tiger. Any chance you will change that to reflect the increasing numbers of women that will be drawn to the new clubs and advertising?

CD There is no question that Tiger has been an effective and powerful marketing tool for Nike Golf, clearly as the world's preeminent athlete who has an appeal that transcends so many demographics. The power of Tiger has not changed, but you will see more and more of Nike Golf's marketing initiatives reflecting not only our growing cadre of athletes, including Michelle Wie and Grace Park, but also our revolutionary game enhancing technology that, like Tiger and Michelle, has universal consumer appeal.

NB I read the specifications about the Sasquatch and it's pretty technical. For example, most women probably don't understand why the number 460 is used for the driver. Can you put the new technology in golf-speak language that the average women golfer can understand?

CD The Sasquatch has a unique and distinctive look. It features a trademark yellow plate on the sole, and we call the club the largest footprint in golf because of the extended breadth and volume of the head -- that's where we've been able to create the technology that moves the center of gravity to increase forgiveness and make shots straighter, higher and longer.
NB I read that Nike is coming out with a ball just for women golfers. When will that be available and tell us what's behind that decision.

CD Nike Golf has enjoyed tremendous success in the ball category. As such, men and women golfers have been enjoying the feel and performance benefits from a choice of products within the Nike Golf One Series, the Mojo, and the Power Distance Series. We decided to take that a step further and develop a golf ball with features that specifically appeal to the women's market. The Power Distance Super Lady is available in stores now. This ball is a 60 compression, two-piece construction with a 432 dimpled pattern -- promoting higher flight, softer feel and greater distance.

NB Final question. I don't want to sound like an ad for Nike, but this is the first time so many pieces of the Nike marketing machine are focusing on women's golf. That's important because Nike is an industry leader. Would you comment on whether my observation is correct and whether this is a trend for Nike Golf or just a one-time campaign. And, Thanks! so much for your time.

CD Everything you're currently seeing in Nike Golf is part of an ongoing, long-term strategic plan to increase the exposure of our brand in golf and to exponentially grow our market share. To do that, every category in the industry is critical to us, including the women's market. Across every segment of the industry, you'll continue to see Nike Golf growing its presence with initiatives that speak to what consumers want -- excellence in performance and quality across the board.

Nancy Berkley writes the Women's Page for Cybergolf. She is an industry expert in marketing golf to women. See www.berkleyconsulting.com. Nancy can be reached at info@nancyberkley.com.
Nancy Berkley is an expert on women's golf. Her book, "Women Welcome Here! A Guide to Growing Women's Golf," published in 2003 by the National Golf Foundation, is the industry reference on how-to attract and retain women golfers. She updates her research and best practices on her website www.nancyberkley.com.

Nancy consults with facilities on how they can increase participation and revenues from women golfers and is a frequent speaker at industry events. Nancy also reviews courses for "The Golf Insider," an international golf and travel newsletter, and "Ladies Golf Journey," a golf publication for women. She's contributed articles to "Golf For Women" magazine and is the author of the 2004 PGA Magazine cover story about women golfers.

A respected resource in the golf industry, Nancy participates in Golf 20/20, the annual strategic invitation-only conference sponsored by the PGA Tour, the PGA, the LPGA, and the World Golf Foundation. At the November 2004 Conference, she moderated the panel discussions on player development with a focus on women golfers. She has addressed the National Golf Course Owner's Association at their National Conference as well as at numerous marketing seminars for the PGA and LPGA professionals. Nancy serves as a consultant to the Golden Links Advisory Board of Corporate Meetings & Incentives, a PRIMEDIA Business Publication. Nancy is an experienced golfer and has competed on the Metropolitan Women's Golf Association (N.J., N.Y., Conn.) interclub matches. She's served on the Board and Golf Committees of her golf clubs in Florida and New Jersey.

In 1998, Nancy founded Berkley Consulting and The Woman's Only Guide® to Golf to share her long-time passion for golf and to help grow the game. Prior to working in the golf industry, Nancy was an attorney for a Wall Street firm and then held a number of senior executive positions with Prudential Financial, including Assistant General Counsel and Vice President of Corporate Marketing & Business Integration. Nancy began her professional career as a high school teacher.

Nancy holds a bachelor's degree in political science from the University of Minnesota; a master's degree in teaching from Harvard University Graduate School of Education; and a law degree from Rutgers University School of Law, where she was a member of the Law Review. She is a graduate of the Program for Management Development at Harvard Business School.

Nancy describes herself as a bogey golfer and plays on her home courses in Florida and New Jersey. To contact her, write, call or email Nancy at: Nancy Berkley, Berkley Consulting, 242 Eagleton Estates Blvd, Palm Beach Gardens, FL 561-776-7243 or at info@nancyberkley.com.