No Bluffing . . . Golf a Romantic Affair at Cabin Bluff
By: Elisa Gaudet
"Golf is very much like a love affair,. If you don't take it seriously, it's no fun, if you do, it breaks your heart. Don't break your heart, but flirt with the possibility." So said Louise Suggs.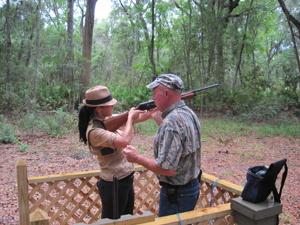 Elisa & Bob
Just ask Matt Kuchar, the 2010 winner of The Barclay's tournament, who was married in 2003 at the most romantic golf, tennis and hunting resorts - Cabin Bluff. "We really enjoyed having the wedding there," said Kuchar, who came up just short of retaining the Barclays, finishing two shots behind Dustin Johnson in 2011.

"The whole wedding party stayed on the property and the place is quiet, laid-back with lots of activities. It was perfect for my wife Sybi and I.

"We were all there for four to five days and we got married on the tennis courts, which were decorated beautifully," Kuchar added. "I went quail-hunting on my wedding day; it was the first time I had ever been. I was really amazed by the pointer dogs and how they are so well-trained."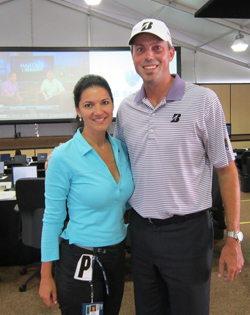 Elisa & Matt Kuchar
Cabin Bluff began as a private hunting, fishing, golf retreat owned and developed by Detroit automobile magnate Howard Coffin - who also developed Sapelo and Sea Island, but it's now open to the public. It was used as a hunting preserve by Coffin's Cloister and Sapelo guests until he went broke in the 1930s and sold it to the Brunswick Pulp and Paper Company in order to retain Sea Island.

It's an easy 30-minute drive from Jacksonville airport to Cabin Bluff, which is nestled in woods near Georgia's border with Florida. We were picked up at the airport by Bob, a warm and friendly gentleman who wore a camouflage shirt and jeans. His Southern accent and relaxed demeanor were a welcome respite from bustling New York City.

The property is stunning and that's the sense felt the moment you arrive. The drive from the entrance to the actual site is two miles. The resort sits on the Cumberland River and is surrounded by towering Cypress trees. General Norman Schwarzkopf's daughter was also married here and you can easily see why once observing the idyllic setting.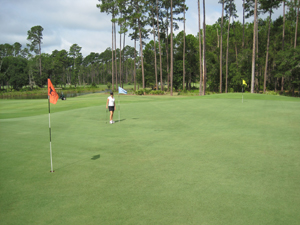 Elisa on One of Cabin Bluff's Greens
Hunting season is November to March. Cabin Bluff is perhaps best known for its pointer dogs. They're well-trained and impressive to watch, even if you don't actually hunt.

Fishing could not be easier as the boats are at the end of a pier and the entire operation is enjoyable. One of the prime fishing spots is a 15-minute boat ride eastward to the shores of Cumberland Island, a former hot spot for the Carnegies and other wealthy families in the 1920s and '30s. It has since become a national park and was brought into the spotlight in 1996 as the secret location where John Kennedy Jr. married Caroline Bassett in a tiny church on the island.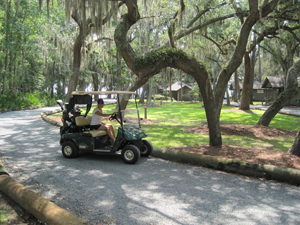 Elisa at Cabin Bluff
The golf course designed by Tour professional Davis Love III is ingenious. The "18-hole" layout involves six thoughtfully constructed greens, each designed to be played three different ways and three times. Each hole sports three tees and every green has three pins.

Given people's time restraints and families wanting to play together, the layout offers the option to play six, 12 or 18 holes. Kuchar enjoyed playing with family and friends during his wedding. "It is a great idea and I am surprised there are not more courses with that design," he said.

Davis, who lives nearby, attended Matt's wedding. What's not to love about Cabin Bluff?

For more information, visit www.cabinbluff.com.
Elisa Gaudet brings a wealth of entertainment and golf experience to Cybergolf. Elisa has spent the past several years in the golf industry in the U.S., Latin America and Spain. She worked for the PGA Tour and the Tour de las Americas before founding Executive Golf International, a golf marketing company that works with clients to develop strategies using golf as the medium. Often referred to as the Maria Bartiromo (a business analyst for CNBC) of golf, Elisa says: "Golf, as a marketing tool, has been around for years. It's amazing how many new ways companies can align their brand with the golf market to reach their target audience. Our goal is to create alliances and establish cross-border relations." Elisa also worked in the entertainment industry for over 10 years, including five in Los Angeles as a model and actress. She can be seen at many celebrity golf events and often gets the inside scoop from PGA Tour players. For more information about Elisa, visit her websites at www.onthelip.com or Executive Golf International www.execgolfintl.com.