Normandy Shores Reopens following Major Remodel
How long must a golf course lie fallow before its reopening would deem it a "new" golf course? That's the question at man-made Normandy Isle in Miami Beach, Fla., though area golfers aren't playing that semantic game. They are simply reveling in the reopening of Normandy Shores Municipal Golf Course, closed in 2002 and reopened December 12 thanks to a $6.5 million renovation by Arthur Hills/Steve Forrest and Associates (AHSF).
"In golf, the term 'hidden gem' has been beaten to death, but Normandy Shores is the real thing: a jewel of a course that lay buried beneath the weeds for five years, on to reopen far better than it ever was," says AHSF senior design associate Ken Williams, who directed the project. "I guess the best part is that visitors can play here without beating themselves up - or their wallets. This isn't just a new track. It's a welcome alternative to the $200-per-round resort courses in this neighborhood."
Originally designed by renowned architect William Flynn and partner Howard Toomey, Normandy Shores is located on the north half of Normandy Isle, which didn't even exist until the late 1930s, when the city of Miami Beach bought it, pumped up the land and created this man-made landfall - and with it, Normandy Shores Municipal Golf Course.
For more than two years, huge dredgers operating 24 hours a day pumped up the bay bottom to create Normandy Isle. The city officially dedicated the facility in December of 1941, making it one of Miami's oldest courses, public or private. Its relatively isolated and picturesque setting was attractive to early pros and hustlers like Al Besselink and Dutch Harrison.
Eventually, Normandy Shores experienced the same decline experienced by South Beach in the 1970s and '80s. Budget cuts and lack of maintenance eventually led to Normandy Shores' outright closure in 2002.
The closing was never meant to be permanent, however. The city of Miami Beach Commission had already retained Toledo, Ohio-based AHSF (www.arthurhills.com) to orchestrate the revival of Normandy Shores and nearby Bayshore Golf Course.
Bayshore came first; it reopened as the elegant, new Miami Beach Golf Club in November 2002. Work finally began at Normandy Shores in September 2007.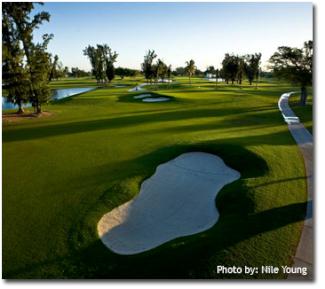 Arthur Hills/Steve Forrest and Associates is one of golf's busiest and most respected course design firms. It unveiled four more renovation projects during 2008 - at Oslo GK in the Norwegian capital, Forest Glen in Naples, Fla., The Honors Golf Club Dallas, and Naperville CC outside Chicago - in addition to christening a pair of original designs: Journey at Pechanga, now open for play beside the Pechanga Resort & Casino in Temecula, California, and the TPC Treviso Bay, also in Naples, recently named host of the Champions Tour's ACE Group Classic beginning in February 2009.
Normandy Shores will never host a tour event, but it gives nothing away in terms of history, charm and affordability. Williams retained the original Flynn routing at Normandy Shores, although he flipped the two nines. The result is an 18-hole, 6,465-yard layout that locals adore - though many strained to recognize it upon reopening.

Normandy Shores had been tweaked and reworked by several architects over the course of 60 years. The redesigned par-71 track that debuted this month represents a return to AHSF's more traditional take on strategy and visuals. In contrast to the modern trend of expensive water bodies and enormous sand features, Normandy Shores is a scenic-but-straightforward golf experience distinctly lacking in ostentation. There are no fountains here, and you will need to bring your own bag to the clubhouse.

However, in an era of golf course closings, the rebirth of Normandy Shores is a welcome juxtaposition. What's more, in an era of 7,000-plus-yard behemoths, Normandy Shores may be the only newly renovated golf course that kept its original yardage.

New strategies from Hills/Forrest make it plenty of golf course for everyone but the tour pro. A good example is the 300-yard 12th hole. The fairway is almost 50 yards wide and stretches to 255 yards from the back tees before being interrupted by two strategically placed bunkers. Long hitters must decide whether to lay up short or fly the ball over the hazards and go for the 'Biarritz-style' green - perched parallel to a pond with a small bunker front right and fairway-height swale deeper right.

On the other hand, grip-it-and-rippers will find all they can handle on the 235-yard par-3 17th hole, or the 430-yard par-4 9th.

The new bunkers are deeper than those they replaced, but not overly so. Several ponds were combined and new ones excavated, creating the fill Williams required to add tasteful mounding and contour. "It's an old fashioned course that still plays like an old fashioned course," Williams said, noting that windy conditions will generally encourage players to keep the ball low and the opportunity is almost always there to run the ball onto the green.
For more information or a tee time at Normandy Shores, call 305/868-6502 or visit www.normandyshoresgolfclub.com.  

For more information on Arthur Hills/Steve Forrest and Associates, call 419/841-8553 or visit www.arthurhills.com.