Norman's Design Prowess Shines through at ChampionsGate
By: Steve Habel
The massive gates into the property that encompass the southwest Orlando community of ChampionsGate had a unique and somewhat imposing guard holding sway in the road on the morning I arrived in late January. This wasn't a human, it was seven-foot-long alligator that stared me down and blocked my path onto the property.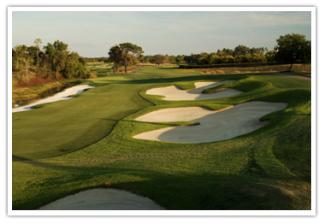 No. 16 on National
Now that's what I call a real Florida-style greeting.

Once the nasty reptile moved on and into one the adjacent ponds that skirt one of ChampionsGate's two Greg Norman-designed golf courses, I was free to enter and experience the posh Omni Orlando Resort, most notably, Norman's pair of track's and the renowned David Leadbetter Golf Academy.

And so the fun began. After quickly checking into the Omni, I made my way past the expansive Leadbetter facility (hey, was that Champions Tour stalwart Andy Bean working on his wedge game?) to the resort's golf clubhouse. ChampionsGate is managed by Meadowbrook Golf - the company's home office is in the property's commercial complex, so the service and attention to detail are top-notch from the minute you step foot on the club grounds.

Even after my tete a tete with a gator, it's the golf courses that draw your attention. Norman's signature designs at ChampionsGate have both been around since the turn of the millennium and are as unlike as night and day, or shall we say, parkland and linksland. They challenge on virtually every shot without beating you up with a bunch of tricks or unfairness.

ChampionsGate's International Course is a coastal links-style track routed through and around scenic natural wetlands, tall grass-topped dunes and plenty of daunting pot bunkers and finishing at large, rolling greens.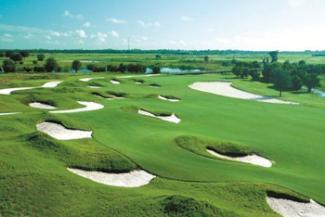 Aerial View of International's 4th Hole
The resort's National Course is a completely different experience as it weaves across a naturally rolling central Florida plain through fairways protected by bunkers and finishes at small but challenging putting surfaces. Along the way Norman's design introduces groves of pines, oaks and cypress trees and a handful of sparkling, spring-fed lakes.

Many people feel that that National is the easier of the two tracks at ChampionsGate, but if you're not spot-on with your irons and in control of shots, the National's tough greens and surrounds are punishing. Both courses have garnered kudos from Golf Digest, Golfweek and the Zagat Golf Guide and are a blast because of their two different sensibilities from a designer who knows each genre well.

Until 2008, the International Course hosted the Father/Son Golf Challenge, which paired PGA and Champions Tour players with their son (or daughters or grandsons) in an annual two-person, 36-hole golf tournament.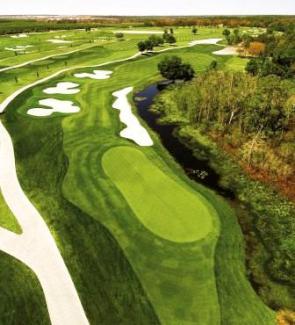 Overhead View of No. 15 at National
National's Trees & Parkland-style Layout is Definitive

The National Course is patterned after the classic American parkland school of design while featuring a "Florida resort" attitude. The routing winds through more than 200 acres of secluded woodlands, wetlands and former orange groves (grab a piece of citrus along the fairway of No. 8 if you like). The course features lush fairways and greens as well as stunning - and seemingly unforced - beauty.

Along the sweeping fairways there are 80 sculpted bunkers, clever doglegs and lovely water hazards. The wet stuff enters play on many holes, but Norman limited the forced carries to allow the track to be maneuvered by all levels of players. The sharply framed holes conclude at smaller greens, which are flawlessly maintained.

The National begins with a 434-yard par-4 and a 203-yard par-3 that resemble the links offerings found on its sister course. The look changes at No. 3, a reachable (517-yard) par-5 where trees line the entire right side.

Things get turned up a notch at the par-4 fifth. At just 323 yards, the hole tempts long hitters to cut the dogleg-left for a shot at the green. But trouble abounds in the form of wetlands to carry and that run down the entire left side; also troublesome are large bunkers on the right with a line of trees right of the bunkers.
Enjoy the furthest reaches of National for its rolling 384-yard par-4 eighth and the wind-exposed 554-yard, par-5 ninth, where an approach right of the green will end up in a huge swale.

The National Course has one of the best finishing stretches around. The 210-yard, par-3 14th requires an uphill tee shot between trees and over wetlands to a well-sloped and tiered putting surface. The 315-yard par-416th can be attacked from the tee if you're confident with the driver. A birdie on the hole will go a long way to building moxie for the tough 17th and 18th.

No. 17, a par-5, plays into the prevailing wind and, at a stunning 636 yards, involves a lake that runs up the left side all the way to the green. The finisher is a 451-yard par-4 that winds rightward around a lake.

The National is rated at 75.1 and sloped at 133 from the tips, but plays much tougher, especially if the wind is up.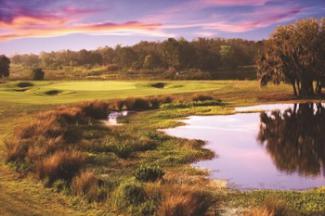 No. 5 on International
Forced Carries on International's Links

The par-72 International opened in 2000 and stretches a testy 7,363 yards from the tips. With a rating of 76.3 and a slope of 143, the track has the highest course rating in Florida.

The course's 160-plus pot bunkers, mounding and high grasses make the player believe he is in Great Britain rather than the middle of Florida. Raised greens ringed by water and sand contribute to the challenge.

Those that pound the driver will find receptive and wide fairways, while forced carries enter play off virtually every tee. Designed, constructed and grassed to offer a hard and fast playing surface similar to those found on a true links, the International has two out-and-back loops and a series of tough holes that demand focus and your best.

Wander off the fairway just a step or two and you'll find your ball in high-sided dunes covered with swirling grasses that literally merge into the banks of the hazards. Players able to move the ball left and right will find success at International, but proper club selection is paramount.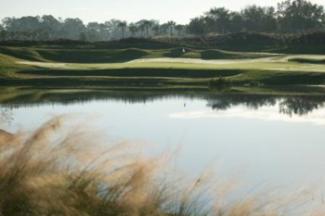 No. 7 on ChampionsGate International
The sizes of the putting surfaces here vary and players must navigate knolls and plateaus once on them.

You get a real taste of what's in store on the opener, a 459-yard par-4 with options to cut off as much of the fairway as you can muster. The 576-yard par-5 third asks for a diagonal drive across wetlands and between hazard-laced dunes. The next two shots entail thoughtful positioning to dodge high dunes, pot bunkers and more water hazards in front of the green.

The 447-yard par-4 seventh may be the toughest hole at ChampionsGate as both the drive and approach have the feel of target golf because of water and high grasses along both sides.

As if the holes themselves were not difficult enough, watch out for the gators on Nos. 8 (a 533-yard par-5) and 9 (an uphill 397-yard par-4); little ones (babies) lined the banks along the ponds near the green and tee boxes.
Four of the final five holes on the International Course will test your mettle, beginning with the 231-yard, par-3 14th. Considered one of the most difficult one-shotters in the region, it's played downhill and across wetlands. A deep pot bunker protects the green's front and grabs short hits, and the shallow but raised target befuddles golfers with tricky undulations.

The 455-yard par-4 15th presents two fairway bunkers as lateral hazards along the left. The approach must carry a water hazard short and left of a shallow and raised green that falls away on all sides. No. 16, a 464-yard par-4, moves in the opposite direction over a hill and down toward the green, which is guarded by more water on the front and right.

The closing hole is a three-shotter with 21 pot bunkers interspersed along its 572-yard route. The green is deep but narrow, with the sand on each side.

When International opened, many players felt it was too difficult. But subsequent seasoning and maturation have softened those criticisms. The course has been honorably mentioned in Golf Magazine's list of "10 Most Distinctive Places to Play" and is worthy of attention.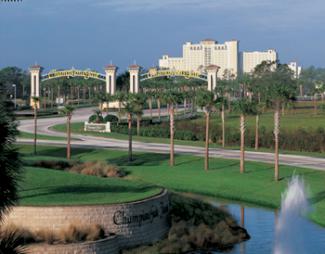 Omni Orlando Resort
ChampionsGate a Must-Stay

ChampionsGate Golf Resort is a Central Florida golf masterpiece. Playing either golf course feels like you're miles away from civilization. Yet the facility is less than 15 minutes from Walt Disney World.

The property is overseen by Omni Orlando Resort at ChampionsGate, which offers different golf packages. The hotel features upscale accommodations and amenities, including meeting and conference facilities, fine-dining, swimming pools with a lazy river and water slide, a 24-hour fitness center, a spa, recreational activities that tennis, basketball and sand volleyball, and even a very nice nine-hole par-3 course lit for nighttime play.

For more information, visit www.championsgategolf.com.
Steve Habel is one of Cybergolf's national correspondents, contributing news stories, features, equipment and book reviews and personality profiles from his base in Central Texas. He is also the managing editor for Texas CEO Magazine and works as a contributing editor for Horns Illustrated magazine, a publication focusing on University of Texas sports. He also writes a blog (www.shotoverthegreen.blogspot.com), which features news on golf and the Longhorns, and another (www.checkinginandplayingthrough.blogspot.com) on his many travels, which took him across the nation and to 105 different golf course in 2009. Habel is a member of the Golf Writers Association of America and the Texas Golf Writers Association.