North Carolina's Yadkin Valley Gets into the Game with Gimmies, Grapes & Great Views
By: Dave Droschak
After such a successful year promoting a partnership between golf and grapes, what at first might have appeared to be a bit of a pipe dream seems a natural fit now - like a cork snuggled into the top of a wine bottle.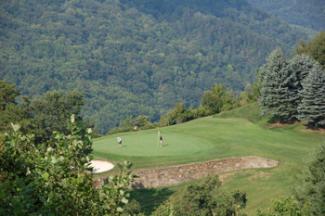 15th Green at Olde Beau Offers Breathtaking
View of Blue Ridge Mountains
(Photo by David Droschak)
"We feel we've hit a nerve with people," said Surry County manager Chris Knopf, part of the brains behind the golf-and-wine partnership idea for the Yadkin Valley region of North Carolina. "The unique thing about our courses is some of them are on top of the Blue Ridge Mountains and some of them are down in the foothills, so you get two different experiences. It's not the Sandhills, it's not the coast - it's a different challenge."

The golfing options in and around Surry County are as diverse as the Chardonnays, Merlots and Rieslings produced from the vineyards dotting the hilly terrain.

"Golf has made us a little more two- or three-dimensional," Knopf said of the tourism in and around the town of Mount Airy. "We've had the 'Mayberry' hook for years, and over the last decade we've had the wine hook. Now we've got a golf hook. And the Blue Ridge Parkway is right in our backyard. If golfers come up for a wine and golf excursion it is spectacular."
Knopf said the first full season of the golf-wine campaign in 2012 was such a hit that some groups have already rebooked for a return to the area this year, and the program was especially popular with couples.

Interstates 77 and 73 knifing through the Yadkin Valley offer easy access to golf as Cedarbrook Country Club in Elkin is just 40 minutes from Winston-Salem and less than two and a half hours from the "Triangle," providing the quickest route in the state to some truly outstanding mountain golf.

"We are located right at the base of the Blue Ridge Mountains," said longtime Cedarbrook director of golf Zim Zimmerman. "We're only 25 minutes away from the Blue Ridge Parkway and it is very pretty here. Looking up towards the mountains, with the different lighting at different times of the day, is one of those sights that a lot of people just don't get an opportunity to see a lot of times."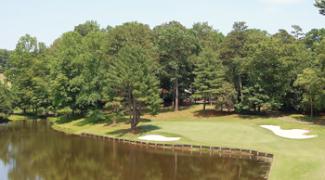 Cedarbrook Was Designed by Legendary Architect
Ellis Maples (Photo by David Droschak)
The present golfing alliance also includes Cross Creek Country Club in Mount Airy and Olde Beau in Roaring Gap. Knopf hopes to add one more high-end course to the mix soon, and has already begun incorporating a lodging option that includes rustic cabins.

"We were optimistic partnering golf with wine because we have something no one else can offer," Knopf said. "And our 30 or so wineries have really started to establish a good reputation with most of them a little over a decade old. Our revenues are through the roof. We're jumping $10 to $12 million a year, which is huge for a rural county."

The Hampton Inn & Suites at Shelton Vineyards (www.sheltonvineyards.com/default.aspx?shelton=41) off Interstate 77 has raised the bar in the area in terms of lodging. Developed and owned by the Shelton brothers - Charlie and Ed, the hotel is equipped with a wine bar and has been voted the No. 1 product in the Hampton chain several years running.
"It's a Rolls-Royce as far as Hampton Inns go," Knopf said. "The lodging here surprises people . . . and some of the restaurants here are going to surprise people, too. A lot of these fine-dining restaurants in places like Elkin and Mount Airy are the direct result of the wine industry. The feedback we've gotten from people who have been here on a golf trip has been very, very good."

Yadkin Valley golf is diverse, challenging and, beyond all else, scenic. Cedarbrook (www.cedarbrookcountryclub.com) is an old-style Ellis Maples-designed course whose greens complexes will make golfers think on approach shots, while Cross Creek (www.crosscreekcc.com) was recently renovated by Greensboro-based architect Kris Spence, and Olde Beau (www.oldebeau.com) in Alleghany County sits at an elevation of 3,200 feet with stunning 25-mile views.

"You can't beat the Yadkin Valley for the designs, the beauty and the conditions of the golf courses," Zimmerman said. "We try to give the highest level of service and make you feel welcomed, and let you know we appreciate you coming. The traveler or the golfer looking for a new experience can get a great golf course, in great condition and have a great value."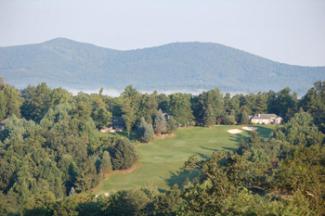 Mist Rises from the Valley in Early Morning at Olde Beau
(Photo by David Droschak)
Cross Creek's owners spent $1.5 million five years ago to bring in Spence and upgrade its layout. The result is a golf course ranked annually among the state's top 100.

"We put some very bold bunkering in at Cross Creek, added some depth to the bunkers so they have good meaning, they have good presence and they register with the player," Spence said. "Cross Creek now has 18 holes with individual character; they are memorable and register with players."

Olde Beau offers players a true thrill ride and some of North Carolina's best golf course views, especially on the back nine where the 15th green virtually sits on a cliff that drops off into the Mitchell River Gorge. Meanwhile, the 17th hole falls some 800 feet from tee-to-green.
Dinners on the veranda of the clubhouse provide stunning sunsets over Bullhead Mountain - and peace and quiet after a memorable day on this stunning mountain layout.

"We always say we are a true mountain golf course," said Olde Beau director of golf Tommy Maines, who has been here since 1993. "When a lot of people get on the back nine they are just amazed by the vistas and the views we have."

And while golfers see a 12- to 15-degree temperature drop as they climb the mountain during the summer months, Olde Beau is remarkable once the fall colors take shape.

Down in the foothills, Shelton Vineyards (www.sheltonvineyards.com) outside of Dobson produced 22,000 cases of wine in 2012 as the largest family-owned estate winery in North Carolina. After embracing the golf connection, Ed Shelton foresees potential golf-course development in the area as well as more high-end shopping and fine-dining restaurants.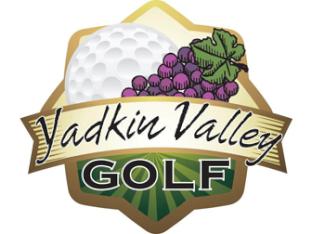 Yadkin Valley Golf Logo
"I've always enjoyed golf but two things got in my way - my backswing and my back," Shelton said. "Joking aside, golf has brought a whole different group of people here than we've ever had before. And we've started to get more people coming here for things like fly fishing, canoeing and hiking because this is a great area for all kind of outdoor activities.

"Golf is the only game played where you don't have referees, so that kind of tells you the type of people who play golf," added Shelton. "They have a lot of respect for the game; they have a lot of respect for the places they go, and I think it's just the right kind of people you want to bring into your area."
David Droschak has covered golf in the Carolinas for three decades, mostly with The Associated Press, where he worked for 20 years as AP sports editor in North Carolina prior to launching Droschak Communications, a full-service marketing and PR firm based in Apex, N.C. Dave, 51, has covered numerous major golf tournaments, including the 1999 and 2005 U.S. Opens at Pinehurst Resort, and is a longtime member of the Golf Writers Association of America.

Dave was honored with the Sports Writer of the Year award in North Carolina in 2005, and is currently editor of Triangle Golf Today (www.trianglegolf.com), a print and online publication regarded as the "No. 1 Source for Golf News in North Carolina." He is golf editor for Pinehurst Magazine, an award-winning glossy publication, and was instrumental in helping launch Triangle Golf Deals powered by Twongo (www.trianglegolfdeals.com) in the fall of 2011.

Dave also is the co-founder of www.HurricanesBeat.com, a website devoted to coverage of the Carolina Hurricanes, an NHL franchise he has covered since the team moved to North Carolina from Hartford in 1998.

Dave grew up in Penn Hills, Pa., about five minutes from the famed Oakmont Country Club and was introduced to the game of golf as a caddie at Green Oaks Country Club in nearby Verona, Pa.

Dave was the co-captain of the 1978 Penn Hills state championship baseball team, was a pitcher for the 1982 Atlantic Coast Conference champion University of North Carolina Tar Heels, and pitched professionally for two years in the St. Louis Cardinals organization. He is a member of the Penn Hills High School Sports Hall of Fame, which also includes NBA coach George Karl and former four-time Pro Bowl offensive lineman Bill Fralic.