North Dakota Golf Trail Sets the State Apart
By: Jay Flemma
Let out a lusty yell if you've ever been to North Dakota.

***Cricket! Cricket! Cricket!***
I thought so. North Dakota seems all but forgotten by everyone except Minnesotans or Canadians: a flyover state, thinly populated, mostly due to its long and fantastically cruel winters and distance from any major metropolitan area. Well get ready for a welcome surprise, because with the addition of three new, upscale yet inexpensive public golf courses - Links of North Dakota, Bully Pulpit, and Hawktree - North Dakota is now much more than just Eastern Montana or Southern Saskatchewan.

North Dakota courses (Hawktree in 2000 and Bully Pulpit in 2005) won two best-new awards in a five-year period. The golf - like the state itself - is an unspoiled frontier adventure, taking full advantage of landscape as scenic as any that can be found in a place with wide rivers, towering rugged mountains, and idyllic lakes. There's also horseback riding, hiking trails, fishing, striated-rock canyons, national parks, American historical landmarks from the dawn of the Republic, and wildlife preserves; in other words, plenty of activity for any vacationing family.

Moreover, North Dakota is no more remote for travel than Texas for most Americans: just turn to the northwest at Chicago instead of to the southwest. Too few people have taken advantage of all the wonders North Dakota has to offer. Well now, with affordable world-class golf, a pristine natural setting and a bourgeoning tourism industry, you can proudly suggest a family golf vacation here and not have your wife concuss you with a 9-wood.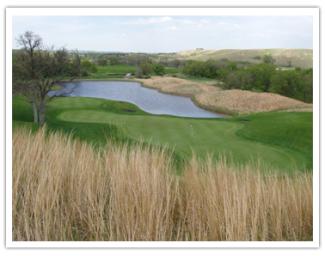 Par-3 15th at Hawktree
Hawktree Golf Club

Hawktree Golf Club in Bismarck is Jim Engh's second solo design project and his first public effort. Engh, a former North Dakotan, was thrilled to work in his one-time home state. "I grew up riding on a tractor in my dad's lap, so it's nice to close the circle, so to speak, and come back home."

The course is unmistakably Engh and, therefore, looks nothing like either Bully Pulpit or Links of North Dakota. Seeking something unique in the golf-design industry, but which would incorporate the same important and traditional design elements from the great courses of the U.K. - wind, ground game, fairway and green undulations, and diagonal or center-line hazards, Engh designed a few holes with side-walled fairways and bowl-shaped green settings (both of which give player-friendly bounces and help keep play moving). He also designed squiggle-shaped "muscle bunkers," this time filled with black slag, a burned coal byproduct, instead of sand. He calls them "muscle bunkers" since the walls of the bunker resemble a flexed bicep.

The look proves both fashionable and functional, and Engh has exported his concepts around the country with great success, building widely-acclaimed courses in Arizona's desert, Georgia's tall timber, Colorado's mountains, and Michigan's lake country. Over time, Engh's aesthetic style has become the golf world's version of cubism with its neo-geometricism, and it all began here at Hawktree.

Engh has some other recurring themes in his work regarding routing that are present at Hawktree, as well. He loves ending on a par-5 to increase the potential for 18th-hole swings in fortune. He also prefers giving players five par-5s and five par-3s for more diversity throughout the round.

As usual for Engh, the par-5s are all showstoppers, the centerpieces of his courses. The fifth is a long dogleg-right, which requires a drive over a diagonal hazard. Then it turns severely uphill, the fairway tapering as you near the green, which sits atop one of the highest hills on the course. No. 7 contains another Engh staple of the design repertoire: an expansive water hazard at the green ringed by a sunburst-shaped bunker to "save" balls so they don't bounce in the water. He has used this hazard successfully at Redlands Mesa (No. 13) and Sanctuary (13) as well. At the closing hole, Engh tucks the green behind left sidewall mound. Approaches from the left are blind and uphill; approaches from the far right are clear.

You don't get much of a break on the par-3s. Two are particularly long (the 180-yard eighth and 208-yard 13th) and both involve carries over scrub brush, while another - the 150-yard 15th - is all carry over water. Only the drop-shot third hole, which plays to a green framed by four trees - and offering an expansive view of the hills beyond - provides a breather. Otherwise, the par-3s are like the NCAA men's basketball tournament: Simply "survive and advance."

After the fifth, the 430-yard, par-4 12th is the best hole on the course. The downhill drive will reach one of several staggered landing areas. The hole then bends gently to the left to reveal a green set on the edge of a hill overlooking the vale of most of the rest of the back nine, with North Dakota hills beyond. It's a singularly beautiful test that requires your best drive and crispest fairway-metal or long-iron to reach in regulation. This is a stout par-4, yet a charming one as well.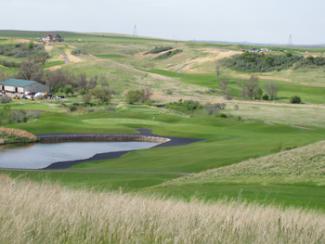 7th at Hawktree; note the black-slag bunker
Hawktree gives you a chance to see Engh's earliest work and compare and contrast his style and design features as his work has evolved over time. Hawktree is primordial, yet still vintage Engh. "I wanted to have a style that looked cool, but also made you think the whole way around," he said. "Since it was my second course here in the States and my first public course, the shapes and forms are simpler, and the greens are less complex than courses that came afterwards."

Indeed, Hawktree's greens are a little flatter than his later work and are not as varied in shape. They are also the mildest among the courses described here.

"Since Hawktree, I've wanted to keep what resonated with both the golfer and with the clients that are asking me to build for them. But I also don't want to be self-indulgent or lose sight of what really energizes people about golf," Engh adds. "Look at Bruce Springsteen. The first three albums are great, but after that he lost me because his music got too caught up in a self-absorbed message and forgot about the music. I simply tried to refine and expand on some ideas that seemed to resonate with golfers at Hawktree, while keeping the unique character of each piece of property on which I get to work. As long as I keep people both excited about the course and thinking on every shot, that's my goal."

Hawktree is also by far Engh's easiest public course to walk. It makes one reflect upon exactly how much of the "unwalkable" myth of his courses, such as Redlands Mesa or Lakota Canyon Ranch, is due to their extreme altitude. As it is located just outside of Bismarck, the airlines' gateway to the state, it makes for a great opener and/or closer to your North Dakota trip.

For more information about Hawktree Golf Club, visit www.hawktree.com.
 
Design - Five and ½ stars (all ratings out of seven)
Natural Setting - Five and ½ stars
Conditioning - Six stars
Cost - $60 peak, $50 twilight and replay+ cart $15 per person
Value - Six stars
Overall - Five and ½ stars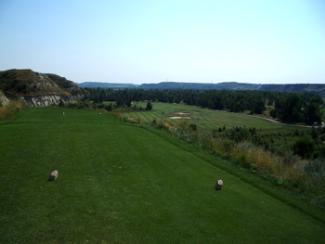 Bunkers in Mid-Fairway at Bully Pulpit's Par-5 17th
Bully Pulpit Golf Course

"That tee box looks like a Bully Pulpit," exclaimed one golf writer, referring to a small ledge perched precariously on a precipice overlooking the 14th fairway at Bully Pulpit Golf Club. "And with that," said course designer Dr. Michael Hurdzan, "I knew we had the name for our as-yet untitled golf course."

Now the whole state knows the name and celebrates Bully Pulpit as their favorite and best. Bold and beautiful, the course is a reflection of the Old West flavor of the region. The citizens are rightly proud of Bully Pulpit and their enthusiasm and loyalty is infectious. "Everybody in the state knows Bully Pulpit. It took the region by storm on the day it opened, and it's earned every accolade," gushed Alan Patterson, a local golfer. "We'd never seen anything like it."

Bully Pulpit is the most diverse course on this North Dakota triad. Like both Hawktree and Links of North Dakota, it has both strategy and a great natural setting. But it also features two distinct and different terrains for golf. The front nine plays through serene meadows, while the back climbs through, around and over rugged Badlands canyons.

Hurdzan is a minimalist designer, which means he moves almost no earth at all to build or shape a course. The front especially feels like you are just walking in a beautiful vale with your clubs. The back transports you to a completely different golfscape, that can't possibly feel "natural," but is adventurous to the nth degree. It's a minor miracle getting a golf course between these cliffs, but it's exhilarating traversing them.

Because of the tradeoffs Hurdzan had to work hard to stay loyal to his minimalist roots; there are a few bland holes that cause Bully Pulpit to fall just short of the start-to-finish perfection of similar canyonlands courses like Black Mesa in New Mexico, but it's still one of the best golf values in the country and a terrific place for a week's vacation.

Though the minimalism is to be commended, the greatest asset is Hurdzan's creation of many lines of charm. Bunkers frequently bisect fairways perpendicularly (most notably at Nos. 6, 13 and 17) and meadows filled with native grasses tempt players to try to carry them to gain an advantage for the next shot. The greens have more interesting contours than most other public courses, yet do not have the cloak-and-dagger terror of a Black Mesa or Pinehurst No. 2. With solid design features and several different types of topography, the 7,166-yard course is particularly well-rounded.

Medora is a two-hour drive west of Bismarck and begins your adventure back in time; the town looks like Central Casting's idea of an Old West outpost. Watch out for bison walking through the streets and across highways. They are gentle creatures by nature, but the horns mean business and their sheer size makes them dangerous. The tourist season starts in May, so come a week earlier and you'll have the course to yourself and few ardent locals.

For more information about Bully Pulpit, visit www.medora.org/attractions/golf.

Design - Five and ½ stars
Natural Setting - Six stars
Conditioning - Five and ½ stars
Cost - $50 peak, $35 reduced
Value - Six and ½ stars
Overall - Five and ½ stars
2nd Green at Links of North Dakota Borders Lake Sakakawea.jpg
The Links of North Dakota

Miss the turn for Links of North Dakota, and you'll be coming back from Canada. It's that close. It's just over a two-hour drive north from Medora to reach the far northwest corner of the state, where this track lays along the heaving natural-grass-covered dunes atop the bluffs above a gorgeous corner of Lake Sakakawea. It's 28 miles to the nearest town, and the landscape seems as remote and primal as when Lewis and Clark walked here with the Lake's Native American namesake exactly 200 years ago.

Architect Stephen Kay had to feel a little like Lewis and Clark when he arrived at the site. "It was as pure and unspoiled a place as I'd ever seen in my life," he recalls. "A student taking my course at Rutgers found the site, he and some of his friends, "Kay begins. "It looked like Ireland with all the hummocks. The soil was perfect, there were no rocks, and it's on the water: just unbelievable, a dream come true."

Kay did several routing plans before settling on a final version, and went to meet the owner of the land, a 90-year-old man from Montana. He wasn't selling.

"We had left the plan I made in the car," Kay continues. "We didn't want to scare him off telling him it was for a golf course. So we went back to the car to get ready to leave, when we noticed he has a golf cart in his back yard. We went back in and told him it's for a golf course, and showed him my drawing. His eyes get as big as saucers and he sold the land for $76,000! Under $200 an acre! Can you believe it? For lakefront property! It was a dream come true for everyone involved and a bit of heaven I love to visit time and again."

Moving only 7,000 cubic yards of earth, Kay built that course for $300,000. "We hardly had to do anything. Six greens I didn't change any grades, we just seeded it to existing grade. We also just pushed up greens and pushed up tees." Moreover, with excellent green contours and an inspired use of the land, Kay shows how an outstanding course embraces the character-filled undulations rather than flattening them and removing all interest.

Just like the great seaside courses of the U.K. and Ireland, Links of North Dakota has three primary defenses: the blustering west and northwest winds, the severe green contours, and the undulating fairways which frequently present uneven lies.

The wind makes a joke of the listed yardages everywhere, but nowhere is the discrepancy more prevalent then on the par-3s. As a result, all four par-3s test distance-control. The short third plays severely downwind to a shallow green fronted by bunkers. Eight, while only one club longer on the card, plays severely into the wind and is fronted by a deep brush-filled chasm and three savage, sod-faced bunkers. Seventeen, while 184-211 on the card, plays at least two to three clubs less downhill. Only the mid-iron 11th is sheltered from the wind as it sits in a bowl. A bunker reminiscent in size, shape and location to the famed "Devils Asshole" at Pine Valley, guards right-hole locations. This hole also features a great hump in the green and other extreme contours, making it the most severe green of the par-3s.

Like Hurdzan, Kay is also a minimalist. Indeed, Links of North Dakota embraces minimalism to its furthest degree; it feels like a throwback to the way was played many decades ago. Colorless rocks are used for tee markers with only bare wooden posts marked "1" through "5" to indicate the player's teebox. Fences are mesh-wire and dirt trails serve as cart paths. Even port-a-potties are done over as wooden stalls (stay calm . . . that's the outside only! The inside is a modern convenience.) In keeping with the old-time spirit of minimalism, the course is an easy walk.
The front nine plays out to the lake on the first two holes, then tacks inland to the best holes on the front, the short and downwind, reachable par-5 fourth and the long par-4 fifth, which tumbles back to the lake before finishing at a picture-window green set at the edge of the bluff. The excellent and long par-4 sixth runs along the bluff, with the lake along the left.

Interestingly, the back nine scorecard is perfectly symmetrical - 5,3,4,4,4,4,4,3,5. The excellent routing ensures the wind affects shots from many different directions - downwind, into the wind and varied crosswinds. The long par-4s on the back mostly play downhill but into the wind, the shorter par-4s generally play uphill but downwind. The inward nine boasts one terrific hole after another. The best hole on the course is No. 12, a murderously long par-4 (473/438/410) into the teeth of the prevailing west wind. The fairway slopes so severely right to left, everything kicks down a huge ridge. If you find a flat lie, please point it out so people can take a picture for posterity. Once on the green, the adventure continues as the putting surface appears to be draped over the top of a hippopotamus with a gland problem.

The shortest par-4 on the back, No. 13, is also the narrowest hole on the course and plays severely uphill. Sixteen, featuring another picture-window green, overlooks the broad expanse of farmland below and has a terrific putting surface with a long speed bump bisecting it lengthwise.

If there is a drawback, the greens were far to slow the day I played and were a drop on the dry side. In keeping with the rustic feel, the fairways are left a little long, so the ball contains well on the severe ground undulations.

Finally, the par-5 18th does not fit with the course. A great 18th is a summation of all that came before, but the finisher here explores a completely new area of the property, and the least interesting. It borders a ranch, with OB all along the left, and then scuttles back to the clubhouse from the absolute rear of the property, completely away from the lake and the undulating terrain of the back nine.

Also, too many of the holes run away from the scenic lakefront. Courses such as Bandon Dunes and Monterey Peninsula Country Club (Shore Course) maximize the number of lakeside greens to also optimize the natural setting. While a few holes play along the lake, too often on the back we are playing directly away from the site's main aesthetic draw.

The course is also colloquially referred to as "Red Mike" after an accused cattle and horse rustler. According to local legend and the book "The Wonder of Williams" (as in Williams County, where the course is located), a group of vigilantes sought to rid the region of thieves. While out on one of their purges, they came across "Mike" camping in the wilderness.

The vigilantes tied Mike to a chair in the middle of what now is the golf course and lit a fire underneath him. They demanded he tell them the location of other thieves and their cache of rustled animals. Since Mike turned red while the fire burned but provided no information, they had to release him. Ever since then the area has been known as Red Mike Hill.

So the U.S. better call off trading North Dakota to Canada for hockey pucks, maple syrup and a keg of Labatt's every Saturday night. The public golf world needs more golf trails like North Dakota's: intelligently designed, diverse, gorgeous and inexpensive. But you don't have to take my word for it. Golfweek liked the trail so much, they held a rater's training event here.

If not, and if all else fails, I could sell this story to The Onion. It's right up their alley: "Lunkhead Golf Writer actually recommends North Dakota for golf vacation."

For more information about the Links of North Dakota, visit www.thelinksofnorthdakota.com.

Design - Five stars
Natural Setting - Five stars
Conditioning - Four stars
Cost - $50 wkd, $40 M-F, replay half price, add $15 for carts per rider
Memberships - single $675, family $825
Corporate - $1,075 for up to 10, $1,575 for up to 20
Value - Five and ½ stars
Overall - Five stars


Since launching his first golf writing website in 2004, http://www.jayflemma.thegolfspace.com, Jay Flemma's comparative analysis of golf designs and knowledge of golf course architecture and golf travel have garnered wide industry respect. In researching his book on America's great public golf courses (and whether they're worth the money), Jay, an associate editor of Cybergolf, has played over 220 nationally ranked public golf courses in 37 different states. Jay has played about 1,649,000 yards of golf - or roughly 938 miles. His pieces on travel and architecture appear in Golf Observer (www.golfobserver.com), Cybergolf and other print magazines. When not researching golf courses for design, value and excitement, Jay is an entertainment, copyright, Internet and trademark lawyer and an Entertainment and Internet Law professor in Manhattan. His clients have been nominated for Grammy and Emmy awards, won a Sundance Film Festival Best Director award, performed on stage and screen, and designed pop art for museums and collectors. Jay lives in Forest Hills, N.Y., and is fiercely loyal to his alma maters, Deerfield Academy in Massachusetts and Trinity College in Connecticut.