Northern Trust Open Transforms L.A. into City-wide Golf Course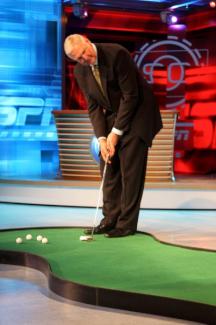 Jerry West Tees Off in LA
Imagine a bunker stretching the length of a California beach. Or a fairway as long as Interstate 405. Or a golf course the size of Los Angeles. Next, throw in the world's best golfers, L.A. personalities and a drive for local charities, and you have "Play for L.A.," or PLAY.
PLAY is an 18-day, city-wide event led by Northern Trust Open Executive Director Jerry West and 18 golfers - including celebrities, golfers and notable Angelenos - who are putting, chipping and driving their way through iconic Los Angeles locations in a countdown to the PGA Tour's Northern Trust Open.
On January 16, at 12 p.m. on the Third Street Promenade, L.A. West teed off the first PLAY event.
Locations and celebrity information for the events are being revealed daily on the Northern Trust Open Facebook and Twitter pages at www.facebook.com/northerntrustopen or www.twitter.com/ntrustopen.
Los Angeles-area residents are invited to attend the public events and vie for a chance to participate in challenges and win Northern Trust Open merchandise and tickets.
In addition, more than 2,000 PLAY golf balls will be scattered throughout area public golf courses, driving ranges and club houses. Each ball provides free admission to the Northern Trust Open, which will take place February 2-7.
The final "18th hole" will take place at Riviera Country Club in Pacific Palisades, Calif., the host of the Northern Trust Open and the only Los Angeles stop on the 2010 PGA Tour. All proceeds raised from the sale of tournament tickets will benefit the Los Angeles Junior Chamber of Commerce Charity Foundation, which impacts the lives of more than 15,000 residents each year. Since its founding in 1926, the Northern Trust Open has generated more than $50 million for philanthropic programs in Southern California.
About the Northern Trust Open

What started as the Los Angeles Open is now the Northern Trust Open, one of the longest-running tournaments on the PGA Tour. Debuting in 1926 at Los Angeles Country Club, the event had been staged at various courses throughout the Los Angeles area before permanently settling at Riviera Country Club in 1973. Outside of the major championships, the Northern Trust Open is the fourth-oldest event on Tour, trailing only the BMW Championship, the Canadian Open and the Valero Texas Open. For ticket information, visit www.northerntrustopen.com.