Northwest Golf Media Association Announces Recipient of Annual Scholarship - University of Washington Student Selected
Pete Treperinas, a senior-to-be at the University of Washington, has been selected as the recipient of the first NWGMA Scholarship, which will be given annually by the Northwest Golf Media Association.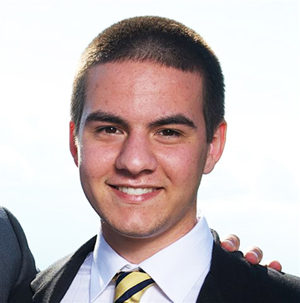 Pete Treperinas
Treperinas, a 21-year-old journalism major interested in a career in sports journalism, is receiving $2,500 from the NWGMA. He is a graduate of Shorewood High School in the Seattle suburb of Shoreline. Treperinas will be formally given the scholarship at the NWGMA banquet being held at Broadmoor Golf Club in Seattle on October 8.

The scholarship is open to all students who are entering their senior year at a Northwest college or university and who have demonstrated an interest and ability in sports journalism. The scholarship is posted at universities in Oregon, Idaho, British Columbia and Washington.
Jeff Shelley, co-founder of the NWGMA and longtime editorial director for Cybergolf, said, "When Bob Spiwak and I founded the NWGMA in 1995, one of my goals was to take the organization to a place where we could justify financially - through member dues and contributions - the creation of an annual scholarship for college students interested in writing about golf after graduation. Though it took 17 years, awarding our first NWGMA Scholarship to Pete is personally very satisfying."
Treperinas is on schedule to graduate next June. He attended summer school after spending spring in Greece as an exchange student.
"My Greek heritage is a big part of my life," said Treperinas, whose growing-up years included Greek folk dancing and Greek church activities. He goes by the first name of Pete, but his given name is Panayiotis (Pana-YO-teez).
NWGMA President Tom Cade said, "Pete got the nod over some other strong applicants. One thing that caught the eye of our committee was his involvement in golf, particularly as the two-year captain of his high school team. He obviously is someone who knows and enjoys the game and he has done well in his college studies and as a sportswriter for the UW Daily and in internships at 710 KIRO (ESPN's Seattle affiliate station) and Seattlepi.com."
Like most journalism students, Treperinas said he can't predict if he will wind up working for a newspaper, magazine, website, radio station or other media outlet. What he is sure about is that the scholarship money will be helpful in his final year of college. "I'll definitely put it to good use," he said.
"This is the first year we've given a scholarship," said Cade. "Only students entering their final year of college are eligible because we want to help someone definitely interested in media get to the finish line, not someone experimenting with different majors or unsure what he or she wants to do. We see the scholarship as part of our organization's mission to encourage and assist media coverage of golf in the Northwest and we're pleased to give it to Pete."
The majority of funding for the NWGMA Scholarship was arranged by NWGMA members John Tipping and Owen Hoskinson, who own and operate the Seattle Golf & Travel Show and the Vancouver (B.C.) Golf & Travel Show. They donated the proceeds from the silent auction at their Seattle show to the scholarship. "Their generous donation has made this scholarship possible," said Cade.
The Northwest Golf Media Association consists of over 125 golf media and industry professionals in Oregon, Idaho, British Columbia and Washington. It is a 501c7 non-profit organization that was founded in 1995 to assist the coverage of golf in the region. For more information on the NWGMA or the NWGMA Scholarship, visit www.nwgma.org. For information about the banquet on October 8, call 206/890-5339.