Northwest Golf Media Association Honors Arv Olson & the Late John Harbottle
On Monday at the 13th annual awards banquet of the Northwest Golf Media Association at Broadmoor Golf Club in Seattle, Arv Olson, longtime golf columnist for the Vancouver (B.C.) Sun newspaper, was honored with the NWGMA's Distinguished Service Award, the association's highest honor. Also recognized at the banquet was John Harbottle III with the association's Local Legend award. The recipient of the inaugural NWGMA Scholarship, Pete Treperinas, was also honored at the event.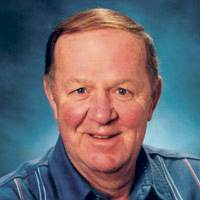 Arv Olson
Arv Olson

For 38 years Olson was the voice of golf as a sports writer at the Vancouver Sun newspaper. He has received lifetime achievement awards from the Royal Canadian Golf Association (now Golf Canada), the PGA of BC and the B.C. Rugby Union (he also covered hockey and rugby at the Sun). He has served on the selection committees of the B.C. Sports Hall of Fame and the Golf Hall of Fame of British Columbia.

Arv is greatly admired by his fellow writers and is recognized for his dedication to the sport of golf and his passion for the game. He is a true golf historian and has written three books on the subject. His first book, "Backspin: 100 Years of Golf in British Columbia" (which he has recently updated to cover the province's 120 years of golf) is considered the bible of B.C. golf-related history. "Golflore: Notes, Quotes and Anecdotes" was released in 2005, and his most recent book is titled, "Stan Leonard: Canada's Forgotten Golf Legend."

In an earlier interview with Sun columnist Iain MacIntyre, Arv said he took over the golf beat at The Sun in 1957 because "nobody else wanted it." He went on to write golf for 38 summers while working other beats during the winter, including a 10-year stint covering hockey's Vancouver Canucks.
"I put my hand up and said 'I'll take it,' " he recalls of taking the golf gig. "My first tournament was the New Westminster Amateur and it was won by a guy named Doug Bagus. He was 6'5" and growly. He used to throw clubs and everything. I had to go interview him and he scared the hell out of me."

Arv didn't play golf until he started covering it. Growing up in North Vancouver, he played rugby and football, but earned pocket money by caddying at Capilano G&CC in West Vancouver, B.C.

"In a year with other excellent candidates, Arv is an extremely worthy choice for the award in a vote by our members," said NWGMA president, Tom Cade. "His name has become synonymous with the coverage of golf in the Pacific Northwest. He set the standard for golf journalism in the region."

Arv went on to cover several hundred more tournaments. "I never could play, but I tried," Arv says. "I fell in love with the people in the game. There were so many interesting people."
Since retiring from The Sun, he and his wife Alice have lived on Vancouver Island in Fanny Bay, B.C.

Due to health concerns, Olson couldn't make the trip to Seattle. For a video of him accepting the award, visit the NWGMA's website at www.nwgma.org.

Past recipients of the NWGMA Distinguished Service Award include Doug McArthur, Dale Johnson, Margaret Maves, Bruce King, Bob Robinson, Blaine Newnham, Bill Yeend, Jeff Shelley, Paul Ramsdell, Craig Smith, Paul Backman and John Bodenhamer.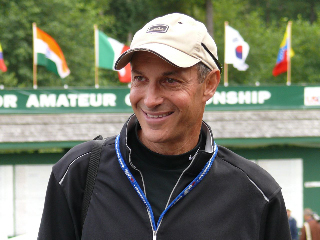 John Harbottle
John Harbottle III

Harbottle was posthumously awarded the NWGMA's Local Legend award. This honor was created to recognize individuals who have distinguished themselves as noteworthy players or for their overall long-term involvement with the golf community of the Pacific Northwest.

Harbottle passed away suddenly on May 24, 2012, at the age of 53. A native of Tacoma, Wash., John was a golf course architect who trained under Pete Dye but went on to forge his own name in golf course design for his remarkable variety of high-caliber layouts, such as the Olympic Course at Gold Mountain in Bremerton, Wash., BanBury Golf Course in Eagle, Idaho, Juniper Golf Course in Redmond, Ore., Palouse Ridge in Pullman, Wash., as well as numerous renovations throughout the West. His work received accolades for environmental sensitivity and design excellence by the Audubon Society and Golf Digest, making him one of the top rated golf course architects in the country.

He was on the board of the American Society of Golf Course Architects, Tacoma Country and Golf Club, and The First Tee of South Puget Sound. Generous with his time, he was a guest speaker at a few NWGMA meetings, most recently on May 7, just weeks before his untimely death, when he spoke to the gathered media about his renovation of White Horse Golf Club in Kingston, Wash.

Harbottle, whose widow, Teresa, gave a heartfelt acceptance speech at the banquet and whose children, Johnny and Chelsea, were in attendance, was the eldest son of Pacific Northwest Golf Hall of Famers, John and Pat Harbottle, who also attended the banquet. Pat Harbottle won the 1955 U.S. Women's Amateur.

John Harbottle III was a gentleman of integrity, fairness and kindness. The golf community will miss him, but will continue to enjoy the legacy he left behind whenever playing one of his beautiful course designs.
NWGMA Scholarship

The recipient of the first NWGMA Scholarship was also at the banquet. Pete Treperinas, a senior at the University of Washington, was selected among candidates from throughout the Pacific Northwest and British Columbia and received $2,500 to help complete his schooling. With a demonstrated ability and interest in sports journalism and media, Treperinas has already amassed an impressive body of work while at the university and while serving internships in the media industry. Visit www.nwgma.org/scholarship for more information.

The Northwest Golf Media Association consists of over 125 golf media and industry professionals. It is a 501(c)7 nonprofit organization that was founded in 1995 to assist the coverage of golf among colleagues in the region.