Number 99
By: David Wood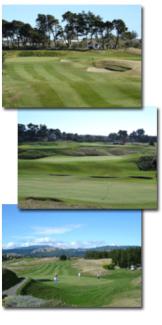 Every year when the rankings come out for the 100 top golf courses in the world, it's never a surprise which courses are in the top ten. Just like Sweden and Venezuela in the Miss Universe pageant, the top two spots are annually reserved for Cypress Point and Pine Valley. They tend to switch positions every couple of years, but I think that's more to do with the vintage of port served to the judges after a round than the condition of their pristine, magnificent layouts.

The next few spots are usually a game of musical chairs between The Old Course, Pebble Beach, Muirfield (Scotland), Augusta National, and Shinnecock. The mighty Royals: Portrush, County Down, and Melbourne, along with the new kid on the block – Sand Hills, Ben Crenshaw's homage to Scottish links golf in Nebraska of all places, are in the mix for positions seven through ten. The loser sinks to that dreaded 11th spot. Having recently had the pleasure of playing the number 99th-ranked course in the world, it occurred to me that obtaining that spot is infinitely more difficult than the rarified air of the select ten.

Think about it. When you're No. 99, you're in a precarious position in the world of golf courses. Each year the latest and greatest golfing creations from Fazio, Nicklaus, Doak, as well as every other golf architect du jour are nipping at your heels. Every billionaire who hoodwinks a zoning commission to buy an unbelievably gorgeous piece of land, and then goes to their ATM for millions more to create a new golfing playground for their cronies, wants your spot.

The thousands of courses that consider themselves to possess Top-100 qualities have their beady little eyes on you. All the courses that were once in the century club but were bounced out like a deadbeat drunk at closing time want your seat at the bar. When you're number 99 there's a target on your back. It's like Norm of the TV show "Cheers" said to Sam Malone as he walked to his usual bar stool after a long day: "You ever feel like the world's a dog, and you're wearing Milk-Bone underwear?" That's how No. 99 must feel!
Paraparaumu Beach Golf Club is the 99th ranked course in the world. It's a classic straight-ahead, no-gimmicks, what-you-see-is-what-you-get, links-style course sitting just a wee-bit inland from the Tasman Sea on the western coast of New Zealand's North Island. This is golf the way God sitting up there at the ultimate 19th hole intended it to be hard fast fairways with bumps, knobs, and hollows; greens that are nestled in wind-swept sand dunes; and par protected by the natural predator of golfers – wind. There's no billionaire's helicopter pad, no armed guards at the gate, and you have to tote your own bag. In a word – perfect.
Through not long by modern standards at over 6,600 yards against a par of 71, it's all the golf you want. The holes are never less than very good, and two can be considered great. The club recently nominated the par-4 17th for the upcoming "100 Best Holes in Golf." At 440 yards you have to hit a long drive between two dunes that flank both sides of the 17th fairway. If this mission is completed successfully, your only hope of hitting and staying on the green is a high left-to-righter that brings into play an evil greenside bunker lurking thuggishly short right of the green. Any shot struck to the center or left of the putting surface laughingly bounces into a deep swale that semi-circles this elusive target. Can you say "Bogey" boys and girls?
For my money, at 443 yards, the par-4 13th is even better. Like the wonderful "Foxy," the infamous par-4 14th at Royal Dornoch in Scotland, there's no bunker on the hole to ruin your hope at par. It's all laid out naturally right before your eyes. You simply have to stand on the tee and hit a long and perfect right-to-left tee shot that avoids the shaggy grassed dunes that await anything not hit well. Your second requires a precisely struck left-to-right long iron or fairway wood from a probable uneven lie to a narrow-but-deep-green that slopes from back to front. Good luck! Any shot landing short will roll back toward you with the only positive being you don't have to walk as far to hit your difficult third. This is a classic par-4 where five is not a bad score, and a par makes you moonwalk to the next tee.
Paraparaumu has a wonderful collection of par-3s that test everything from a 3-wood to a pitching wedge from the tee. On the excellent 146-yard 14th , you might hit an easy pitching wedge downwind, and then with the wind in your face the following day, it's a full throttle 3-wood! This is a course that makes you think about what you're doing; you don't automatically grab a 7-iron when you're 150 out. The fact Paraparaumu is a favorite of pros like Gary Player, Bob Charles and the great, but supremely underrated, Peter Thompson (five British Open and nine New Zealand Open wins!) is very telling. Even the chosen one – Tiger Woods – came to the 2001 New Zealand Open at Paraparaumu to pay homage to the links (though it should be noted they paid Tiger "homage" to the tune of $2 million!).
Dozens of other courses want your spot at No. 99. They'll be coming at you with whatever diabolical course the fiendish Pete Dye comes up with. Jack Nicklaus is probably about to deposit another $5 million for a new 18 that has "Bear" somewhere in the title. Greg Norman is most likely at his drawing board right now scheming up a plan to take your place. They'll say Paraparaumu is not long enough, it's out of date, or too easy for the modern player. The experts will be lured to the links with dreams of a 59, but then the wind will blow, the bunkers will be waiting, and the scores will soar. I'm rooting to keep Paraparaumu at 99; it's exactly what we need more of in this wonderful game of golf – a true and honest test!
David Wood – writer, corporate speaker, and humorist – is the author of the soon-to-be published book "Around the World in Eighty Rounds." With several appearances on "Late Night with David Letterman," Wood combines humor with his love for golf and adventurous travel. For comments or inquiries on having him speak to your group, contact David at David@DavidWoodSpeaking.com. His website address is www.golferdave.com.