N.Y. Giants' Ahmad Bradshaw to Host Hamptons Golf Classic VIII
New York Giants running back and Super Bowl champion Ahmad Bradshaw will host the 8th Annual Hamptons Golf Classic on Monday June 25th at the Hampton Hills Golf & Country Club in Westhampton Beach, N.Y.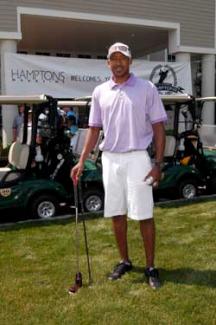 NBA Player Chris Duhon is
One of the Celebrity Golfers
The event founded by Zev Norotsky and sponsored by Hamptons Magazine will bring celebrities and Hamptonites together for a day-long golf tournament to raise money for charity. This year's event will honor Lawrence Citarelli Jr. and benefit the International Rescue Committee, which works to provide emergency care for refugees of humanitarian crises worldwide.

Past celebrity guests in the charity event have included Kelsey Grammar, Russell Simmons, Lorraine Bracco, Amanda Hearst, Billy Crudup, James Lipton, Fat Joe, Rocco DiSpirito, Tommy Hilfiger, Michael Strahan, Anthony Anderson, Marc Consuelos, Tim Vincent, Stephen Baldwin, Jay Fiedler, Steven Klein, Justin Tuck, Chris Duhon, Jill Zarin and Jason Binn.
The event starts at 10 a.m. and will be followed by a silent auction and awards reception. Limited player foursomes are available at $3,000 and can be purchased by contacting zev@gettherepr.com or calling 917/232-2355.
For more information, visit www.hamptonsgolfclassic.info.