Oakland Firm Offers Urbanized Golf Garb
Urban Golf Gear of Oakland, Calif., offers a line of golf clothing for the new wave of players who've adopted the sport. Inspired by Tiger Woods, the company is proving attractive to golf's increasingly diversified demographic. The apparel targets two of the nation's most contrasting cultures – the golf world and the hip-hop generation.
Company founder Craig Tanner explained the genesis of Urban Golf Gear (UGG) to the West County Times in an April 2002 article. "I was watching Tiger and Steve Scott play for the (1996) amateur title and I figured it could be spiced up. They looked like frumpy old men with these goofy outfits on. I knew Tiger was going to go pro and all these black people would get into golf. Then the rappers and athletes would get into it."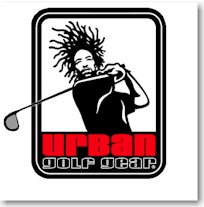 The UGG logo is untraditional, to say the least. The image – a dreadlocked man swinging a golf club – is as revolutionary as it's refreshing. Tanner said he once watched as the logo reduced a middle-aged black woman to tears. "She started crying," Tanner related. "She thought it was the greatest thing that a black man did this. I will never forget that."
On another occasion a white man was so smitten with the logo and the concept that he bought a shirt and walked away wearing it. "I never judge a book by its cover, but not in a million years would I have thought he would like Urban Golf Gear," Tanner said of the latter purchaser. "He looked to be in his 40s and as conservative as can be. But he pulled his shirt off right there, with his big ol' belly exposed and everything."
Tanner says the logo "definitely brings out the emotion in people. (It's) so powerful because it's this person of color in a sport that traditionally isn't accommodating to people of color." Tanner said the man with the flying dreadlocks is an amalgamation of nearly 50 faces of different nationalities. The face was adorned with locks on the head, a goatee on his face and a club in his hand. Comedian Steve Harvey was so enthralled with the design that he stopped in the middle of filming his television show and asked, "Where can I get some Urban Golf Gear?"
Another actor, Darren Henson of the HBO series "Soul Food," said of the clothing, "The first time I saw it, it jumped out at me. The style is great. The clothes have so much energy. When I have on Urban Golf Gear, I feel people gravitating towards me because of the logo."
The image has also been spotted in the comedy movie starring Vivica Fox and Morris Chestnut, "Two Can Play at That Game." Besides "The Steve Harvey Show" and "Soul Food," Urban Golf Gear has appeared on television sitcoms such as "The Bernie Mac Show" and "The Hughleys." Noteworthy personalities such as Denzel Washington, Ken Griffey Jr., Omar Epps, Will Smith, Carmen Electra and Sammy Sosa are among the celebrities outfitted by Tanner. One of the game's most dedicated actor-golfers, Samuel L. Jackson, wears UGG gear just about everywhere he plays, and he plays a lot.
The clothing line sports an array of golf shirts, ranging from cotton to polyester to a cotton-polyester blend. There's also Evap-Tech, a material similar to Nike's Dri-Fit, which is designed to soak up moisture. Tanner's company also offers bucket hats, Kangol-style caddie caps, waterproof jackets, fleece and cotton sweaters, vests, a full range of women's styles and the UGG Kidz line.
But UGG's signature style is its street wear, with the hip-hop essentials – fitted caps, logo T-shirts and skull caps – leading the way. For more information on Urban Golf Gear, check out its website at www.urbangolfgear.com.