Ocotillo Golf Club: Golf at an Oasis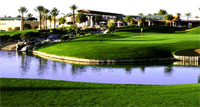 Rising out of the Arizona desert like an oasis, Ocotillo Golf Club is a golfer's paradise. The course encompasses rolling hills lined by mature trees, colorful flower beds and all shapes and sizes of water hazards. An alternative to the desert-style golf so commonplace in the valley, this sanctuary-like course is also one of the best-maintained facilities in the Phoenix-Scottsdale area.
Boasting a list of amenities normally found only at the finest private clubs and resorts, Ocotillo is recognized as one of the finest daily-fee facilities in the country. Serving as a qualifier course for PGA Tour events, Ocotillo routinely receives a four-star rating in Golf Digest's annual guide. Ocotillo was also voted as one of the "Three Must-Play" courses in the valley – along with Troon North and the Boulders – in a recent Golf Digest Readers Poll.
Among Ocotillo's many amenities is a "GolfLogix" Global Positioning System that gives precise yardages to the greens. Once the round is completed, the system provides a complete statistical printout of the round, with such data as the number of times a club was used, the longest shot of each club, average distance of each club, etc.
In 1997 Crittenden Golf Inc. named Ocotillo's clubhouse as the nation's Best New Clubhouse over 10,000 square feet. The facility is the home of Bernard's Restaurant. In 2001, the dining establishment was named by Phoenix Magazine as one of the top-seven "19 Hole Restaurants," joining such fine local facilities as Troon North, The Boulders, The Grill at TPC and The Raven. Ocotillo's pro shop was selected as "PGA Merchandiser of the Year for 2000," and was named by Golf World Business Magazine as "One of the Top 100 Pro Shops in the U.S. for 2001." The club's Special Events Pavilion has developed a national reputation for weddings, banquets and special occasions.
Click on http://www.ocotillogolf.com/ocotillolow.html and discover for yourself the many reasons why Ocotillo Golf Club in Chandler, Arizona is worth a visit.