October 22, 2003. Tale of the Dragon - Part 2
By: Jeff Shelley
The Dragon Golf Course and adjoining Gold Mountain Inn & Spa are situated in remote Plumas County in northeast California. The closest big city is Reno, about an hour's drive to the southeast. The "largest" towns in Plumas County - population 21,203, according to its website - are Portola and Quincy. Our 'fam' group's home for the next four days would be in the piney hills west of Portola. A golf ball travels far at The Dragon, perched at 4,000 feet above sea level.
Plumas County's primary geographical feature is the Sierra Mountain Range, an element the builders of the transcontinental railroad had to overcome when they sought to link America's East and West coasts by rail after the Civil War. (For more on this amazing engineering feat, read Stephen Ambrose's epic, "Nothing Like It in the World: The Men Who Built the Transcontinental.") Rich in train history, the county is renowned for the marvelous rail work along the "Wild & Scenic" Feather River. Besides a museum in Portola dedicated to this mode of transportation, train buffs are drawn to Plumas for its trestles, bridges and tunnels, a unique railroad "Y," and a section of track that crosses over itself in a one-mile loop to gain elevation. One of these trestles is visible about 300 feet down from the left side of the Dragon's short but diabolical par-4 fourth hole.

Alan, Roger and I were assigned to the Buffalo House, a private residence named by its owners for their proclivity for all things bison. It's hard to find a surface or object in this beautiful home without spotting an image of the hunkering herbivore. Plates, glasses, towels, artwork, rugs, bedding, two real-but-stuffed horned critters glowering down at you - you name it, there's absolutely no doubt this is a buffalo pad.
Another interior design motif are the 10 custom-built Native American drums placed strategically on both floors of the house. Ranging in size from small to very large - such as the 4-foot-wide deep-bass beauty that served as a coffee table, you can't walk to the bathroom or the kitchen without banging a drum (wouldn't it be great if everyone could satisfy this primal urge inside their own homes?). On the last night of our trip, following a few cocktails, the three of us pounded out boisterous rhythms - complete with Roger's Indian chants - as the instantaneous Buffalo Band. Ten days after our performance - one I'm sure that's been and will be repeated many times in this house, I was still dressing a nasty abrasion caused by manic drumming. Again.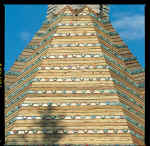 That first evening at dinner, us 'fam' groupies got our first glimpse of Frank Lloyd Wright's magnificent structure, located out in the middle of Northern California's most remote mountains. In 1924, Wright designed the building to be the clubhouse for Nakoma Country Club in Madison, Wisc. But it was never built. The Dragon's owners - Dariel and Peggy Garner - purchased the plans 75 years after the great architect had drawn them. "We seemed almost destined to use his design here," Peggy said over salad. "One day while walking through the property, Dariel and I came across an old pile of debris. In cleaning it up, we found an envelope with a Frank Lloyd Wright stamp on it. We knew then that we had to build Nakoma."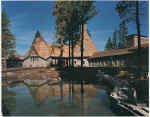 The couple hired Taliesen Architects of Scottsdale, Ariz., a design firm dedicated solely to the works of Frank Lloyd Wright. The Garners hired a crew of 80 - who called themselves the "Nakoma Craftsmen" - and the clubhouse unfolded over 15 months. The result is a garish but awe-inspiring masterpiece.

The five spires of the 24,000-square-foot, $13-million structure soar skyward like psychedelicized teepees. The attention to detail is startlingly true to Wright's original drawings. The Garners almost obsessively followed Wright's plans. For example, the type of rock the architect specified was found - quite serendipitously - near Gold Mountain. But knowing that the permit process for quarrying the material would take years because of California's labyrinthine bureaucracy (my words), the Garners searched for a substitute. After finding an identical rock in Mexico, they imported 300 truckloads of the stuff to Plumas County. All stained-glass and frieze work was done on-site, as were the inlaid ceramic treatments inside and out, each baked in kilns built especially for the purpose.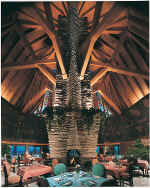 At the base of the clubhouse's largest spire is the "Wigwam Room." Originally destined to serve Nakoma CC's members as the dining area, the room - centered by a massive 45-foot-high fireplace - is the restaurant. Private dining rooms are available, with each offering sterling Sierra scenes. On one end of the clubhouse is the pro shop, and down in the basement is a spa. The Garners got a glimpse of Frank Lloyd Wright's vision, and - cost be damned - made sure it came to fruition for all who visit their place.

As would be expected, the Garners, both in their early 50s, are interesting folks. Dariel was ailing with the flu, so he only popped in on occasion to visit and we didn't get to know him too well. Peggy, though, was our constant companion, sitting with us at meals, extricating turf pelts from The Dragon's fairways, drawing blackjack cards at a Reno casino, and joking with us like an old golfing buddy. The daughter of an IBM career man, Peggy shared with Dariel an ambition that was strong enough to parlay small investments and tremendous work habits into two fortunes. The first came in the 1970s and early '80s with a computer company, which they took from a mom-and-pop enterprise to 16 offices around the U.S. before getting tired of the travel and "retiring."
The second fortune came more entertainingly. After selling the computer company, the Garners moved to a remote area outside La Paz on Mexico's Baja Peninsula. According to Peggy, they and a Mexican friend initiated various start-ups, none of which went very far. Their diet was decidedly drab. It seemed that every night they ate the same thing: scrambled eggs and beans. One day while her husband and the friend visited town, Peggy was on a walk when she spotted water cress growing by a natural spring. She picked the cress and used it on a pizza for that night's dinner. At the dinner table she asked their friend if more cress could be found nearby. He said, "Si, it grows everywhere there's a spring."
The Garners soon had a farming operation, picking the water cress and distributing it to stores and restaurants in Southern California. From that start evolved a massive agricultural operation, one which pioneered mini-squash and other "new cuisine" vegetables in the U.S. At one time their 6,000-acre farm was the only wintertime source in North America for this niche-marketed produce.
The Garners retired again in 1992, leaving Mexico and embarking on a continent-wide hunt for their "dream place." They drove 60,000 miles and endured 13 failed escrows before a Portola realtor showed them a 1,280-acre parcel outside of town. At long last, the couple had found their "quiet, unspoiled spot with a beautiful view." With more land than they'd originally bargained for, the Garners - even though they had no experience in this latest venture - began thinking about converting their 2-square-mile slice of Plumas County into a golf course, homes and other amenities.
Planning began in earnest and, amazingly, within 6 months of filing plans the Garners received entitlements from the county for 27 holes of golf, a clubhouse-restaurant, over 400 single-family lots, and several dozen villas for overnight guests. Many of the concerns encountered during the permit and public hearings process for such grand projects - water usage, deforestation, chemical runoff, groundwater contamination, etc. - were foreseen by the environmentally-minded couple, who wanted to ensure their project would protect the native habitat and ecology of Plumas County.

From computers to vegetables to land development: the Garners never did anything halfway. That was certainly the case with Gold Mountain and The Dragon. In Part 3 I'll take a gander at that golf course with the menacing name.

The photos in this story were taken by Wayne Sorce.