Odds & Ends from the U.S. Open - Part 3
By: Jeff Shelley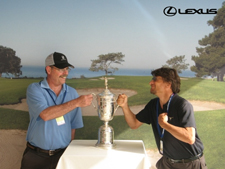 Here's Jeff's final installment from the U.S. Open at Torrey Pines, which concluded Monday on the 91st hole. Rocco Mediate and Tiger Woods finished tied at 1-under on Sunday and, following an 18-hole playoff Monday in which both shot even-par 71s, Woods beat the 45-year-old on the first sudden-death hole with a par. Here are more glimpses of the just-concluded tournament:
Getting a Photo with the Trophy

Cybergolf's Jay Flemma and I both got our photos taken alongside the U.S. Open trophy. For no charge, spectators could get a digital shot of them with the champion's hardware, courtesy of Lexus. This is a cool idea of the USGA's; sort of like democratizing the opportunity to share the winner's spoils.

The Media Center

• The media center at the U.S. Open is a buzzing beehive. Rows upon rows of low-lying, interconnected "desks" provide working space for writers and reporters, including those from the print press, TV, radio and Internet. On one side on the inside of the cavernous "tent" is a 75-foot-long board with the carefully scripted, hand-lettered scores of each player. Volunteers are connected via radio headsets to people around the course, so they stride back and forth along a gangplank to update individual scores as they're received. On both ends of the board are two oversized big-screen TVs providing live footage of the tournament.

• On the opposite side of the room behind our desks is a large area staffed by USGA officials and volunteers, assisting with updates, player guides and assorted information that allows the media to keep on top of things. The friendly staff and volunteers become familiar over several days; the USGA's Media Director Craig Smith, along with the Managing Director of Communications Chris Wightman and Director of Museum and Archives Rand Jerris, deserve kudos for facilitating our task in a professional and helpful manner and for assembling a capable team of volunteers.

• On the first day of the Open I experienced a balky computer that would not connect to the center's wi-fi network. Within minutes, without asking, an IT wizard appeared and got me rolling.

• One of the more amazing elements of the Media Center is its food service. I'm not sure who the caterer was, but the three daily meals were stellar. Dinners included crab cakes, salmon, prime rib, assorted salads, and other goodies too numerous to list. I heard from other reporters that the U.S. Open is the "Lamborghini" of professional tournaments for its classy treatment of the media.

• Many would think that we're out wandering the golf course all day, but that's not necessarily so. I spent the vast majority of my four days inside the Center, tracking scores and players, searching for stories, and updating Cybergolf. My experience at beautiful Torrey Pines was decidedly indoors, so the moments I was able to wander around South and the driving range were special indeed.

• I brought along from Seattle a newspaper clipping about the treatment the media can expect when they cover the Summer Olympics in Beijing, and wanted to make comparisons with how a major sporting event like the U.S. Open is run. I ultimately determined there's no angle here; the USGA had no restrictions on what the media reported, and there were no efforts to slant stories in the association's favor. Based on reports I've gotten from television reporters who'll be in China, I don't think they'll be experiencing the same latitude allowed us in San Diego.
Watching the U.S. Open

• Unless you stay in one place for hours on end, it's pretty difficult to see much of the action at a golf tournament with 50,000 spectators. Among Open venues, Torrey Pines is probably one of the more amenable insofar as reasonably unblocked sight lines and the proximity to the players. There isn't a plethora of view-impeding trees, and several junctures, such as the bottleneck at holes 2-6, offer multiple choices.
• Helping get past the poor views is the constant "What happened?" buzz that seeps to the rear ranks of spectators. Though these communication lines are verbal, they become visceral whenever the excitement rises to a fever pitch. Unlike most every other mob scene inhabited by humans, the reports/rumors that shoot through a golf tournament crowd are probably the most accurate by the time they reach the final set of ears.
• Though the atmosphere is akin to a rock concert, the U.S. Open is the quietest of all sports spectacles. There are people running around, raising dust as they rush from hole to hole, and a lot of talking and jabbering. But when the "Quiet People" raise their signs for silence, everyone, for the most part, goes still.
• Toward the end of the day especially, many people look exhausted. After all, they've walked several miles; awkwardly stretched and craned their bodies and necks to peer at the action; and their diet has been comprised, more than likely, of beers and hot dogs.
• There are, however, serendipitous moments for those who are patient. Catching Tiger smiling after an unlikely birdie or being on hand for an amazing shot by another player is often the result of luck, planning and perseverance. A well-timed elbow or aggressive move to get into a prime, albeit temporary, position also helps.
The Helpers

• The U.S. Open is staffed by thousands of volunteers: from people who work at security to drivers - of all manner of vehicles, to aides in the Media Center, to the salespeople in the Merchandise Center. Ninety-nine percent of these volunteers are hard-working, sincere and helpful. But the other one percent is, invariably, comprised of overly officious prigs who, despite a general lack of experience in their respective areas, feel a need to be petty despots when dealing with the public. Almost as sure as Tiger Woods winning, I've seen this percentage played out in dozens of tournaments.
More Notes & Observations

• Rocco Mediate's peace-sign belt buckle was a nice counterpoint to the garish, evil-looking silver skull worn by Rory Sabbatini. I also like that Rocco wore pins on his cap from his previous Open appearances.

• Tiger has a real knack for positioning himself and caddie Steve Williams within eyesight of his opponent. After he hits, the two lurk conspicuously within the peripheral vision of the other player or players in their group. There's some method to Tiger's madness of wearing a bright-red shirt on Sundays.

• The coolest hole of the tournament was the par-4 14th, which played to a mere 267 yards in the final round. This type of risk-reward hole, with a well-guarded green on a peninsula, should, if possible, be a requirement in every Open as even short-hitters have a shot at a possible eagle.

• People yelling "You da' man!" and "In the hole!" have downed too many beers. The vast majority of the spectators are polite and very in tune with the situation and the players' abilities. Adam Scott's caddie, Tony Navarro, a longtime looper on the PGA Tour, apparently had had enough of two drunks late in the second round and slugged one of them.

• The two were arrested and led away in handcuffs after Navarro went under the ropes midway through Scott's final hole of the day after they'd been heckling his player. The two included a 37-year-old man and his 62-year-old father. They were charged with public drunkenness, and more charges may follow as the older man repeatedly tried to pull his son from security guards. A 7-year-old boy, believed to be the son of the younger man, was handed over to family members.

• According to reports, Navarro later admitted he shouldn't have gone under the ropes; he said he was simply trying to quiet the two as Stuart Appleby was teeing off nearby. No less a crowd authority than Tiger Woods concurred. "They were being a little loud and a little rude," said Tiger, who slowed his walk when he was about 40 yards from the incident. "(Appleby) is over there on 18 trying to tee off and (Navarro) is trying to make sure that he doesn't have these guys yelling on their swing." For his role in the fracas, Navarro may face assault charges.
• Having the U.S. Open conclude on Father's Day is great for golf fans, but for us in the media it kind of stinks. As Cybergolf's Jay Flemma reported in his Sunday story (http://www.cybergolf.com/golf_news/fathers_sons_the_us_open), the USGA's Jerris never gets to see his kids - Noah, Hope, and Ben - on Father's Day. That's because we're working so hard (I know - many of you may consider this statement an oxymoron).

• I arrived in San Diego on Wednesday afternoon and left Saturday evening, reserving Sunday for Father's Day. But I was so distracted by work and updating Cybergolf that I never really relaxed - despite a fun phone chat with my daughter in the Bay Area and opening gifts and cards from her and my wife. Open Sunday is a lot less taxing for those of us living on the West Coast when it's played in the East, and concludes three hours earlier in the afternoon.

• NBC couldn't have written a better script for its coverage than the final shot on Sunday. Taken by Tiger Woods to tie for the lead, the scenario reeked of drama. It would only have been better if Tiger's successful putt was for the win. That would happen a day later.