Of Milk Shakes, Pars & Pinot Noirs
By: George Fuller
In California's wine-famous Napa Valley, north across the Golden Gate Bridge from San Francisco, ask anyone you meet a simple question such as, "Where do you recommend we try for dinner?" and the answer typically requires a notebook and pencil, for the litany of must-try restaurants is long and compelling.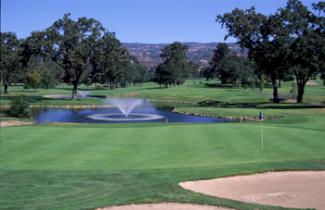 Silverado's North Course
In Yountville, for example, The French Laundry - often awarded by culinary magazines the designation as best restaurant in the United States - is just one of three you'll be told you simply must visit. Chef Thomas Keller's second Yountville eatery, Bouchon, is a block away; and the celebrated chef's newest sensation in the small town is Ad Hoc, where a daily single-option menu has spawned a growing legion of devotees. One recent Monday, the entree offered was an Alabama-style barbeque, with smoked Wagyu beef brisket, pulled-pork sandwiches, chow chow, burnt-end hoppin' johns and corn on the cob with aged cheddar.

For lunch, one of the best blue cheese burgers I've ever had was found at Taylor's Automatic Refresher in Napa. This trendy burger stand doesn't skimp on the portion of blue cheese on the beef, and the garlic fries were so heavily coated that they were bright green with fresh and tasty garlic when they arrived at the table. We could smell them being delivered from half a restaurant away. Saving the best for last, we ordered a double-dark-chocolate shake that was so dark and creamy that even a serious chocoholic like my wife could only say, "Ohhhhhh . . . that's good."
Ask the same question, "Which wineries should we visit?" and the list is far longer, for of course the entire valley - and neighboring Sonoma as well - is renowned for producing our nation's finest wines.

On the other hand, if you make that query of golf courses, there's little disagreement: the 36 holes at Silverado Resort & Spa are hard to beat for a top-notch golf experience in Napa. Set amidst 360 acres of giant oak, pine and redwood trees and flowing across subtly rolling hills, these two Troon-managed layouts typify "classic" design. Both are sprawling, graceful layouts where streams, small lakes and fountains are prevalent and in play.
"Both golf courses are a delight for shot-makers," says Tim Geesey, director of golf operations. "While not overly long by today's course standards, the heavy sea air that comes in from the Pacific allows both golf courses to play to their true length."

The North Course is the longer of the two at 6,900 yards, with some demanding par-4s. It will reward proper placement more than brute strength. The course begins with a straightforward but tough par-4 that presents a simple picture from the tee box, but shows its teeth when you miss the fairway. The slightly elevated green on the fourth hole is one that requires both a solid shot and the proper yardage - miss on either and you'll be forced to play a great recovery shot to make par.
Local resident, former PGA Tour star and now part-owner Johnny Miller holds the course record on the North of 63, and he can still be found on its fairways when not in the NBC broadcast booth.

Travel across Milliken Creek - which divides the property in two - to the South Course, former home of the Champion's Tour Transamerica Open. Measuring 6,685 yards from the tips and featuring more elevation changes than its sibling, the South has a more resort-level feel about it. Still, spraying the ball will most often result in difficulty (and high scores), as the trees that beautify the course are also the off-line hitter's biggest challenge. The finishing hole on South plays along Milliken Creek and will bring you right back to the base of the Mansion that serves as the resort's hub.

A 10,000-square-foot clubhouse overlooks the golf holes and houses a fully stocked golf shop, restaurant and bar with patio seating for a relaxing beverage after a round.

With a new ownership group that includes Miller, change and excitement is certainly in the air at Silverado these days. "This is much more than an ownership situation for Johnny," Geesey says. "The memories he has from living here for so many years, playing golf and fishing with his kids, lends to his incredible passion for the property. He has a vision for the golf course that includes the addition of some tee boxes to lengthen the course, bunker renovation and other improvements designed to enhance the golfing experience for our members and resort guests."

For more information, visit www.silveradoresort.com.
Miller also had a hand in another popular daily-fee course in the vicinity, StoneTree Golf Club (www.stonetreegolf.com). A design collaboration with Sandy Tatum, Jim Summers and Fred Bliss, StoneTree dishes up pleasing views and a strong round of golf. Although it tops out at just more than 6,700 yards, most players will have all they can handle from the 6,354-yard black tees.

There's also something to be said for playing nine holes at unassuming Vintner's Golf Club (www.vintnersgolfclub.com; green fees: $25-$35) in Yountville, and getting back to the business of wine-tasting that much faster.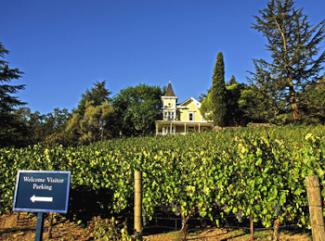 Winery Napa Valley
And to that end, a stream of cars flows up and down Highway 29 through the towns of Napa, Yountville, Rutherford, St. Helena and Calistoga, a 25-mile stretch of blacktop lined with more wineries than one could possibly stop at during any one visit.

The entry signs along the highway read like a roster of old friends - Mondavi, Domaine Chandon, St. Supery, Heitz - and many friends yet to be made. Side roads snake off to the left and right, leading to more wineries - Honig, Trefethen, Clos Pegasus, Duckhorn. And on the Silverado Trail, which parallels Highway 29 and where Silverado Resort & Spa is located, even more vineyards and wineries are found - Chimney Rock, Stag's Leap, Clos du Val and many others.

One of my favorite wineries is St. Supery, where a fascinating tour educates visitors about the entire winemaking process, and a bustling tasting room allows for generous sampling, including their excellent sauvignon blancs. Too dang bad for the designated driver, eh?
After a few days in Napa Valley, I started feeling like a local myself, so when a newcomer approached and asked me, "Where do you suggest we try for dinner," I knew right off how to respond: "Chocolate milk shake or smoked Wagyu beef?"

This story originally appeared in Cybergolf on October 5, 2010.
Award-winning publisher, editor, writer and photographer George Fuller has been covering golf travel and lifestyle for more than 30 years. From 1992 to 1997 he was editor of LINKS-The Best of Golf, based in Hilton Head, S.C. In 2005, after having spent several years in the Pacific starting two magazines for Continental Micronesia Airlines and writing two books, Fuller launched GOLF LIVING Magazine for the Los Angeles Times, a "super-regional" magazine of travel, real estate and the lifestyle surrounding the game of golf. In 2009, he helped redesign and re-launch TEXAS GOLFER, a magazine with 25 years of history in the Lone Star State. Most recently, Fuller partnered with Troon Golf to launch TROON GOLF & TRAVEL, a monthly eMagazine with an annual print component. In addition, Fuller's newspapers and magazines credits include TIME, Wall Street Journal, San Francisco Chronicle, The Los Angeles Times, Robb Report, Coastal Living, Palm Springs Life, Estates West, GOLF Magazine, Golf Digest, Travel & Leisure Golf, LINKS, Successful Meetings, Honolulu and many others. He has reported for Reuters, United Press International (UPI), written for Copley News Service and is a regular on-line travel correspondent for Cybergolf. Based in Pacific Palisades, Calif., he can be contacted at gfuller@earthlink.net or 310/245-9550.