Offshore & Foreign Venues the PGA Championship Could, Should & Shouldn't Visit
By: Jay Flemma
It's been the talk of the Tour for a while now: the PGA of America has formed an exploratory committee to see whether the PGA Championship could and should be held offshore.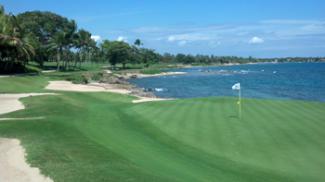 Teeth of the Dog Would be a Fantastic
PGA Championship Site
It's an interesting idea. Some foreign writers complain about three of the four majors being in the U.S., and although I was reluctant to embrace the idea at first, the more I think about it the more exciting and exotic it seems.

While the "Could we do it?" depends on what country - not Brazil, that's for sure, especially after all the ludicrous problems it faced trying to build the Rio Olympics Course - and it also depends on how many fans they could get to attend the event. The jury is still out on "Should we do it?"

Even so, let's take a closer look at where a potential foreign PGA Championship could be staged . . . and where it actually might end up. Remember, the PGA of America has a bit of a brain freeze every so often when it comes to choosing venues. Sometimes they hit a home run (like Oakmont, Whistling Straits, Riviera), but occasionally it has a choice between a truly great course and one that's merely pretty good . . . and they choose the merely pretty good one.

Sometimes they pick a marginal golf course simply because it's the largest venue in a particular city (Medinah near Chicago). Sometimes they pick a venue to which they have a tie (PGA National and Valhalla). Sometimes they pick a place that looks cool (Kiawah Island, which took two and a half hours to get to). Sometimes it's all about the corporate sponsors (Did I say "sometimes?!"). So if they do this, fingers crossed, we get a venue chosen first and foremost for great golf. After all, the better the golf course, the more exciting and memorable that tournament becomes. Here are some likely candidates and suggestions for consideration.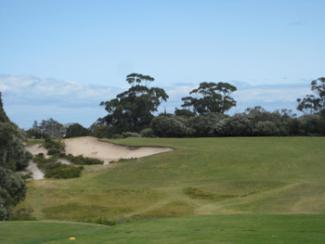 No. 10 at Royal Melbourne West
Australia

Should go to: Royal Melbourne

When word got around that the PGA of America was exploring the idea, Australia put up its hand and shouted, "Pick me! Pick me!" and with good reason. Alister Mackenzie designed so many great courses in the Sand Belt that any one of them would be a good choice.

"Mackenzie was in Australia for three months, and besides working with Royal Melbourne, he also gave advice to Royal Adelaide, Kingston Heath and Victoria, and these all happen to be four of the best five courses in Australia," explained 2006 U.S. Open champion Geoff Ogilvy in a prior interview with me. "There is no place in the world like Royal Melbourne, and it has similarities to Augusta National, St. Andrews and Cypress Point."

"Royal Melbourne is really the only choice," agreed former Tour player turned broadcaster, writer and architect Mike Clayton. "Melbourne does big events better than any other city. Crowds are great as is the atmosphere, [and] Royal Melbourne has the best course with its blend of 12 holes on the West and six holes on the East course."

Royal Melbourne, host of the President's Cup a few years back, is the best choice in Oz because it has the infrastructure to support the huge crowds, the pedigree of Alister Mackenzie, and the experience in putting on world-class events. Most importantly, they have the architecture to test and perhaps torture the greatest players in the world.

Could go to: Nowhere Else

Although Australian PGAs and Opens have been played at such places as Royal New Sydney, The Lakes, Moonah Links and even Kingston Heath, they are just too small to handle the enormous, 50,000-plus-size crowds the PGA likes to draw for the championship. They are great courses, as are the rest in the Sand Belt, but most people agree the only viable choice is to have it in Melbourne and, indeed, at the Queen of Australian Courses.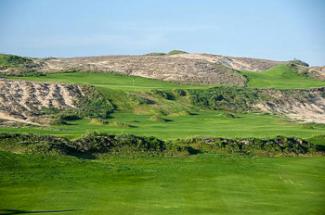 The Brilliant 17th at Diamante Dunes Would
be a Great Closer at a PGA Championship.
Latin America

Should go to: Casa de Campo

One of the best assignments I've been given is to play everything of import between Baja and Bermuda. I've played Jamaica, Bermuda, almost all of the Dominican Republic, half of Puerto Rico and most of Cabo del Sol. And right now there's Casa de Campo . . . and everything else.

"If they play it down there, Teeth of the Dog is where they'd have it," said Pete Dye, architect of all 90 holes at Casa de Campo. "It's got seven holes right on the water, four par-4s and three par-3s, where if you miss the fairway the wrong way you're coming back from Venezuela. That's 11 chances to hit the ball in the water. Plus the inland holes are strong too, and they are quite diverse. I think it'd be a lot of fun!"

Teeth has been lengthened to 7,471, and though the par-72 plays tough enough to not be a pushover with it's wily greens and alternating shot requirements (fade off the tee, then draw into the green or vice versa) and ocean-side holes putting fear into the players, they point themselves right toward one of Dye's cunningly placed bunkers instead of the water.

Teeth of the Dog may be a bit short in certain places (some par-4s on the front), but who cares? It's the PGA Championship, not the U.S. Open. Teeth has great angles - players can never take shortcuts to the greens for fear of all the peril between the tee box and hole, yet the best place to approach the greens is dangerously close to the trouble. More often than not, the safer you play off the tee, the tougher the angle to the green. It will yield some birdies, a great number of bogeys and will challenge the players, but not make them walk on eggshells like at tricked-up U.S. Open courses. Dye will let them play golf for the title, which is what the PGA Championship is all about.

If more room is needed for tournament infrastructure, then hold it at the resort's Dye Fore course instead, which is longer (almost 7,800 yards!), equally gorgeous and has just as many outstanding angles of play, plus room for all the crowds with its 190 acres of space. The Marina nine plays like National Golf links of America in places, Pebble Beach in others, and the Chavon nine - with its cliff-top setting a hundred of feet above the churning Chavon River - is just as deadly as the ocean is at Teeth of the Dog.

"Dye Fore is harder," explains Dye. "It's on the Chavon River, and that comes into play on most of the back nine. That would really challenge them, especially 18, the long par-5 to finish." There, Dye built two enormous mounds, and looking between them, you can see the green almost 700 yards away! The only problem is that a yawning chasm awaits your third shot. The hole curves like a crescent moon around a giant sinkhole you can only see on the third shot. It's one of the greatest visual tricks and deceptions in golf . . . anywhere!
"You go through the mounds, and the next thing you know, you're in a whirlpool, and you can't get out," Due concluded mischievously.

I mean just imagine the boys skirting the edges of the ocean on four and five, then the mighty Chavon River on 10-12, then trying to hold the crowned fairway on 14 before figuring out what to do on 18. Do you play between the Pillars of Hercules and risk the whirlpool awaiting an errant approach? Or do you play safely along the crescent-shaped fairway? If you need a birdie to get into a playoff, good luck, brother.

Either way, what a finish! What a spectacle! They told me before I went that it could be the greatest resort in the world, not just because of 90 holes of Pete Dye golf but because of its 7,000 acres, oceanfront marina designed to look like Portofino, and countless sports and beachfronts . . . and they may have understated the case.

Could go to: Diamante (Dunes) & Cabo del Sol (Ocean)

Cabo San Lucas has emerged as a bourgeoning golf destination over the past two decades. There's already a huge travel infrastructure in place with hotels, restaurants, plenty good of golf courses and, of course, never-ending sunshine. Private club Diamante already has a fabulous Dunes Course designed by Davis Love, III and his brother Mark. There were two issues with the design as of last summer: First the Paspalum grass was actually being over-watered and became grabby and spongy, making the ocean-side dunescape course look like a links but not play like one. The second was twofold: a ludicrous 568 yard par-4 (and no, Davis, "But it's downwind," is not a justification . . .), and a lackluster letdown of an 18th hole after an all-world stretch from 14-17, especially the 17th, one of the best holes anywhere on the planet.
Happily, they have fixed the Paspalum issue. The links is getting faster and firmer every day; the course plays as good as it looks. Moreover, they are going to do something about 10 and 18. My suggestion (and the powers-that-be seem to like it) is to simply break 10 into two holes - a par-3 and a par-4 - and then end on the iconic and breathtaking 17th. It's the perfect finishing hole, a summation of all that came before.

"If you end on 17 you have more room for infrastructure, and you can get people in and out more easily," stated Mark Love. "Access to the course is easy then, we can get people to and from downtown in 15-20 minutes."

They could also offer week-long cruises and bring fans in by ship, an idea the USGA explored for next year at the Chambers Bay 2015 U.S. Open, but ultimately rejected. Just think how much fun that would be! A sister course, Diamante Cardinal, is being signed off on by Tiger Woods and will open for play later this fall. Let's hope they don't just decide to give it to Tiger because he's Tiger.

Jack Nicklaus being Jack Nicklaus, his Ocean Course at Cabo del Sol might also get a long look. With four ocean-side holes and four more that play to/from the water, it's pretty, but there is also some solid strategy as well. Finally, Robert Trent Jones, Jr., is building what should be a game-changer at Dorado Beach West. Following this journalist's advice, the resort owners are letting Jones blow up the existing, vapid West Course and an additional nine holes (either the Pineapple or the Sugarcane) so he can give them what essentially amounts to "Chambers Bay Caribbean." Sad that he didn't get the Rio Olympics bid, Bobby has pretty much decided to just beat their brains out with his new course at Dorado. Preliminary reports are that it's nothing short of brilliant. If Dorado gets the bid, sell your house for tickets because prices for the resort's palatial rooms are astronomical - some top $1,000 per night!

As an aside, Bermuda has Mid-Ocean, one of the golf wonders of the world and one of Charles Blair Macdonald's masterpieces, but where would you put the grandstands?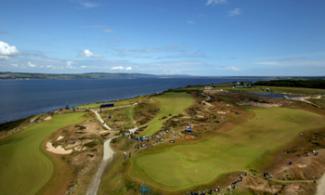 Castle Stuart Could Easily be the UK's
PGA Championship Venue
UK/Europe

Should go (1): Royal Portrush (Dunluce)

Well, duh, but Portrush is in line to re-establish itself as an Open Championship venue, perhaps as early as 2019, so there goes that idea.

Should go (2): Portmarnock, Castle Stuart or Royal Dublin

"They both host the Irish Open and they both have room for everything needed for a PGA as well," explained Sports Illustrated golf writer John Garrity. "And another of my favorites is Castle Stuart. It's a newer course in the highlands of Scotland, but it's already hosted several Scottish Opens. All they would need to do would be lengthen the rough and make a few changes to some bunkers, but - BOY! - when the wind blows there it really howls, and that would really make it interesting."

Sadly, such ardent golfer favorites as Ireland's Ballybunion and Northern Ireland's Royal County Down just don't have room for 50,000 fans and myriad grandstands. We'd have fans running around in bunkers like we did at Whistling Straits - only these being bunkers in play, not 70 yards off-line like Dustin Johnson found on the 72nd hole at the 2010 PGA.

P.S. Dear PGA of America: Please don't go sick in the head and pick some ghastly Florida-looking thing like Celtic Manor, K Club, The Belfry or Mount Juliet.
Might Go: Valderrama, Le Golf National (Albatross)

Spain's Valderrama held a wildly successful Ryder Cup in 1997 and France's Le Golf National (Albatross) will host it in 2018.

For those of you scoring at home, the Evian Masters' course in France, where the LPGA plays the only foreign major of its tour, "is a wonderful course, but in no way has the ability to host a men's major," said one golf architecture insider who spoke on condition of anonymity. "It's not long enough, it's not tough enough and there's no room for all the needed infrastructure. But it's terrific for the women, and they love it."

Africa

Could go: The Links at Fancourt

They held a President's Cup here a few years back. There is room, and Gary Player is still beloved despite showing his junk in ESPN's Body Issue.

News, Notes & Quotes

All this is unlikely to occur before 2016 when the USPGA will celebrate its 100th anniversary. In fact, since venues and television commitments are already secured through 2019, it seems the earliest an international venue would be considered is 2020. Moreover, it would need to work for the PGA Tour and players.

Future PGA Championship Venues

2015 Whistling Straits, (Straits Course), Kohler, Wis.

2016 Baltusrol Golf Club, (Lower), Springfield, N.J.

2017 Quail Hollow Club, Charlotte, N.C.

2018 Bellerive Country Club, St. Louis, Mo.

2019 Bethpage State Park, (Black Course), Bethpage, N.Y.

Future Ryder Cup Venues

2014 Gleneagles, PGA Centenary Course, Perth & Kinross, Scotland

2016 Hazeltine National, Chaska, Minn., USA

2018 Le Golf National, Albatross Course, Saint-Quentin-en-Yvelines
Since launching his first golf writing website in 2004, http://jayflemma.thegolfspace.com, Jay Flemma 's comparative analysis of golf designs and knowledge of golf course architecture and golf travel have garnered wide industry respect. In researching his book on America's great public golf courses (and whether they're worth the money), Jay has played over 420 nationally ranked public golf courses in 40 different states, and covered seven U.S. Opens and six PGA Championships, along with one trip to the Masters. A four-time award-winning sportswriter, Jay was called the best sports poet alive by both Sports Illustrated and NBC Sports writers and broadcasters. Jay has played about 3 million yards of golf - or close to 2,000 miles. His pieces on travel and architecture appear in Golf Observer (www.golfobserver.com), Cybergolf, PGA.com, Golf Magazine and other print magazines. When not researching golf courses for design, value and excitement, Jay is an entertainment, copyright, Internet and trademark lawyer and an Entertainment and Internet Law professor in Manhattan. His clients have been nominated for Grammy and Emmy awards, won a Sundance Film Festival Best Director award, performed on stage and screen, and designed pop art for museums and collectors. Jay lives in Forest Hills, N.Y., and is fiercely loyal to his alma maters, Deerfield Academy in Massachusetts and Trinity College in Connecticut.