Oh Carol - A Profile of Great Amateur Carol Semple Thompson
Carol Semple Thompson, who produced one of the finest amateur careers of anyone, anytime, anywhere, was chatting about how she got started. Great golfers took up the game for various reasons. Arnie Palmer did it because he was too small to play football, Chi Chi Rodriguez to get out of poverty. For Babe Zaharias, it was just another mountain to climb. For Carol Semple Thompson, of the golfing Semples of Sewickley, outside Pittsburgh, it was as simple as family.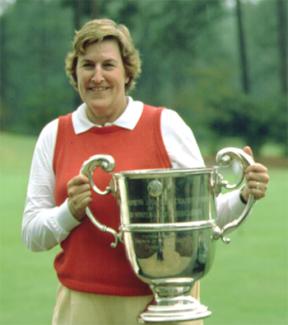 Carol Semple Thompson
(Photo Courtesy of Western
Pennsylvania Golf Association)
"I was just 12," Thompson was saying, "when my mother started bribing me to play."

The elegant, dark-haired lady next to her at the table was Mrs. Harton S. Semple -- Phyllis - her mother, and owner of an excellent golf record of her own. At the mention of bribing, she turned and fixed her daughter with a patient smile. The Semples are a warm, close, loving family known for playing golf, foxhunting (real horses but not real foxes) and needling each other.

"She offered me $5 if I could break 60 for nine holes," Thompson said. "Then she said she'd buy me golf shoes if I broke 55."

Bribes? Perhaps, someone suggested, "incentives" might be a kinder and more accurate word. Involving one's mom, as it were.

Thompson looked at her mom and smiled. "Bribes," she said.

* * *
Bribery works. Here's a quick rundown of Carol Semple Thompson's career:

• 2003, received the Bob Jones Award, the highest honor of the U.S. Golf Association
• 2005, named the PGA of America's First Lady of Golf
• 2008, inducted into the National Golf Coaches Association Hall of Fame
• 2008, inducted into the World Golf Hall of Fame.

And then there's the company she keeps. Thompson is one of five players who have won three different USGA championships. The other four are JoAnne Carner, Arnold Palmer, Jack Nicklaus and Tiger Woods.

There's one other honor that is difficult to classify, and even Arnie Palmer doesn't have one of these. In 2010, the Pittsburgh History and Landmarks Foundation presented her with a plaque that reads:

Carol Semple Thompson
Historic Landmark
Golf Legend and Preservation Advocate

* * *
On a golf course near Pittsburgh one sunny day in 1965, Phyllis Semple was a torn lady. She had dominated women's amateur golf in Western Pennsylvania for years, and now she was in the match of her life. This was the final of the Women's West Penn Championship, which she owned. But now she was in danger of getting beaten, and not only that, but by a 16-year-old girl. Ah - but she could win, and that would be bad, too. This was a lose-lose situation. No matter what Phyllis did, she would lose. The kid was her daughter.

"I found myself rooting for her putts to go in," Phyllis would say. Which, for the suspicious, is not the same as missing putts of her own. Phyllis Semple was a kind and gracious lady to the day she died - as the USGA'S Rhonda Glenn described her, " . . . wise-cracking and unfailingly polite . . ." - but a decided edge would come to her if anyone suggested she would throw a match to anyone, even her daughter. For one thing, it was against her nature. For another, it would cheapen her and cheapen her daughter. Then there was the matter of reality: She knew how good her young daughter already was.

"I knew she was going to win," said Phyllis. "She has a much better swing than I have - period. And she always had the best timing."

Carol was the best of the golfing Semples. Her dad, Bud, became president of the USGA. Her mom, in addition to her playing career, also served on various USGA committees for over 50 years. They tried to steer their five kids to golf, but never forced them. It worked with Carol. She had the greatest power, the finest touch, and for all of her calm and pleasing demeanor, the consuming drive to succeed. The family shared in her successes and joys.

Except not totally, that one time. Her kid sister Heather was devastated. "I don't like you anymore!" Heather had cried. "You beat mommy!"

Years later, that match was recognized as the launch of Thompson's great career, one her mom shared with her, walking with her in many matches despite battling lupus since 1973. She died in 2009, at the age of 87.
"She constantly pushed me into playing well, in a loving way," Thompson, 63, said. "She was the most competitive person I have ever known. If I'd had 50 percent of her competitive spirit, maybe I would have been a good player."

Thompson's record is without boundaries and is staggering. These are the highlights:

On a regional level, she won 13 Women's West Penn Championships (when she was in town), 22 Pennsylvania Women's Amateurs and three Pennsylvania Women's Opens (when she was in state).

Nationally and internationally, she won the 1973 U.S. Women's Amateur, the 1974 British Women's Amateur, two U.S. Women's Mid-Amateurs, four U.S. Senior Women's Amateurs, and three Mexican Women's Amateurs.

She played on 12 Curtis Cup teams - a winner on eight of them - and captained two others, both winners. Then there were the various administrative duties, including a six-year stint on the USGA Executive Committee.

* * *
Thompson's body of work is not likely to be matched or even approached because the amateurs who are good enough have been turning pro. She gave little thought of turning pro. When she was growing into the strength of her game in the early 1970s, there was little incentive for turning pro. The LPGA Tour didn't amount to much and it didn't pay much. And given her family's status, there was no pressing economic reason for turning pro. But the LPGA eventually grew up, and today we have what can be called "The Passing of the Amateur."

"I'm very disappointed by the loss of amateurs - I'm disappointed by the lure of professional golf, but I accept it," Thompson said. It's evolution in golf. Now, no sooner a girl gets her merit badge in golf she turns pro. Two timely cases in point: Michelle Wie and Alexis Thompson.

Lexi Thompson (no relation) turned pro in 2010 at age 15, and in 2011 became the youngest ever to win an LPGA Tour event when she took the Navistar Classic at age 16 years, 7 months, 8 days. That was in September. In December, she won the Ladies Masters on the Ladies European Tour. Did she turn pro too soon?

"A couple of years ago, I would have said yes," Carol said. "But now she has proved herself. And she's more of an adult than a child in golf.

"I played with Lexi when she was 13. I was shooting 73, 74, and she was shooting 68, 69, going for the par-5s in two, over water. I remember her being frustrated with her putting, and she wasn't putting that badly. She hadn't developed patience. She expected tremendous things of herself and wasn't getting them. She will learn patience, and then I wouldn't be surprised if she made steady progress to the upper echelon. She has the potential to become one of the top players in a few years.
"But," Thompson cautioned, "I wouldn't expect her to win two majors this year."

Golf has to go back no further than Michelle Wie for an idea of what Thompson is talking about. "I think she has a wonderful swing and all kinds of talent," said Thompson, who has never played with Wie. "I think the expectations for her were so high. She hasn't been able to live up to them. With hindsight, I would say she probably came out too soon. And I never understood her playing against men."

The expectations were never higher than those that came from her parents. Wie turned pro just before turning 16, and from there the highlights of her young career amounted to missing cuts in men's events.

"I would have preferred to see her in girls and junior competition," Thompson said. "She's got all this unlimited potential. If I were Michelle Wie, I would be very frustrated."

* * *
Carol Semple Thompson has no trouble picking the highlight of her hall of fame career. It was a moment that wrapped up her life - family, love, golf. It was her victory in the 1973 U.S. Women's Amateur. Her dad was vice president of the USGA at the time, but the president waived protocol and stepped aside. You should let a man present a trophy to his daughter.

"My dad was so proud," Carol said. "He said, 'What Phyl and I always wanted to do, Carol did,' and he gave me a kiss."
Marino Parascenzo can assure you that hanging around with great and famous pro golfers does nothing to help your game. They just won't give you the secret. But it makes for a dandy career. As a sportswriter with the Pittsburgh Post-Gazette (now retired), Parascenzo covered the whole gamut of sports - Steelers, Pirates, Penguins, Pitt, Penn State and others - but golf was his favorite. As the beat writer for the paper, he covered all the stateside majors and numerous other pro events, and as a freelancer handled reporting duties for the British Open and other tournaments overseas - in Britain, Spain, Italy, the Caribbean, South Africa, China and Malayasia. Marino has won more than 20 national golf-writing awards, along with state and regional awards. He has received the Memorial Tournament's Golf Journalism Award and the PGA of America's Lifetime Achievement Award in Journalism. His writing has appeared in numerous magazines, among them Sports Illustrated, Golf Digest and Golf Magazine, and in anthologies and foreign publications. He also wrote the history of Oakmont Country Club. Parascenzo is a former president of the Golf Writers Association of America and is on its board of directors. He is the founder and chairman of the GWAA's Journalism Scholarship Program. He is a graduate of Penn State and was an adjunct instructor in journalism at Pitt.