O'Keefe Named New WGA Chairman
Dennis O'Keefe was just 8 years old when his father, Jim, joined famed amateur golfer Charles "Chick" Evans in dedicating the Western Golf Association headquarters in the village of Golf, Ill. Now O'Keefe, of Winnetka, Ill., will be leading the organization still housed in the same one-story brick building his father helped open in 1955.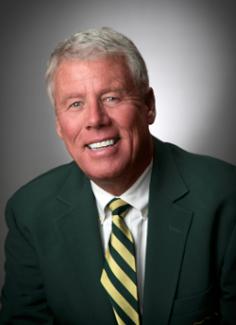 WGA Chairman Dennis O'Keefe
The WGA Board of Directors elected O'Keefe to serve as chairman in December following his two years as the organization's vice chairman. He succeeds Jim Bunch of Denver, Colo. O'Keefe assumes a leadership role once held by his father, Jim O'Keefe, who served as WGA chairman in 1955-56.

"I'm following in the footsteps of some great and wise men," said O'Keefe, president of a Lake Forest, Ill., law firm and a WGA director since 1992. "It's an honor to serve in the same role my father once served more than 60 years ago and lead an organization that runs four of the best golf tournaments in the world and one of the world's great charities."

In addition to serving the WGA as a director, O'Keefe has chaired the organization's finance, human resource and long-range planning committees, as well as several other important panels. One of his top priorities is to continue raising the money needed to cover escalating tuition costs for the 840 current Evans Scholars, with the goal of increasing that number annually.

"When Chick Evans sent the first two caddies to Northwestern, tuition was $300 per student, and now we have 840 students in school and our tuition costs are about $14 million," O'Keefe said. "That demonstrates the tremendous growth of our program, but also the need to continue raising money so we can meet our goal of having 1,000 caddies enrolled in school by the end of the decade."
O'Keefe's familiarity and active involvement with the Western Golf Association and Evans Scholars Foundation will serve him and the organization well over the next two years, noted WGA president and CEO John Kaczkowski.
"Since becoming a director in 1992, Dennis has demonstrated time and time again his commitment to our scholarship programs and championships," Kaczkowski said. "We believe Dennis' tenure will be a prosperous one for the Western Golf Association, and we feel fortunate to have someone so passionate about our mission guiding our organization."
O'Keefe is a member of the Glen View Club in Golf, Ill., the Ocean Club of Florida in Boynton Beach, Fla., the Country Club of Florida in Village of Golf, Fla., and Gulf Stream Golf Club in Gulf Stream, Fla.
He is president of Dennis M. O'Keefe, P.C., a firm in Lake Forest, Ill., that provides accounting, legal and administrative services for national, regional and local trade organizations. n addition to serving as a WGA director since 1992, O'Keefe is a member of the John Evans Club at Northwestern University and served as a trustee of the University of Chicago's Brain Research Foundation and director of the Chicago Chapter of the March of Dimes.
He holds a B.A., M.B.A. and J.D. from Northwestern University and a C.P.A. from the University of Illinois. He is married to Kathy Foley O'Keefe and has six children.
About the WGA & Evans Scholars Foundation

The WGA sponsors the Evans Scholarships for caddies and conducts four national golf championships - the BMW Championship on the PGA Tour, the Hotel Fitness Championship on the Web.com Tour, the Western Amateur and the Western Junior. The 2014 BMW Championship will be held Sept. 1-7 at Cherry Hills Golf Club near Denver, Colo.; all proceeds benefit the Evans Scholars.

Founded in 1899 to serve golfing interests in the growing Midwest, the WGA now has nearly 400 member clubs. Sponsorship of the Evans Scholars Program began in 1930 at the request of founder Chick Evans, a world-famous amateur golfer from Chicago. Since then, more than 9,800 caddies nationwide have graduated as Evans Scholars. This year, 840 caddies are attending college on Evans Scholarships. Support for the Evans Scholars Foundation comes from individual contributions by more than 100,000 golfers, mainly through the WGA Par Club, and proceeds from the BMW Championship.
The above report is courtesy of the Western Golf Association. For more information on the WGA and Evans Scholars Foundation, call 847/724-4600 or visit www.wgaesf.org.