Olazábal Elected to World Golf Hall of Fame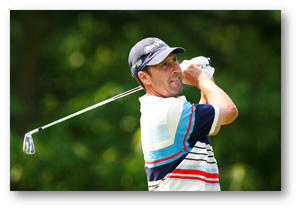 The World Golf Hall of Fame has announced that two-time Masters champion José Maria Olazábal will be part of the 2009 class of inductees. Elected on the International Ballot, Olazábal will enter the Hall of Fame along with previously announced inductees Lanny Wadkins and Christy O'Connor at the annual Induction Ceremony on Monday, November 2 in St. Augustine, Fla.
Olazábal said of the honor: "I am delighted with this news. Only a small group of people are privileged to be in the World Golf Hall of Fame and I have a huge respect for all the players already there.
"They are all great players who have achieved so much, and to have a little square plaque there with my name on it makes me feel very special. I am particularly happy to follow Seve's footsteps into the Hall of Fame. He opened so many doors for us and we owe him a huge debt.
"There are huge, huge players in the Hall of Fame, legends such as Gary Player, Jack Nicklaus, Arnold Palmer and many, many other greats. I am just thrilled that I am going to be just a little part of this."
Olazábal will become the second Spaniard in the Hall of Fame, joining his friend Seve Ballesteros, who was inducted in 1999. Ninety-one percent of the International Ballots mailed out were returned and Olazábal was chosen on 56 percent of the returned ballots.
George O'Grady, Chief Executive of the European Tour, said: "Two words spring immediately to mind when reflecting on the wonderful career of José Maria Olazábal . . . courage and determination.
"On the world's fairways, José Maria has exhibited both those attributes under pressure on his way to winning two Masters Tournaments and 23 European Tour titles, while on a personal level he displayed remarkable fortitude in battling back from a grave illness to capture that second Green Jacket in 1999.
"Among José Maria's many other qualities we can add panache and flair, allied to a deep understanding of the history and traditions of the game. His arrival on the golfing scene was a breath of fresh air, displaying a Spanish passion and love for the sport, which was exemplified by his spontaneous victory jig on the 18th green at Muirfield Village in 1987 after Europe's first Ryder Cup success on American soil.
"That year represented the start of a momentous Ryder Cup partnership with Seve Ballesteros which is still the most successful in the event's history - played 15, won 11, halved 2. José Maria's induction to the World Golf Hall of Fame is richly deserved and all of us at the European Tour convey our congratulations and best wishes to one of our most outstanding champions."

Since turning professional in 1985, Olazábal has enjoyed much international success, winning the 1994 and 1999 Masters Tournaments, plus 21 European Tour and four PGA Tour titles. He also won in Japan twice.

Olazábal has represented Europe on seven Ryder Cup teams: 1987, 1989, 1991, 1993, 1997, 1999 and 2006, and served as assistant captain to Hall of Fame member Nick Faldo in 2008. He played on the 1989 and 2000 World Cup teams.

In his rookie season, Olazábal finished second on the European Tour Order of Merit and became the first Spaniard to receive the tour's Sir Henry Cotton Rookie of the Year award in 1986. His impressive amateur career included defeating Colin Montgomerie to win the 1984 Amateur Championship at the age of 18.

"We are extremely pleased to welcome José Maria into the World Golf Hall of Fame," said Jack Peter, Sr. Vice President and Chief Operating Officer of the World Golf Hall of Fame. "His tremendous achievements on the course, his flair and passion for the game represent the hallmarks of a true champion. He also is one of the game's greatest gentlemen and ambassadors. We look forward to his Induction this coming November."
The final announcement for the 2009 class of inductees will be scheduled in the coming weeks. For more information about the World Golf Hall of Fame, visit www.wgv.com.