Old American Golf Club to Make Debut at North Texas Golf Expo
Designed by Tripp Davis and PGA Tour/Ryder Cup star Justin Leonard, Old American Golf Club will make its North Texas Golf Expo debut January 29-31 at Dallas Market Hall. The unveiling will feature daily "preview foursome" drawings for golfers registering at the club's booth (No.153/155/252/254).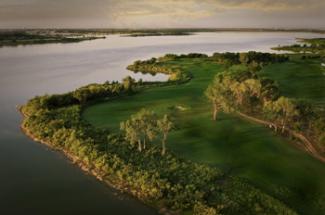 Aerial View of Old American Golf Club
Old American, located at the Tribute Resort Community in The Colony, north of Dallas, is slated for a soft opening this spring and a grand opening over Independence Day weekend, July 2-4, in concert with The Colony's "Liberty by the Lake" fireworks celebration.
Preview foursomes will be hosted between February 1 to April 30, offering local golfers a sneak peak at a course that has drawn acclaim from Golfweek, USA Today, www.PGATour.com, the Dallas Morning News and Avid Golfer Magazine.
"This is a great opportunity for area golfers to learn more about the Old American Golf Club and the residential opportunities available at The Tribute," says general manager Jeff Kindred. "The peninsula setting on Lake Lewisville creates a resort community atmosphere unique to the region, and Old American takes advantage of this enviable geography with a stretch of holes playing along the lake."
Inspired by the "Golden Age" of golf architecture between 1911 and 1937, Old American's natural contours, hazard styles, native grasses and green shapes were influenced by such masterpieces as Shinnecock Hills, National Golf Links, Prairie Dunes and Crystal Downs.
Davis, an accomplished amateur player and former All-American at the University of Oklahoma, and Leonard, who played college golf at the University of Texas, toured and played a handful of America's classic courses prior to starting the design process for Old American.
The result is a layout that emphasizes strategy and shot-making, while flowing with a natural rhythm from the first tee to 18th green. Old American features six sets of tees, ranging from the 5,215-yard forward markers to the 7,174-yard "Leonard" tournament tees. Davis and Leonard conceived the routing with both medal and match play in mind, as golfers are required to hold "steady to par" through a number of holes, but enticed to gamble on birdie or better during select stretches of the course.
For more information about Old American Golf Club and the Tribute Resort Community, visit www.thetribute.com. For more information about the Old American Golf Club at the North Texas Golf Expo and the preview foursome drawings, contact Jeff Kindred at 214/385-1706, or jkindred@escalantegolf.com.
About the Tribute
The Tribute is a lakefront, golf resort community on Lake Lewisville. Nestled between two golf courses and a 23,200-acre lake, the community offers luxury amenities anchored by a clubhouse with restaurants and meeting facilities. The 1,500-acre master-planned development boasts resort-style pools, gardens, parks and playgrounds, a future on-site school, more than six miles of hike-and-bike trails, landscaped canals, and hundreds of acres of accessible open space.

For more information about The Tribute, visit www.thetribute.com.