Old Corkscrew Earns Audubon Signature Status
Old Corkscrew Golf Club, a Jack Nicklaus Signature golf course in Estero, Fla., has earned Audubon International Silver Signature Sanctuary designation, the first course in Lee County to achieve the Silver level and the 24th Certified Silver Signature Sanctuary in the world.
"Our goal at Old Corkscrew is to create an outstanding golf experience and we are demonstrating that not only by our Jack Nicklaus Signature design, but also through our meticulous attention to environmental sensitivity," said Mark Iwinski, manager of golf operations for Old Corkscrew.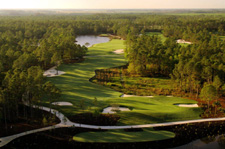 The Audubon International Signature program works with landowners and developers to create golf courses that are planned, constructed, and managed with a significant focus on environmental quality and sustainability. Environmental experts with Audubon International partnered with Old Corkscrew from the earliest stages of the design and construction of the course and created a Natural Resource Management Plan (NRMP) that serves as a construction and operations manual for the property.
"This comprehensive document guides the development and long-term management of Audubon Signature projects," said Nancy Richardson, program director for Audubon International's Signature Program. The NRMP assesses natural resources and environmental impacts associated with the development to provide strategies for addressing natural resource issues. The environmental components of the plan are: Wildlife Habitat Enhancement and Management; Waste Management; Energy Efficiency; Water Quality and Conservation; and Integrated Pest Management.
"I was amazed at how mature the course looks," said Richardson. "At our final site visit I kept observing that the course, with its lush landscape and mature littoral vegetation, looked like it had been dropped fully developed, onto the land."
Old Corkscrew is an 18-hole golf club located on Corkscrew Road between Fort Myers and Naples, Florida on a 275-acre magnificently wooded site. The par-72 championship golf course, which opened in February 2007, is a free-standing recreational facility; no residential development will ever occur on the site.
Site enhancements included the restoration of a historic flowway through the property, the preservation of 40 acres of wetland habitat and 15 acres of upland habitat. Wildlife corridors of cypress stands, palmetto, towering slash pine and native oak hammocks were protected within the site and connect to offsite areas. Exotic vegetation such as Melaleuca trees and Brazilian Pepper was removed and bird boxes, bat boxes, and feeding stations were installed to enhance habitat and attract wildlife.
Of special note was the successful transplant of the cardinal air plant, Tillandsia fasciculate, a native species of bromeliad. "We transplanted about 330 of these tiny plants that root symbiotically on tree trunks and branches," said Kevin Leo, construction superintendent for Old Corkscrew. "Initially we banded them to the tree to make sure they successfully rooted, but the transplantation has been incredibly successful and the plants are no longer in need of the bands to remain in place." Bromeliads are native plants that are environmentally helpful because they provide habitat for birds, small wildlife and they hold water.
"Overall, we planted more than 300,000 new, native plants such as muhly grass, spartina patens, lantana, firebush, dune sunflower, and coco plum throughout the property," said Leo. "And while we were required to place 17 acres in conservation, we ended up conserving almost 40 acres."

"There are several levels of Audubon International programs that a golf course can participate in and each one takes a strong commitment to environmental sustainability," said Richardson. "We congratulate golf courses like Old Corkscrew for their dedication to the program and to adhering to Audubon International guidelines. Our goal is to assist these projects in lessening their impact not only on wildlife habitat but also on surface and groundwater quality."

Certification in the Audubon International Signature Program is an on-going process. To maintain certification, golf facilities must submit periodic status reports plus participate in on-site audits by Audubon International. In addition, the certification has to be renewed each year.

"We are extremely proud of our Silver Signature certification," said Iwinski. "The state of Florida has more golf courses than any other state and Old Corkscrew is one of the newest. The fact that we are the 11th Certified Silver Signature Sanctuary in Florida is a demonstration of our commitment to environmental sustainability and we are looking forward to working with Audubon International to continue to preserve, enhance and protect the natural beauty of Southwest Florida."
Old Corkscrew is a private membership club with flexible tee time access for member's guests and visitors to the area. Membership plans are considered the most accessible in Southwest Florida. For more information, visit www.oldcorkscrew.com or to book a tee time to evaluate the course, call Dave Griffiths at 239/949-4700 or email dgriffiths@oldcorkscrew.com.