Old Head: A New Irish Experience
By: Rick Corcoran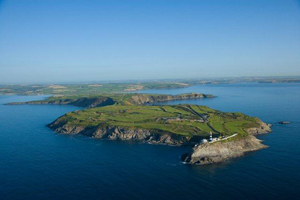 Aerial View of Old Head Golf Links
Despite its name, Old Head, which opened in 1997, is a newborn babe compared to these others, but it's remarkably mature and, like the finest Irish whiskeys, will get better with age. While the big names offer their own brand of links golf, Old Head boasts some of the most spectacular vistas found anywhere in the world.

Built on 220 acres that jut out into the Atlantic Ocean on a thin land mass that connects Kinsale to the course, Old Head is like playing on a little diamond-shaped island within an island. The property is surrounded by water and 300-foot-high cliffs that give the Ireland's Ring of Kerry a run for its money scenery-wise. If you're looking for a true links experience, the above courses offer that. But at Old Head, you're assured of an unforgettable visual experience as well.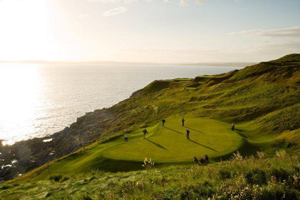 Trouble Awaits Those Who Miss
This Green at Old Head
Old Head has an Americanized feel, mainly by the way the grass is grown and cut. It's different from its Irish brethren as well as the links I've played before in Scotland - as well as Bandon Dunes in Oregon and Chambers Bay in Washington State. Tee boxes and fairways were in immaculate shape on the rainy day I played the course. The greens are generous in size and as smooth as can be. The links element here is pretty clear; there are no trees or water hazards, just the Atlantic crashing onto the cliffs below.
A walking course like most Irish courses, Old Head has a few hills and valleys, but you needn't be a fitness junkie to make it around. Caddies are available and worth the Euros; the loopers provide direction with the blind tee shots and on greens where the ocean effect comes into play. My caddie, Brian, a local resident, worked here for four seasons and made the day enjoyable even as rain fell during most of my July round. As luck would have it, I caught one of the few rainy days that month.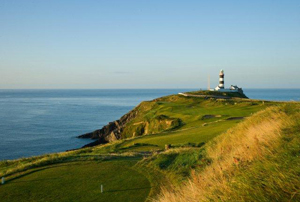 One of Old Head's Cliffside Holes
After finding out I live in Seattle, my playing partners and caddie said I brought our fair city's signature climate with me! Hey, this is Ireland, I wasn't counting on 78 degrees and blazing sun, yet good weather is in the cards for this part of the country most of the summer.

Old Head was designed by Ron Kirby, a former associate with Jack Nicklaus; Paddy Merrigan, an Australian architect and agronomist; Liam Higgins, one of Ireland's best known golf professionals; the late Eddie Hackett, former Irish golf professional and course designer; and Dr. Joe Carr, Ireland's most successful international amateur golfer.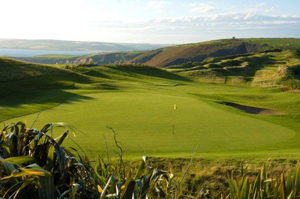 A Peek at Old Head's Magnificent Vistas
There's nothing tricked out about the course and the few blind drives have ample landing areas. Some of the par-3s will tighten your throat on the tee as some of them sport one side of their greens on the ocean's precipice.

Besides the views, Old Head has caves running beneath it. Nine holes skirt cliffs, providing eye-popping views, while the inland portions of the course don't stray from the ocean for long.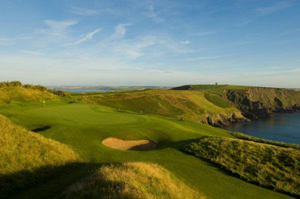 Another Scenic Stretch at Old Head
Old Head has some interesting history. On May 7, 1915, the ocean liner Lusitania was torpedoed by a German U-boat eight miles off the coast. It sank in just a half-hour with over 1,100 passengers losing their lives. With the Titanic having been built in the shipyards in Belfast, Ireland, in those days anyway, didn't have much luck when it came to cruise ships.
Kinsale is known for its food, so after a round at Old Head enjoy a meal while discussing one of the rare diamonds in Ireland's golf scene. I can still taste the Guinness and smell the ocean air. In the words of the Irish, this place is "brilliant!"
For more information, visit www.oldhead.com.