Old Macdonald Comes to Bandon Dunes
By: Blaine Newnham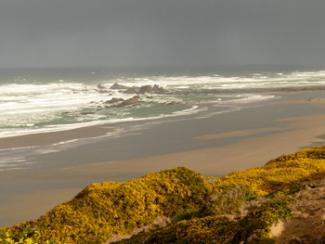 View of Pacific Ocean from Behind 7th Green
The caddie looked at me as if I'd been blessed by the golf gods. I guess in a way I was, getting a chance to play Old Macdonald before it opened even on a limited basis.
"In my mind," he said, as we braced against the strong, chilly winds, "this course will be the toughest of the four at Bandon Dunes and will be the best."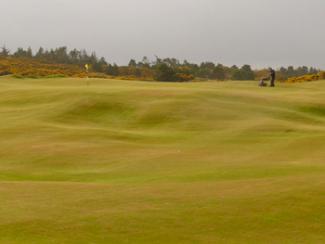 The wildly undulating 10th green at Old Macdonald
That's saying a mouthful. In the world of golf destinations, there may be no better modern brand than Bandon Dunes. The three courses at this resort on Oregon's southern coast rank in everybody's top 50. Some have even tagged Pacific Dunes as a better public-access venue than Pebble Beach. Bandon Dunes, the original, and Bandon Trails, the upstart, follow smartly in every ranking.
Resort owner Mike Keiser wanted a fourth course, and admits there may be a fifth with speculation running rampant that it will involve the mysterious Sheep Ranch north of the resort property.
Although Old Macdonald's full 18 holes won't open until June 2010, beginning in April '09 the resort made 10 of Old Macdonald's holes available to the public. Play is limited to 32 golfers a day, and the green fee is $110, plus a minimum $55 for a caddie required to show you the way.
We began on what will be the sixth hole on Old Mac - which is what the caddies call the course - a par-5 that runs north alongside the 15th hole at Pacific Dunes. It's a lengthy test by any definition - historical or geographic: 590 yards from the tips, into the prevailing wind, and over a "hell bunker" crossing much of the fairway about 100 yards from the green, a design that is a haunting recollection of the "long hole" at St. Andrews' Old Course.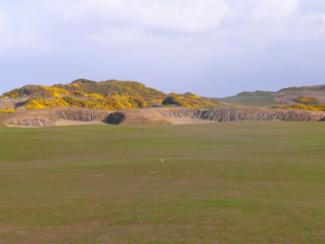 Hell Bunker on 6th hole at Old Macdonald GC
The next hole, a par-4 that marches up a grade to the ocean's edge and a prominence that offers the best Pacific Ocean views from the resort, will remind you of No. 4 at Scotscraig in Fife, Scotland.
The fun is only beginning. The third is a par-3 to a notorious Biarritz green. I landed on the front-left corner of the 22,000-square-foot green and had to putt through a gully so deep it couldn't be called a swale.
The 10 holes I played were in excellent shape, the greens rolling true - if you had any idea where the truth lies in such lumpy, oversized putting surfaces.

Old Macdonald is reminiscent of a giant playfield. All but four holes are between a sand spine and the Pacific Dunes course, out in the open on hundreds of rolling acres that allowed the architects, Tom Doak and Jim Urbina, to craft, without excessive land movement, the kind of course that Charles Blair Macdonald, who died in 1939, might have done.

As the story goes, Keiser and Doak, the designer of Pacific Dunes, were walking the property east and north of Pacific Dunes when Keiser asked what should be done with it. Doak replied, "Let's do what we've always wanted to do, and build a course that C.B. Macdonald would have built."

Keiser revealed that Bill Coore and Ben Crenshaw had wanted to build their course on what would become the Old Macdonald site, but Keiser told them no. "They begged me to build it there, but I wanted them to build a course out of the wind, and I think Trails does that beautifully where it is."

In some respects, Keiser gave Doak and Urbina the go-ahead to play in this 400-acre sandbox, building holes the way they think Macdonald - the father of American golf architecture - would have built based on his templates of the great holes he revered in Scotland and Ireland.

Among the more heralded courses Macdonald "imported" to America are Chicago Golf Club, The Country Club, Newport Country Club, Shinnecock Hills Golf Club and the National Golf Links of America.

Don't call the new Old Macdonald holes replicas, because Keiser might toss you in the Biarritz gully, and because they aren't. Following the Biarritz green - named for a course in France - is a "cape hole," where you can bite off as much fairway as you dare.

Throughout the course, huge, ambling greens offer many, many pin placements and to get from here to there often requires thinking as much as it does shot-making.

The course, at times, reminds me of Chambers Bay in University Place, Wash., with its bold contours and unforgiving angles, a course that might seem wide-open to the player trying to make bogey, but treacherous to those seeking a birdie.

It can play long, way too long with a stiff wind. It can also be played from what are called the "friendly tees," where the course becomes more about how you handle tight lies, false fronts and wavy greens than wind and distance.

All three courses at the resort are known for their natural evolution, with the architects taking cues from what years of shifting sands and howling winds had wrought on this seascape. Shaped more by architects and historians, Old Macdonald may end up being one of golf's great interpretive learning centers. Biarritz, Alps, Redan: all these architectural elements are part of Old Macdonald's menu, a chance for us to be compelled by the history of the game, and not such modern trappings as the fountain on No. 18, the fabricated "island green" or the cart girl.

Keiser has always said his favorite course to play is the National Golf Links of America, a turn-of-the-century design by Macdonald, who did another course, the long-lost Lido Golf Club, also on Long Island, which many thought was as good or better than any layout he created.

The Depression and World War II cut short Lido's life before Keiser could play it, and he seriously considered remaking it at Bandon Dunes. "I thought about it, but that would be a replica, and we're not interested in replicas."

Old Macdonald simply adds to Bandon Dunes' already-exciting inventory. From the very beginning Keiser wanted each course to stand on its own. He picked a different architect to build Pacific than Bandon Dunes (a David McLay Kidd design) because he didn't want the courses to be alike.

Old Macdonald is different than any of its predecessors. It will never have the ocean views of Bandon Dunes or the wild and woolly adventure of Pacific Dunes. Or the distinctive Oregon tall-trees feel of Trails.

But it might be the most interesting and edifying to play. At this point in Old Macdonald's development, we'll need more holes and more rounds on it to know for sure. I can't wait.
Blaine Newnham has covered golf for 50 years. He still cherishes the memory of following Ben Hogan for 18 holes during the first round of the 1966 U.S. Open at the Olympic Club in San Francisco. He worked then for the Oakland Tribune, where he covered the Oakland Raiders during the first three seasons of head coach John Madden. Blaine moved on to Eugene, Ore., in 1971 as sports editor and columnist, covering the 1972 Olympic Games in Munich. He covered five Olympics all together - Mexico City, Munich, Los Angeles, Seoul, and Athens - before retiring in early 2005 from the Seattle Times. He covered his first Masters in 1987 when Larry Mize chipped in to beat Greg Norman, and his last in 2005 when Tiger Woods chip dramatically teetered on the lip at No. 16 and rolled in. He saw Woods' four straight major wins in 2000 and 2001, and Payne Stewart's birdie putt to win the U.S. Open at Pinehurst. Blaine now plays golf at Wing Point Golf and Country Club on Bainbridge Island, Wash., where his current index is 12.6. In 2005, Blaine received the Northwest Golf Media Association's Distinguished Service Award. He and his wife, Joanna, live in Indianola, Wash., where the Dungeness crabs outnumber the people.