Old Macdonald Has a Course
By: Blaine Newnham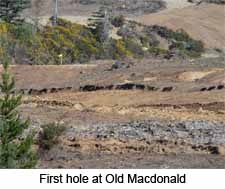 Looking over the construction of the fourth course at Bandon Dunes, Mike Keiser, the owner, was asked, "Why?"
"The resort doesn't need another course," he admitted, "but I just like building them. And I'm not going to fill the site with homes."
The construction of Old Macdonald, due for completion in 2010, says a lot about the success of Bandon Dunes and the iconoclastic nature of Keiser, who understands bigger isn't necessarily better. That the success of the resort has everything to do with golf and little to do with spas and speeches or the other things you find at modern golf complexes.
"In my lifetime," he said, "there will be no homes built on the property. Despite what you've heard, there will be no conference center."
He did admit there might some day be a fifth golf course, however.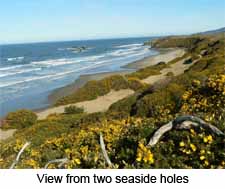 As the story goes, Keiser and Mike Doak, the architect of Pacific Dunes, were strolling the property east and north of Pacific. Keiser asked what should be done with it. Doak replied, "Let's do what we've always wanted to do, and build a course that C.B. Macdonald would have built."
Keiser revealed that Bill Coore and Ben Crenshaw had wanted to build their course on what would become the Old Macdonald site, but Keiser told them no. "They begged me to build it there but I wanted them to build a course out of the wind, and I think Trails does that beautifully where it is."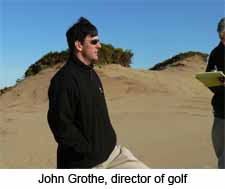 In some respects, Keiser and Doak will be playing in their 400-acre sandbox, building holes the way they think Macdonald, the father of American golf architecture, would have built based on his templates of the great holes he revered from Scotland and Ireland.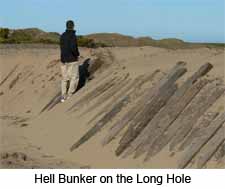 Doak will join with associate Jim Urbina in the design of Old Macdonald and the two will consult with a three-man review board consisting of historian George Bahto, architecture critic Bradley Klein and Karl Olson, the former superintendent at National Golf Links.

Keiser has always said that is favorite course to play is the National Golf Links of America, a turn-of-the-century design by Macdonald, who did another course, Lido Golf Club, also on Long Island, that many thought was as good or better. The Depression and World War II cut short Lido's life before Keiser could play it. He seriously considered remaking it at Bandon Dunes.

George Bahto, a golf historian and architect, has written a book about Macdonald, including the mysterious Lido. "He told me if you give me the site (at Bandon Dunes) I can reconstruct Lido within a quarter of an inch," said Keiser. "I thought about it, but that would be a replica, and we're not interested in replicas."

All three of the highly-acclaimed courses at Bandon Dunes are known for their natural evolution, the architects taking their cues from what years of shifting sands and howling winds had wrought. Old Macdonald will be different. It may prove to be golf's great interpretive learning center.

We will learn to recognize - if not appreciate - a Biarritz green, with a swale in the middle. And a Redan green with a dramatic right-to-left slope. A "short" and a "long" hole out of the St. Andrews playbook, as well as an "Alps" hole with a blind shot.

Just east of the 15th hole at Pacific Dunes will be the so-called "Long," replete with a "Hell Bunker" crossing much of the fairway about 100 yards short of the par-5's green. It won't look like the Hell Bunker at St. Andrews, but it will play like it.

"The question," said John Grothe, the resort's director of golf, "is can you carry Hell? From the bottom of the bunker all you can see is sky."

There will be a "Road Hole" of sorts. "Short" will be the par-3 fifth, with an 18,000-square-foot green. The first two and last two holes will be east of an enormous sand ridge. The other 14 will be west of the ridge and many will have views of the ocean and each other. Two of the holes will be on the ocean north of Pacific Dunes.

By design, the course will be bold and angular. Keiser is excited.

Besides a labor of love and a connection with golf's past, Old Macdonald will offer more inventory for the person who plays golf at Bandon Dunes. Keiser has never wanted his resort to feel crowded. He wants you to feel like you're on your own with the courses. Old Macdonald will ease pressure on the tee sheet. It will provide more starting times in both the early mornings and early afternoons.

"We take serious the notion of the replay," said Keiser. Bandon offers half-price for a second round on the same course during the day and free for a third. The problem has been getting enough tee times - and daylight - to do it. Old Mac will help with the tee times.

This summer, the new 34-room inn right of the 18th green at Bandon Dunes will open. So will a new clubhouse at Pacific Dunes. "That will give us 250 rooms on site, and that's enough," said Keiser. "We don't want people here in their rooms. That's why we won't have a conference center. We want them out playing golf."

Keiser knows he's messing with success, with perhaps the best brand name in golf today. Golf Digest ranks Pacific Dunes as the No. 2 course in the United States that the public can play. Bandon Dunes is ranked No. 7, and Bandon Trails ranked No. 21.

But then he took chances from the beginning with his walking-only, wind-blown masterpieces, and isn't afraid to try again. Said Grothe, on the completion of a walk around the property, "You don't want to be known as the person who built the bad golf course at Bandon."

Especially if you're named C. B. Macdonald.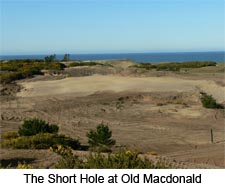 Blaine Newnham has covered golf for 50 years. He still cherishes the memory of following Ben Hogan for 18 holes during the first round of the 1966 U.S. Open at the Olympic Club in San Francisco. He worked then for the Oakland Tribune, where he covered the Oakland Raiders during the first three seasons of head coach John Madden. Blaine moved on to Eugene, Ore., in 1971 as sports editor and columnist, covering the 1972 Olympic Games in Munich. He was to cover five Olympics all together - Mexico City, Munich, Los Angeles, Seoul, and Athens - before retiring in early 2005 from the Seattle Times. He covered his first Masters in 1987 when Larry Mize chipped in to beat Greg Norman, and his last in 2005 when Tiger Woods chip teetered on the lip at No. 16 and rolled in. He saw Woods four straight major wins in 2000 and 2001, and Payne Stewart's birdie putt to win the U.S. Open at Pinehurst. Blaine plays golf at Wing Point Golf and Country Club on Bainbridge Island, Wash., where his current index is 12.6. In 2005, Blaine received the Northwest Golf Media Association's Distinguished Service Award. He and his wife, Joanna, live in Indianola, Wash., where the Dungeness crabs out-number the people.