Olde Mill in SE Virginia Unveils Fourth Residential Style
April 12, 2010. "That is perfect," sighed the North Carolina-based wife, resting her head upon her husband's broad, polo-clad shoulder.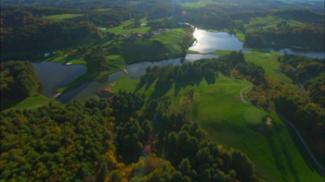 She wasn't speaking about the 210-yard drive she smoked earlier on Olde Mill's highly-acclaimed golf course, or the savory post-round lunch at The Maples Restaurant or even the peaceful, idyllic surroundings just minutes from the Blue Ridge Parkway. Instead she was referring to the new luxurious-yet-affordable condominiums, The Overlook, in the private, wooded enclave of the Blue Ridge Mountains.
Olde Mill, an 850-acre master-planned community an hour from Roanoke, Va., and Winston-Salem, N.C., and two hours from Charlotte - unveils its fourth housing option, The Overlook. Joining the previously constructed and recently renovated Overlook Villas, new Laurel Mountain Manors and custom estate homes, these condominiums are designed with the authentic mountain-craftsman style architecture, abundant throughout the property.
A calling to nature and a lifestyle that embraces peaceful living and outdoor recreation, Olde Mill operates under the telling brand promise "Blue Ridge Mountain Living as it Should Be." One glance around the picturesque property, dotted with walking trails, fishing holes and community activities, confirms that mantra.
"The two bedrooms are perfect for when the kids come to visit," the wife said. "It can be our home away from home with both of our girls at Virginia Tech, it's so close to campus."
A vision of Blacksburg alums, Olde Mill meshes tranquility with a nature-kissed landscape, nearby a variety of attractions including celebrated wineries, festivals, shopping and sporting events. Olde Mill is the best of both lifestyle worlds - serenity and harmony combined with convenience and activity.

"We now showcase four exquisite housing options, starting at just $200,000," says Mark Wuerthele, Broker-In-Charge. "There is not a better value for inviting housing located so close to Virginia and the Carolinas. We are excited to share our community with those searching for a fulfilling, mountain-oasis lifestyle."
Sip a cocktail at sunset on the deck of The Tavern at Olde Mill - perched gloriously above the resort community's 54-acre lake and golf course below. Meander through marked trails in the mountains, swim in the pool, exercise in the fitness center, play tennis or relish an exquisite meal by accomplished Chef Ed Badgett III at Olde Mill's Maples Restaurant.

Ranging in price from $239,000 - $309,000, these modern 1,300-square-foot condominiums boast a warm design while providing modern amenities and luxuries. Each 2-bedroom, 2-bathroom unit offers individual garages, gas fireplaces, granite counters, ceramic title floors, exposed cedar beams, rock accents around fireplace and base of beams, General Electric Appliances and 10-foot balconies overlooking the 18th green. The Overlook is done by Atlanta-based Garrell & Associates.
Upgrade options include the following enhancement choices: flooring, appliances, bathroom, lighting and plumbing fixtures.

Appointments to tour Olde Mill are now being welcomed and those interested should contact Mark Wuerthele at mark@oldemill.net or call 800/753-5005. Hours are Monday through Saturday 10:00am to 6:00pm and Sunday 1:00 pm to 5:00 pm.
Getting There

Olde Mill is minutes off Interstates 77, 81, 85 and 40; easily accessible from Virginia, West Virginia, North Carolina and Tennessee; and roughly one hour from Blacksburg/Christiansburg, Virginia and the Roanoke, Winston-Salem and Greensboro airports.

About Olde Mill

The 850-acre, master-planned Blue Ridge Mountains resort and residential community boasts affordable yet luxurious condominiums, manor homes, single-family cottages and customizable estates with mountain-craftsman décor and furnishings. Breathtaking, panoramic views of the golf course and mountains proliferate.

Olde Mill's multi-million-dollar metamorphosis is the vision of Mid-Atlantic land developer and Virginia Tech graduate Norris Mitchell, who grew up on a farm 20 miles from Olde Mill. He is overseeing Olde Mill's evolution into a mountain oasis with an array of amenities and an economic engine for the region for decades to come.

Enhancements include completely redesigned dining and tavern facilities - and the addition of Chef Ed Badgett, an acclaimed culinary maestro who came from an elite private club in Western North Carolina - recreational area, newly renovated tennis courts, a fitness facility, and an indoor swimming pool with raised Jacuzzi (an outdoor pool is also planned, along with other additions).