Omaha Scores with Champions Run
By: Steve Habel
We 're often told in golf that success is in the dirt, whether it's working out issues on the driving range or building a rolling, feature-laden course on a landscape flatter than a pancake eight miles west of the Mississippi River. The latter was the case when golf course architect Jeff Brauer was commissioned 20 years ago to design Champions Run, one of the top courses in Omaha, the largest city in Nebraska.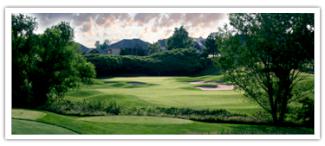 Champions Run No. 4
Brauer designed Champions Run in 1991 at about the same time he was working on three other layouts in the Cornhusker State: Woodland Hills GC in Eagle, The Highlands GC in Lincoln and the dual nine-hole, par-3 tracks on Eagle Run in Omaha. "I had quite a run of courses there in Nebraska in the early part of the 1990s," Brauer said. "I really felt like there were some great sites for golf, and I was lucky enough to be chosen to make those ideas into a reality."

According to Brauer, Champions Run was one of the last courses built before golf course architecture moved toward more minimalist design. Because of the big earthmoving, the course has a unique look for Omaha and the Midwest in general.

"The course was built in conjunction with the (adjacent) housing, on which they wanted walk-out basements, so many of the holes were lowered considerably from natural grade," Brauer said. "As I recall, the cubic-yard price for earthmoving was about half the going rate, which encouraged us to move more earth. The green on No. 5, which is at least 25 feet lower than the original grade, is the 'champ' in this regard, although not totally for housing reasons."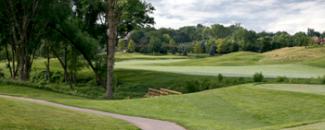 The 2nd Hole at Champions Run
Champions Run, which plays to a par of 72 and at 7,207 yards from its back set of five tees, encompasses about 200 acres as it weaves between the homes and over and around a creek that meanders through the site. Its bentgrass fairways are are defined by berms and grass knolls, all maintained to tournament standards.

The course is the centerpiece of a private country club nestled in the valley in the Northwest corner of Omaha in one of the city's upscale communities.

Since 1996, Champions Run has hosted the Nationwide Tour's Cox Classic, which will be conducted here again August 4-7. The event has produced its share of Nationwide Tour drama, including Jason Gore's famous "battlefield promotion" to the PGA Tour in 2005.

"Champions Run is one of my favorite courses I have designed," Brauer said. "It's a fun course for club members, and it always gets positive comments from the Nationwide Tour players as a fair and balanced test. They like the 'what you see is what you get' nature of the course."

Despite its location in a neighborhood, players will see plenty of wildlife on Champions Run, including beaver, blue heron, geese, coyote, deer, eagle and fox.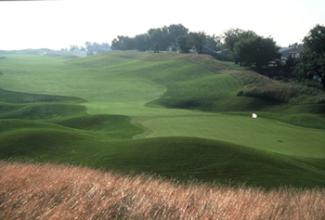 Champions Run
Options Make Champions Run Cool

With a stout rating of 75.8 and a slope of 137 from its back tees, Champions Run challenges every type of golfer. Dealing with the creek and its two lakes keep players on their toes on half of the track's 18 holes, while the corrugated fairways have mostly generous landing areas that create uneven lies as you attack the greens.

The depth of some of Champion Runs' putting surfaces, which are mostly larger than normal and smooth as silk, make proper club selection a must.

The course provides visual alignment problems from tee to green thanks to the mounding and elevation changes. On almost every hole a hazard must be carried, and any wayward shot results in a difficult side-hill stance or a long recovery shot from a bunker.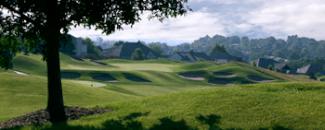 The 9th at Champions Run
But the real fun part of teeing it up at Champions Run is the options the course offers. An example of this are the par-5 second and par-4 18th holes - with yardages of 528 and 440 yards, respectively - which have split fairways. Depending on the tee you play and the prevailing wind, the carry to a landing area as a shortcut can be a bit daunting.

The 490-yard par-4 first hole and No. 10 (a 563-yard par-5) share a creek that fronts their green complexes, making lay-ups on the approach a prudent choice.

The par-4 fourth hole plays to just 316 yards but is entirely uphill and isn't reasonably reachable off the tee. However, the creek crosses the fairway near the landing area, so players cannot lay their shots too far back.

You can try to reach the putting surface with one mighty blow on the 315-yard par-4 ninth, but a series of bunkers and an elevated and undulating green lurk.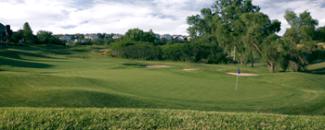 Redan-style Green on No. 16 at Champions Run
The most challenging holes on the backside are the 401-yard par-4 11th, where the tee shot must carry a waste area then find refuge on a snaking fairway that moves right to left off a huge mound, and the 471-yard par-4 15th moves down to a narrow landing area and then up to one of the smallest greens on the course.

"There probably isn't a hole out there I don't like," Brauer said.

Champions Run, complete with its swirl of hills, mounds, bunkers, trees and water, demands shot-making ability and prowess with the flat stick. The course is kept in peerless condition. The rough may be a little longer for the Cox Classic when it's 5-7 inches deep, but other than that the club members play on a tournament-ready track every day.

In essence, Champions Run is a great example of architectural creativity when the palate must be manipulated rather than adapted. Sometimes that approach can be overused, but that's not the case with Brauer's work here.
For additional information about the course, visit www.championsomaha.com.
Steve Habel is one of Cybergolf's national correspondents, contributing news stories, features, equipment and book reviews and personality profiles from his base in Central Texas. He is also the managing editor for Texas CEO Magazine and works as a contributing editor for Horns Illustrated magazine, a publication focusing on University of Texas sports. He also writes a blog (www.shotoverthegreen.blogspot.com), which features news on golf and the Longhorns, and another (www.checkinginandplayingthrough.blogspot.com) on his many travels, which took him across the nation and to 105 different golf course in 2009. Habel is a member of the Golf Writers Association of America and the Texas Golf Writers Association.