Omni La Costa Flexes Muscle as SoCal's Iconic Resort
By: Steve Habel
With its swaying palms, white-stucco buildings and nearly flawless weather in the hills of Carlsbad, minutes from the San Diego airport, there's no mistaking the cool "SoCal" vibe at Omni La Costa Resort.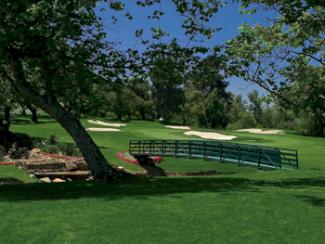 No. 15 at the Legends Course
Since opening in 1965, just the mention of La Costa brings back memories of swashbuckling golfers sashaying across its fairways and greens, and tennis professionals in all-white togs whipping crosscourt backhands and crisp volleys as well-heeled and sun-tanned fans cheer and soak it all in.

Then there's the famous sprawling pool with its water slide, and the plaza of shops in a main court, at the end of which sits a studio where world-renowned holistic physicians Deepak Chopra and David Simon have taught thousands the timeless tools of meditation, yoga and Ayurveda.

Given all that La Costa offers and its stunning setting, golf and its duo of courses have always been the No. 1 calling card. For 30 years, the resort hosted the Mercedes Championships (originally called the Tournament of Champions), from 1969 to 1998, and when that event left for Hawaii La Costa was selected to host the inaugural WGC-Accenture Match Play Championship in 1999.

It hosted that tournament for seven of eight years (the 2001 event was played in Australia) until moving to Tucson in 2007. Then in 2010 and '12, the resort hosted the LPGA's Kia Classic.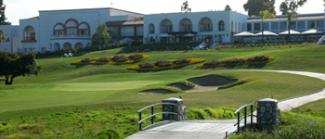 No. 18 at the Champions Course
Through the decades, La Costa's two Dick Wilson-designed courses became outdated and maintenance-intensive. They have since been renovated by the talented trio of Damian Pascuzzo, Steve Pate and Jeffrey Brauer, and the refurbishing has returned the layouts to national prominence.

"La Costa has been synonymous with elite championship golf for more than 40 years," Pate said. "It is important to ensure the future of the golf courses, which are the heart and soul of La Costa."

The North renovation was completed in 2011 and the course is now called Champions. Pascuzzo, Pate and Brauer updated the design (originally a Wilson collaboration with Joe Lee) but added length and playability elements as well as better drainage, irrigation and a change in turf.

The South course work was finished in November 2013 and included a reconstruction and redesign of all 18 greens, as well as a thorough resurfacing of tees, all-new bunkering and the planting of Paspalum turf in fairways. It has been re-branded as the Legends.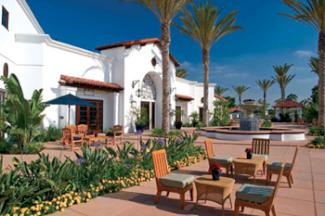 Omni La Costa Resort
"The Legends Course gives golfers a completely different type of golf course to play at La Costa," Pascuzzo said. "It's fun and interesting, with different visuals and some subtle nuances, especially around the greens. Golfers are really challenged to use their imaginations."

Champions Course Friendlier

When Pascuzzo, Pate and Brauer tackled the North course renovation, they respected the work of the original designers but didn't want to be slaves to it. The result is a layout that is likely more friendly to resort golfers while still giving low handicappers plenty to consider.

The redo adjusted the positions of some greens and tees, but the biggest changes were done on the bunkers and other hazards, which were originally plotted symmetrically and in front of some putting surfaces. They are now staggered and better set for the modern game.

The Champions Course at La Costa
Drainage on North was always an issue, but that was solved by a seven-inch sand cap and a new irrigation system that helps move water off fairways. More lakes have been added and repositioned to create better easement during heavy rainstorms.

The greens were changed to A-4 bentgrass and reshaped to allow for more pin placements. Perhaps the most notable change was the reduction of some 30 acres of turf throughout the course and the extensive use of native grasses that gives Champions a wilder look.

The course now plays to a par of 72 and at 7,172 yards from its back set of six tees. The tips carry a healthy rating of 75.1 and a Slope of 140.

There are plenty of holes on Champions that will capture the golfers' attention. The 465-yard, right-to-left leaning par-4 seventh takes a combination of length and accuracy to par, while the 556-yard par-5 10th turns hard right off the tee and then asks players to attack a greens complex fronted left by a large pond.

The 392-yard par-4 13th is a sharp dogleg-right with trees right of the tee and a lake right of the green. Those familiar with La Costa from its PGA tournament television exposure will remember the 16th, a 170-yard par-3 that's almost all carry to a shallow green, flanked by a waterfall on the left. The finishing hole, a par-5 of 594 yards, features two lakes, a stream in front of the elevated putting surface and grassy mounds left of the green, all in the shadow of the resort's main building.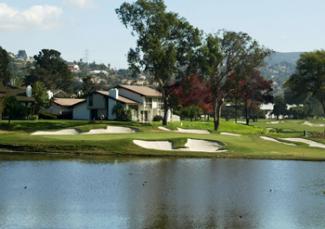 The Daunting par-3 16th at the Champions Course
The Champions' redo adds flair and playability and a fun factor that includes a drivable par-4 on the 340-yard 15th.

Legends Course Retains Difficulty Even if More Forgiving

Pascuzzo, Pate and Brauer's work on the South (now Legends) was perhaps a little more subtle, but where the course was difficult before it remains so today.

The renovation helped define a layout that is more open than Champions. Its bentgrass greens were redesigned and enlarged and now average about 5,000 square feet. The greens also offer numerous options for approach and recovery while the putting surfaces at four holes (Nos. 1, 12, 15 and 17) have been relocated - some slightly, some dramatically.

Bunkering was completely redesigned, reconstructed and reduced in number. In contrast to Champions, the bunkers at Legends are less visible by design, and shallower with lower faces, although a few deep bunkers are still around the greens.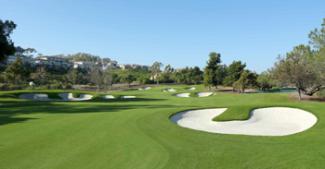 The Legends Course at La Costa
All tee boxes were entirely rebuilt and, in many cases, reshaped to provide more room and options. Adding a fifth set of tees allows the course to play to 7,025 yards, with a rating of 74.2 and a Slope of 133 from the tips.

Legends grabs the players' attention in earnest at the third, an uphill, 458-yard par-4 that ends at triangle-shaped, mounded green. The ninth is a par-5 of 493 yards that plays out of a narrow chute and winds uphill between bunkers to a putting surface fronted by a stream.

The back nine begins with what may be the toughest hole at La Costa, a 456-yard two-shotter that requires a long and accurate drive and then an uphill, over-water-and-sand approach to a green that is shallow and moves front to back.

The 12th, a par-5 of 583 yards, turns slightly right off the tee and then again from fairway to green, with a huge tree guarding the corner of the second dogleg. The 391-yard par-4 15th must be played to a position right of the tree at the corner of the landing area to attack an uphill green across a stream; beware a bunker right of the fairway.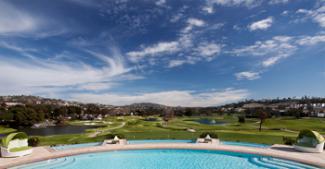 View from the Pool at the Omni La Costa Resort
The Legends ends with a doozy - a 457-yard par-4 that descends to a stream and then back uphill to the green. The ending is, again, in the shadow of the resort's main building, adding a little extra pressure to execute a final shot while being watched from above.

Getting in Shape for Golf and Life

Golfers can get in the best shape of their lives while learning or improving their skills at the Omni La Costa Resort & Spa, which launched its comprehensive Golf & Fitness Program in November.

The program, available only at Omni La Costa, combines golf instruction with the fitness and wellness expertise of Premier Fitness Camp (PFC). From start to finish, the name of the game is game improvement. The program involves exercise, nutrition and wellness steps to help players meet weight-loss and fitness goals.
For more info on La Costa, go to http://www.omnihotels.com/hotels/san-diego-la-costa.
Steve Habel is a freelance writer contributing Cybergolf news stories, features, equipment and book reviews and personality profiles from his base in Austin, Texas. He also works as an associate editor for Horns Illustrated magazine, a publication focusing on University of Texas sports, and is a contributing writer for Texas Golf Insider, Golf Oklahoma magazine, Tri-State Golfer and ATX Man magazine. Habel's blog (www.shotoverthegreen.blogspot.com) features news on golf and chronicles his many travels, including playing almost 1,000 golf courses since 2008. Habel is a member of the Golf Writers Association of America and the Texas Golf Writers Association.