Omni Orlando at Championsgate
By: George Fuller
Orlando feels like it's near the center of the golf galaxy. Here, each January, the PGA Merchandise Show brings together the sport's top manufacturers, course pros, buyers and media from around the globe for a few days of grins and grips inside the ginormous Orange County Convention Center. Also, Golf Channel and GolfWeek are based here; two PGA Tour events are staged in Orlando (the Arnold Palmer Invitational and the Children's Miracle Network Classic); and a slew of Tour pros make Orlando their home.
No. 17 at the National Course
So where are the world-class golf resorts? Where are the top-10 courses?

Truth be told, Orlando is not blessed with a beautiful coastline, as is Pebble Beach; no scruffy links as at Bandon Dunes; no dramatic mountains or boulder-strewn desert-scapes a la Colorado and Scottsdale; no deep history like Pinehurst.

Indeed, though golf does much of its business in Orlando, it is Disney World, SeaWorld, Universal Studios and other such themed parks that are still the town's main attraction. Still, there is a lot of good golf to be played before and after the roller-coasters, splashing whales and typhoon reenactments.

There are even four courses at Disney, to be sure - including Magnolia where the Children's Miracle Network tourney is held (October 20-23, 2011) - but it's hard to think of Disney World as a "golf resort," just as it's hard to think of Orlando as a "golf destination." There are simply far too many other things to see and do . . . right, kids?
I found a solution. When planning your next Orlando escape, book into the 750-room Omni Orlando at ChampionsGate. A mere six miles from Disney World ("easy to get to, easy to escape" is how the resort describes their location), 14 miles from SeaWorld and 16 miles from Universal Studios, Omni Orlando offers a pleasing combination of access and separation. Plus, golfers find two superior Greg Norman-designed courses, a David Leadbetter Golf Academy and a nine-hole track lighted for family-oriented nighttime play.
A host of kid-friendly activities justify staying on-property for at least a day or two of your vacation, including the nine-hole illuminated layout, several swimming pools, an 850-foot-long lazy river that winds through tunnels and over gentle rapids, and a 2,000-square-foot Kids Escape center with everything from arts and crafts to a video game arcade.

The kids thus occupied, dad can head to the golf clubhouse, a short cart ride from the hotel tower, where the environment changes from kids' fun to hardcore golf. The 35,000-square-foot clubhouse is decked out with photos from tournaments held at the facility - notably the Father/Son Challenge staged on the International course for several years that included such notable pairings as Jack and Gary Nicklaus, Hale and Steve Irwin and Craig and Kevin Stadler - and memorabilia from several professionals (Charles Howell III, Mike Hulbert, Brad Bryant and Michelle Wie) who make their homes in Orlando.
A traditional Florida-style design, the National course rolls through woodlands, wetlands and past orange groves. After a few holes bordered by pine groves and dense undergrowth, the course opens onto a landscape of rolling land dotted with old-growth oak trees draped with Spanish moss mixed with palmetto scrub. Some orange trees on No. 8 are a fun reminder of Florida's agricultural history, and the orange peels on the ground let you know it's ok to sample.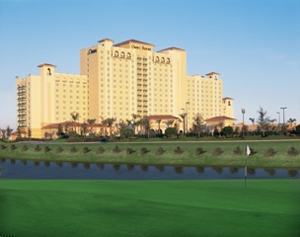 ChampionsGate Hotel & Golf Mix Well
The International course is known as the tougher sister. Here, Norman fashioned some hints of Australian links into the design, including a fast-running turf and some very interesting, trench-style bunkering. This course can play to greater than 7,300 yards and boasts the highest USGA rating in Florida at 76.3.

Meanwhile, mom might be just as happy in the spacious spa, where treatments range from unique seasonal offerings (such as the refreshing Peppermint Massage during Christmas holidays) to standard spa packages with body treatments, massage and facials. From greeting to departure, service at Omni Orlando's excellent spa is well-planned, warm and genuine.
The dining outlets are equally enticing. Zen dishes Pan-Asian fare with creative sushi and a "Zen Experience" that allows guests to sample everything on the menu. Trevi's is Italian-themed with pastas and pizza; and David's Club is an upscale sports bar where patrons can enjoy a hand-cut steak while watching the day's sports on large flat-screen televisions.

So while Orlando might never be a "golf-first" destination, everyone gets what they want at the Omni Orlando at ChampionsGate. For more information, visit www.championsgategolf.com.
Award-winning publisher, editor, writer and photographer George Fuller has been covering golf travel and lifestyle for more than 30 years. From 1992 to 1997 he was editor of LINKS-The Best of Golf, based in Hilton Head, S.C. In 2005, after having spent several years in the Pacific starting two magazines for Continental Micronesia Airlines and writing two books, Fuller launched GOLF LIVING Magazine for the Los Angeles Times, a "super-regional" magazine of travel, real estate and the lifestyle surrounding the game of golf. In 2009, he helped redesign and re-launch TEXAS GOLFER, a magazine with 25 years of history in the Lone Star State. Most recently, Fuller partnered with Troon Golf to launch TROON GOLF & TRAVEL, a monthly eMagazine with an annual print component. In addition, Fuller's newspapers and magazines credits include TIME, Wall Street Journal, San Francisco Chronicle, The Los Angeles Times, Robb Report, Coastal Living, Palm Springs Life, Estates West, GOLF Magazine, Golf Digest, Travel & Leisure Golf, LINKS, Successful Meetings, Honolulu and many others. He has reported for Reuters, United Press International (UPI), written for Copley News Service and is a regular on-line travel correspondent for Cybergolf. Based in Pacific Palisades, Calif., he can be contacted at gfuller@earthlink.net or 310/245-9550.