On the Lip – A Visit with a Teaching Guru
By: Elisa Gaudet
There are few times in life when you meet someone and walk away truly inspired. Jim McLean is the type of person who inspires you – and that is before his golf instruction. I recently caught up with Jim at the Jim McLean Golf School at the Doral Resort and Spa. We had an opportunity to discuss the difficulties of going from bentgrass to Bermuda, and look at the state-of-the-art facility Jim has created. Ironically, the real tips I received did not come from his Book of Drills, but rather about his Book of Drills.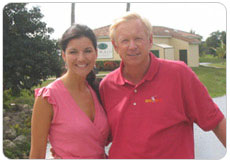 Known worldwide as one of golf's great instructors, Jim has produced numerous videos and books and is often on TV teaching the golf swing. At his facility, instructors tape your swing, match you with your favorite golfer, and then compare the swings on a giant flat-screen television.

Needless to say, I'm sure David Toms' swing would be more like mine if he were wearing heels and a skirt. Combining his clinics and lessons, over 50,000 people will go through a Jim McLean golf school every year. The school started with five teachers and now has 20. Aside from the one at Doral, there are schools in Ft. Lauderdale, Michigan, Bahamas, and two in California – at La Quinta and PGA West.
There is no shortage of "A list" celebrities who've been helped by Jim. These include Will Smith, Michael Douglas & Catherine Zeta-Jones, Gene Hackman, Bill Murray, Dan Marino, Terrell Buckley, Keith Askins, Pat Riley, Chris Carter, Hugh Grant, Dr. J, and Andy Garcia.
When asked what traits are needed to be successful in golf, McLean's response was love of the game, determination that you want to be good, and dedication. His dream foursome would be Bill Murray, Ben Hogan, Bobby Jones and himself. Favorite courses are Pebble Beach and Olympic in California. If he could be any three people in one, he choose Einstein, Michelangelo, and John Wooden.
I asked Jim some questions.
Do you have any aspirations to play on the Champions Tour?

"No. Knowing the amount of commitment it takes and having worked with a number of the players, I know you have to give up almost everything to be good and I like the life I have now. Many people do not realize the amount of effort and commitment it takes to play at that level; there are many sacrifices. I am doing what I want to do now. I teach, speak, do a lot of writing, spend time with my family and I still get to play."
What has been some of your most difficult times on your road to success?

"I remember when I was coming down to Florida and playing on the Florida winter tour and teaching. I was about 28 and I remember owing a lot of money on my credit cards and being out of money and staying in a crappy motel and wondering, 'Is this ever going to work and what am I doing? Do I really want to do this?' I always thought I was going to be a player but then I redirected my thinking to teaching. I also had a few great mentors."
Tell me about your Drills Book (Jim finished it in 1984, sold the idea in 1987 to Golf Digest and the book was published in 1990. Golf Digest's "Book of Drills" is now in its 15th printing and still in hardback).

I finished writing and doing the pictures for the book in 1984. I thought it was a good idea and went to the different publishers in New York City. I just pounded the pavement in New York and showed the book to a lot of people. I had some nice meetings but nobody wanted to do it.

You have to learn a lot of patience to be great or successful. You have to have a lot of willpower and hang in there and believe it is going to happen. Eventually something hits and you become successful. Many people give up along the way; it is easy to give up.

Do you have any business advice?

Do something that you have a passion for and put a real effort into learning everything you can. If you are going to be self-employed, you are going to have to work really hard. But it will pay off big if you do not give up, hang in there and don't let people discourage you. Many people will tell you not to do it, it is not the right thing to do or it is too risky. It is easy to give up; many people give up. You have to have determination and believe in what you are doing.
Elisa Gaudet brings a wealth of entertainment and golf experience to Cybergolf. Elisa has spent the past several years in the golf industry in the U.S., Latin America and Spain. She worked for the PGA Tour and the Tour de las Americas before founding Executive Golf International, a golf marketing company that works with clients to develop strategies using golf as the medium. Often referred to as the Maria Bartiromo (a business analyst for CNBC) of golf, Elisa says: "Golf, as a marketing tool, has been around for years. It's amazing how many new ways companies can align their brand with the golf market to reach their target audience. Our goal is to create alliances and establish cross-border relations." Elisa also worked in the entertainment industry for over 10 years, including five in Los Angeles as a model and actress. She can be seen at many celebrity golf events and often gets the inside scoop from PGA Tour players. For more information about Elisa, visit her websites at www.onthelip.com or Executive Golf International www.execgolfintl.com.