On the Lip – A Visit with Michael Campbell
By: Elisa Gaudet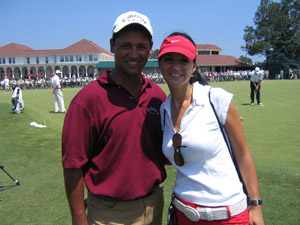 The new U.S. Open champion, Michael Campbell, is someone whose time to shine is long overdue. For many years, Campbell found himself under the radar largely due to up-and-down years plagued with injury and self-doubt. However, strong family ties and support, along with persistence and perseverance, found him at Pinehurst No. 2 – arms outstretched to the sky – as the U.S. Open Champion. All the work and patience paid off.
Michael "Cambo" Campbell is much more than a fine professional golfer. Born in Hawera, a small town in New Zealand near Mt. Taranaki, Campbell is of Maori descent. The Maori are the indigenous people of New Zealand, making up over 14 percent of the population, and whose language and culture have a major impact on all facets of life in that country.
The Maori creation story describes the world being formed by the violent separation of Ranginui, the Sky Father, and Papatuanuku, the Earth Mother, by their children. Many Maori carvings and artworks graphically depict this struggle. It is this artwork and tradition that inspired and influenced Michael's clothing line (www.camboclothing.com). The designs can be seen on the shoulders of his shirts. On Sunday at Pinehurst, he wore a shirt with an insignia on the back, "Kia Kaha" – Stay Strong. And strong he was in holding off Tiger Woods and the rest of the game's greatest players.
This is not the first time Campbell beat Woods. In 1999, Michael held off Tiger to win the Johnny Walker Classic in Taiwan. This time the stakes were much higher and the victory much sweeter, as evidenced by his ecstatic response on the 18th green. He claims his victory was luck. But luck is when preparation meets opportunity, and both finally came together for Campbell on this particular Sunday. What we do not know or see are the years of preparation, sacrifices, injuries, and ups and downs that led Michael to achieving his dreams and goals.
As a 12-year-old 11-handicapper, Campbell boldly announced that he wanted "to be a professional golfer and be the best in the world." He enjoyed a very promising start, breaking course records and playing for the New Zealand national team in overseas competitions. He was a member of the first New Zealand team to win the Eisenhower Trophy in 1992 and the first Kiwi to win the Australian Amateur Championship in 1992.
In 1995, Michael led at the British Open and ended up finishing third. After that, however, there were many missed cuts as he uprooted his family with moves to London, to the U.S., and back again to London. An inability to focus, wrist injuries and self-doubt plagued him for a few years until he finally broke through with the support of his golf coach and family.
I first met Michael in Mexico at the 2002 EMC World Cup where he represented New Zealand. What struck me most about Campbell was his attitude off the course, his zest for life and a happy upbeat attitude. Not filled with pretense, he is an easygoing and fun guy who once enjoyed dancing in clubs. "I knew the owner of this one club and he used to let me in the cages to dance. I used to really enjoy that but I am a family man now," said Michael.
Campbell has the ability to rise to almost any challenge. Recently, he, Craig Parry and Nick Dougherty were invited to spend the day on the New Zealand America's Cup Challenger for some ocean racing. At the stern of the yacht was a square of artificial turf. The managing director bet Campbell he couldn't land a shot on the chase boat trailing the New Zealand boat about 100 meters away. Cambo accepted the offer and proceeded to land a shot right in the lap of the "chase" crew.
After spending a few minutes on Michael Campbell's site, http://www.camboclothing.com, you come to really understand who he is and what's important to him: family, heritage, pride for his country and its history, and a strong sense of giving back. From the song written by Michael's grandmother, "kia kaha ra", which encourages her grandchildren to stay strong and follow their dreams, to his Maori-inspired clothing line, this is a man with depth and interests far beyond his chosen profession.

"As well as having a dream and some natural talent, it takes hard work and discipline, the humility to learn from lessons, and reserves of inner strength to keep going through hard times," Campbell said.

These are lessons in life we can all use. "Kia Kaha" – Stay Strong.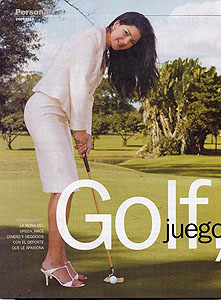 Elisa Gaudet brings a wealth of entertainment and golf experience to Cybergolf. Elisa has spent the past several years in the golf industry in the U.S., Latin America and Spain. She worked for the PGA Tour and the Tour de las Americas before founding Executive Golf International, a golf marketing company that works with clients to develop strategies using golf as the medium. Often referred to as the Maria Bartiromo (a business analyst for CNBC) of golf, Elisa says: "Golf, as a marketing tool, has been around for years. It's amazing how many new ways companies can align their brand with the golf market to reach their target audience. Our goal is to create alliances and establish cross-border relations." Elisa also worked in the entertainment industry for over 10 years, including five in Los Angeles as a model and actress. She can be seen at many celebrity golf events and often gets the inside scoop from PGA Tour players. For more information about Elisa, visit her websites at www.onthelip.com or Executive Golf International www.execgolfintl.com.