On the Lip – At the 2005 Masters
By: Elisa Gaudet
Golf originated in Scotland around the mid-15th century. One hundred years later, golf gained status and popularity largely due to the royals' interest and participation. King Charles I popularized the game in England and, Mary Queen of Scots, who was French, introduced the game to France while studying there.

In 1744, the first club was formed. The Gentlemen Golfers of Leith held an annual competition, with a silver club given to the winner. In 1754, the St. Andrews Society of Golfers was formed. King William honored the club with the title, "Royal & Ancient" in 1834. In 1854, the now-famous clubhouse was erected.

The Royal & Ancient Golf Club of St. Andrews became the world's premier golf club because of its fine course, its publication and implementation of the rules of golf, its royal patronage, and its promotion of the game as a proper sport. In later years, a discrepancy between the size and weight of the golf ball created a 30-year rift between the R&A and its American equivalent, the United States Golf Association. It was at this time that the Ryder Cup was introduced, pitting Europe vs. the U.S.
Although the Ryder Cup is a big-time and much-anticipated tournament, there is nothing like the Masters. This first of golf's four major championships is, arguably, the most difficult sporting event to get a ticket to. Forget NCAA basketball's "March Madness," "Masters Mania" has its own, more powerful attractions for golfers.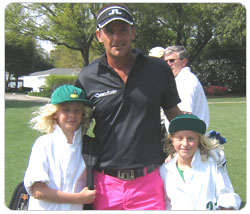 The Masters is the only event on the PGA Tour that does not have on-site hospitality. An ideal situation for those lucky enough to have tickets is to rent a house, as one gentleman put it, about a 6-iron from the tournament site, Augusta National Golf Club. Some of these houses are converted into an ultimate entertainment facility, complete with a full-service staff, chef, valet parking or chauffeur, and attendants for your every whim.

The backyards of these rental homes become open-air gentlemen's clubs. Some have tented areas with big leather chairs and couches, liquor, fully-stocked cigar area and, of course, a mega-plasma flat-screen TV to watch the action on the nearby course. These golf lovers and their friends fly in to the event for a day or two. Some of them arrive in NetJets, a fractional jet ownership arrangement that allows Marquis Jet Card holders to fly privately with guests without the responsibility of full ownership.
What makes the Masters so unique is the amazingly pristine greens and fairways, and the extreme organization that takes care of every little detail. Imagine Disney World meets Versailles, surrounded by Japanese botanical gardens. Then add golf.
The only bargain are the sandwiches, which have not changed in price for the last 20 years. One can only imagine that, if by chance, a sandwich wrapper should drop to the ground it would go unnoticed. But that's not the case at this ultra-clean public spectacle. Perhaps the best-known sandwich (but not the best tasting) is the pimiento, which features spicy Cheese Whiz between two slices of bread. As all the Masters caddies are in white jumpsuits, an army of clean-up people in yellow jumpsuits make sure the pimiento sandwich wrappers find their proper home.

Homeland Security could learn a thing or two from the Masters. This is definitely an Al Qaeda-free environment. No matter who you are, a thorough search is done of your possessions; you're only allowed to bring onto the tournament grounds a bag no bigger that a freezer-size Ziploc bag. Absolutely no cell phones, no soda, coffee or any other branded refreshment. If you bring bottled water, the label must be removed before you enter or they will do it for you.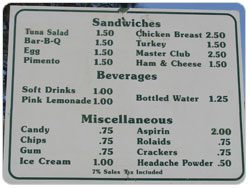 Everyone files through a metal detector similar to those at airports, and then their entrance badge, containing a bar code, is scanned by a computer. The course is marked and roped just so, and there are clearly identifiable marshals and assistants at every turn. The par-3 competition on Wednesday is by far the best day, as the players are relaxed, joking and accessible. It's common for their children to serve as caddies.

Although not publicized, the estimated revenue generated from the merchandise tents, open only for Masters week for the lucky ticket holders, garners about $20 million for the week. The tournament's winner takes home the Masters' signature green jacket and lots of green – $1.26 million to be exact.

Bottom line: Everything at the Masters comes up GREEN.
Elisa Gaudet brings a wealth of entertainment and golf experience to Cybergolf. Elisa has spent the past several years in the golf industry in the U.S., Latin America and Spain. She worked for the PGA Tour and the Tour de las Americas before founding Executive Golf International, a golf marketing company that works with clients to develop strategies using golf as the medium. Often referred to as the Maria Bartiromo (a business analyst for CNBC) of golf, Elisa says: "Golf, as a marketing tool, has been around for years. It's amazing how many new ways companies can align their brand with the golf market to reach their target audience. Our goal is to create alliances and establish cross-border relations." Elisa also worked in the entertainment industry for over 10 years, including five in Los Angeles as a model and actress. She can be seen at many celebrity golf events and often gets the inside scoop from PGA Tour players. For more information about Elisa, visit her websites at www.onthelip.com or Executive Golf International www.execgolfintl.com.