On the Lip – At the Ninth Annual Gary Player Invitational
By: Elisa Gaudet
Gary Player took it up a notch this year as promised at the ninth annual Gary Player Invitational held in early March at the Floridian Golf & Yacht Club in Palm Beach, Fla., Wayne and Marti Huizenga's private golf course. This ultra-private club, built by the Huizengas to entertain friends, is estimated to have cost over $75 million.

The event raises money every year to support underprivileged children's education in South Africa, the U.S. and around the world. The Gary Player Invitational brings together celebrities and business people for two days of golf. It is one of four events Player hosts to raise money for the Gary Player Foundation and Nelson Mandela Children's Fund.

Huizenga was not the only host. The tee-off party the evening before the tournament was held at Trump International Golf Club. In attendance were Donald and Malania Trump, and many of the celebrities. Player was the undisputed picture of style and grace. The attendees enjoyed delicious Boschendal South African wine. The Boschendal estate is known as the crown jewel of South African wineries. Besides the winery, it's home to Player's "gentlemen's wine estate."
The A-list celebrities and sports professionals who participated in the tournament included Bob Griese, George Brett, Alan Thicke, Paul O' Neil, Tico Torres, Ahmad Rashad, Merril Hoge, Rush Limbaugh, Andy Pilgrim, Peter Kessler, Rod Gilbert, Jerry Bailey, Lee Hendrix, Beverly Johnson, Wade Boggs, Derrick Brooks, Jim Brown, Bryant Gumbel, Ivan Lendl, Jason Taylor and Edwin McCain.


I had a chance to interview four of the attendees.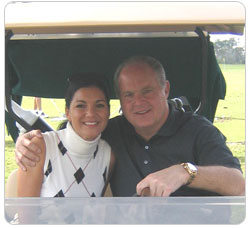 Rush Limbaugh
Handicap: 15
Favorite Course: Pebble Beach "the most beautiful plot of land on which sits a golf course"
Dream Foursome: Tiger, Peter Jacobsen, Davis Love

Limbaugh started playing golf in 1997 because of friends and the Florida weather. His comment about former Presidents George Bush and Bill Clinton playing together in Greg Norman's event, "Two Friends One Goal," was simply, "Great." Limbaugh recently read that Clinton gave up his bed for Bush in the Outback during their recent Tsunami tour.

Limbaugh says "Clinton is a different guy since the heart surgery. When you have that type of massive heart surgery, you must get a sense of your mortality and you start taking things a little more seriously." Having played golf with former President Bush many times, Rush describes it as "aerobics golf. He never stops, his goal is to play 18 holes in two-and-a-half hours."

When asked what attracts people to golf he explains, "The game is seductive, it looks so easy. The people who do it well make it look effortless. The ball isn't moving, it is just sitting there begging you to hit it. Then you find out how difficult it is. It gives you a way to instantly measure your improvement and challenge yourself mentally and physically. Eighteen holes of golf and you will find out what somebody is made of."

Limbaugh also noted that golf and cigars are a great way to bridge gaps and give people a commonality in a situation where they might otherwise have thought there was none. "I have met a great number of people I otherwise would not have because of cigars and golf."

Greatest Golf Experience: Making the cut at the AT & T Pebble Beach Pro-Am two years ago and playing on Sunday – money day – with the pros.
Andy Pilgrim
Handicap: 10
Favorite Course: Floridian
Dream Foursome: Tiger, Gary Player, Annika Sorenstam

Pilgrim got started in golf because the team manager on the Corvette racing team, Doug Fehan, is a big golfer. "When I joined the Corvette team five years ago, he asked me if I wanted to play golf. He gave me his wife's clubs and that is how I started playing," said Pilgrim.

When asked if there was a correlation between motor racing and golf, the answer was quick and decisive. "There is a tremendous correlation on the mental side, the concentration required to control the exterior distractions. In racing, you have the car, traffic (in which) you are required to be smooth and be relaxed yet be completely 'on.' The same with golf. If you try too hard, hold the grip too hard, try and swing too hard or lose your concentration for a second on the back swing, you get the same result – you don't hit the ball well."
Jerry Bailey
Handicap: 11
Favorite Course: Augusta National
Dream Foursome: Mickelson, Tiger, Player

In a game that does not lend itself to small men, Gary Player has always been the idol of jockey, Jerry Bailey. The correlation between golf and horse-racing is soft hands and patience. "That's how we communicate with the horses," said Bailey, "through our hands. In golf, if you squeeze the club too tight it's no good. You have to have soft hands for both.

"Also patience," he continued. "If you try and do too much the golf course beats you. It is the same with horses" if you try and control them – they weigh 1,200 pounds and I weigh only 100 – they are going to win> It is a lot of patience."

Greatest Golf Experience: Birdie at Augusta. Bailey's motto is: "If you do the right thing by people and you are a fair person, it all comes back to you."
Edwin McCain
Handicap: 15
Favorite Course: Augusta National
Dream Foursome: Jay Haas, Tiger, Scott Simpson

With seven albums under his belt and a confessed victim of a bad short game, McCain grew up playing golf and has been influenced by Jay Haas and John Daly. "You couldn't be on the Hootie and the Blowfish tour and not know how to play golf because they golf every day," explained McCain.

McCain has the hit song "I'll Be," and he serenaded the guests on the steps of the Floridian clubhouse during the cocktail party that evening. Having been on tour with Hootie in 1995, Edwin explains that "Darius (Rucker – the band's lead singer) and I went to college together. We were all a part of the redneck mafia bands that blew up out of the South like Dave Matthews."

Greatest Golf Experience: A round with Bill Murray and admits to having laughed a lot. McCain's motto: "It is about the sum of the little things, not necessarily the big deal, finding the value of lots of great little things."
As was proven at Gary Player's event, golf and business are a natural fit. From Greg Norman to Donald Trump, golf has played a huge part in their success on and off the course. Two notable prominent business leaders at the Floridian enjoying golf and the camaraderie were David Gilmour, collector of companies such as Fiji Water, and Alastair Johnston, Vice Chairman of IMG.

Gilmour regrets not having started golf earlier in his life. Only when his knees gave out from polo, tennis and skiing did he turn to golf. Gilmour believes, "You are only as good as the habits you have and the things you put in yourself." His business advice? "You have to have the entrepreneurial spirit, an airtight plan, and follow through on every detail."

Johnston said that I would be in for a treat at the Tavistock Cup (Editor's Note: This rain-delayed event was held on March 29 – look for Elisa's next installment soon). He promised the event would not disappoint. The event pitted Isleworth vs. Lake Nona, a golfer's version of a big-time boxing match at Caesars Palace.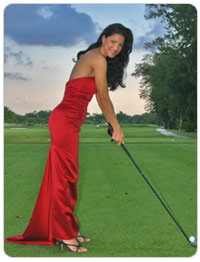 Elisa Gaudet brings a wealth of entertainment and golf experience to Cybergolf. Elisa has spent the past several years in the golf industry in the U.S., Latin America and Spain. She worked for the PGA Tour and the Tour de las Americas before founding Executive Golf International, a golf marketing company that works with clients to develop strategies using golf as the medium. Often referred to as the Maria Bartiromo (a business analyst for CNBC) of golf, Elisa says: "Golf, as a marketing tool, has been around for years. It's amazing how many new ways companies can align their brand with the golf market to reach their target audience. Our goal is to create alliances and establish cross-border relations." Elisa also worked in the entertainment industry for over 10 years, including five in Los Angeles as a model and actress. She can be seen at many celebrity golf events and often gets the inside scoop from PGA Tour players. For more information about Elisa, visit her websites at www.onthelip.com or Executive Golf International www.execgolfintl.com.