On the Lip – Celebrity Golf is About Giving Back
By: Elisa Gaudet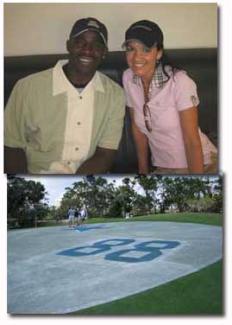 Celebrity golf tournaments are all the rage. Almost every major athlete bitten by the golf bug now has his or her own event. Not a bad bandwagon to jump on – after all, these guys are giving back by getting their buddies together, playing golf for one to three days, and donating any funds raised to local charities.

As with any event done on a large scale, a great deal of preparation is required. As former Dallas Cowboy star, Michael Irvin, pointed out about his recent tournament, "This is a lot of work." Indeed it is for those who stage the event and, without the sponsors and volunteers, it would be impossible. But the effort is worth it as such tournaments are a great way to rub elbows with well-known athletes, test your golf game against that of the best linebacker's, and trade golf jokes . . . all for a good cause.

The camaraderie is noteworthy too. The Cowboys' flamboyant former outside linebacker, Thomas "Hollywood" Henderson, leads his foursome to the tee and drives the ball an easy 250 yards. The next player tees it up but doesn't quite connect – his ball lands significantly behind the drive of Henderson's, who asks, "Did you hear about the new Wal-Mart they're opening? The one between your ball and mine."
Jason Taylor started playing golf in college when teammates took him out to knock it around. Now a 17 handicap, his favorite course is the Floridian, Wayne Huizinga's private club. His dream foursome would be Tiger, Michael Jordan and Jesus. He likes the competitive spirit golf brings out and finds golf very humbling. "Football is easier to master than golf. However, you have to be very athletic to play football and that is not necessarily true in golf," he said at the Irvin event.
"The great thing about golf is that it brings people together and, personally, I get a chance to get together with people I don't usually see often." Taylor hosts an event of his own in Miami. In 2005, the Jason Taylor Foundation contributed more than $200,000 to 27 local agencies dedicated to servicing needy children. From local favorite Dan Marino to the Chicago Bears' Richard Dent, all participated and lent their support at Taylor's dinner, auction and golf tournament.

These guys are certainly dedicated and determined. The same intensity and competition that fueled them for years on the gridiron is now channeled into golf. Team pride still plays a prominent role as seen at Irvin's tournament. He brought Dallas, Texas, to Ft. Lauderdale, Florida, by painting the first green with his Cowboys number and uniform colors. Irvin's charity supports programs for kids at Ft. Lauderdale's Carter Park, the place where Irvin grew up.

Former running back Eric Dickerson has been paying golf for 12 years and is now a 6 handicap. He plays in a few celebrity tournaments, including Irvin's and Michael Jordan's. He said the motivating factor for improving his game came years ago when he first started playing golf and Charles Barkley called him a "hack."

These words haunted him and he swore to Barkley he would beat him on day. Barkley laughed. Two years later, Dickerson fulfilled his promise and, as he said, "beat Barkley to death." Dickerson believes the similarity between football and golf is "total concentration." Concentration on the game and giving back: a winning combination in any playbook.
Elisa Gaudet brings a wealth of entertainment and golf experience to Cybergolf. Elisa has spent the past several years in the golf industry in the U.S., Latin America and Spain. She worked for the PGA Tour and the Tour de las Americas before founding Executive Golf International, a golf marketing company that works with clients to develop strategies using golf as the medium. Often referred to as the Maria Bartiromo (a business analyst for CNBC) of golf, Elisa says: "Golf, as a marketing tool, has been around for years. It's amazing how many new ways companies can align their brand with the golf market to reach their target audience. Our goal is to create alliances and establish cross-border relations." Elisa also worked in the entertainment industry for over 10 years, including five in Los Angeles as a model and actress. She can be seen at many celebrity golf events and often gets the inside scoop from PGA Tour players. For more information about Elisa, visit her websites at www.onthelip.com or Executive Golf International www.execgolfintl.com.