On the Lip - No Horsing Around
By: Elisa Gaudet
There is an amazing synergy between horses and golf and the people involved in both sports. Apart from sharing a few things in common, including terminology, there seems to be a mutual respect that crosses over to the principal players in both fields.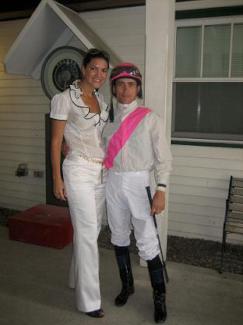 Garrett Gomez, now the No. 1-ranked American thoroughbred jockey, is a 5 handicap. Yes, it's true - the 5' 3'', 114-pound jockey shot an 83 at Saratoga National the day before we spoke. Playing with Jerry Bailey that day, Gomez seems to have exceeded Jerry's golf skills as Bailey plays to a 10. However, Gomez has more to learn in the horse-racing arena to rival Bailey, who has an impressive 5,892 wins. With mounts that have earned him more than $295 million, Bailey is second only to Pat Day in the history books.

Interestingly, jockeys are measured by a leader board similar to those in golf: they are ranked by earnings that directly correlate to victories. In this regard, the Gomez-Bailey relationship might be best compared to Tiger Woods and Jack Nicklaus and Woods' quest to overtake the Golden Bear's 19 career major victories. Bailey, now retired, is one of the greatest jockeys of our era, but Gomez is on the fast track to becoming his sport's best.

Off the track, Gomez's goal is to become a scratch golfer. Proving size doesn't matter, the jockey's tee shots travel 280-290 yards. His golf triple crown: Augusta National, Pine Hurst and Saratoga National.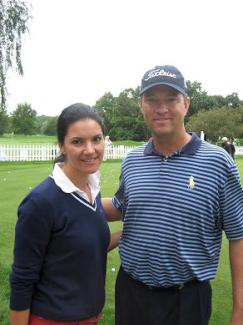 Although Davis Love III is not a polo player, the man who has worn the Ralph Lauren polo horse logo for several years delves deep into the equestrian world, where he is better known as "Lexi's Dad."

Davis and his wife are in the business of buying, selling and breeding horses. What started out as a passion has become a family business; Love's daughter Lexi is a nationally ranked rider in the adult division of Paso Fino horses.

"It is really nice to go to the horse shows and be known as Lexi's father - rather than a professional golfer," said Love. "It continues to be a great bonding experience for us and she has learned she can be really good at something if she works hard at it."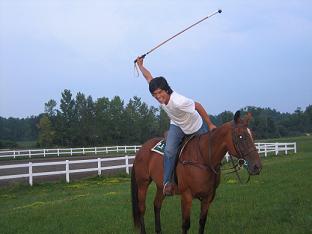 In a country known for polo and its love of horses, Argentina's Angel Cabrera, the 2007 U.S. Open champion, owns a few horses but not for himself. His children enjoy riding, as Cabrera admits he prefers to keep his feet planted firmly on the ground and on the golf course.

Another Argentine, polo player Jose Lezacano, enjoys time on the links when he is not playing polo and finds some similarity between the two sports. Even though polo is an aggressive and fast-moving sport, there is the sense that you must forget you are riding and completely concentrate on making shots to achieve goals. "We also we have a handicap system where players are rated on scale of 1-10 - the higher the better - opposite of golf," said Lezacano. "A player's horsemanship, hitting, quality of horses, team play, game sense and sportsmanship are the factors considered in determining his handicap."
Besides Love, a number of PGA Tour players are involved in the equine world. Joe Durant's wife Tracey shows Palomino horses. Her passion for horses has become a great opportunity for the family to join in a common activity. Joe rode Western-style for five to six years and admits he has a great deal of respect for the discipline needed to succeed in the horse circuit. "It is a different culture and it has been great way for the family to get together and share this experience together," said Durant.
Known as a clothes horse, Ian Poulter is a partial investor in a race horse, "Wot a Shirt Full." The Tour regular is well-known for his flamboyant outfits, which include Union Jack pants and other colorful outfits. Poulter says his partial ownership in race horses came about as "a group of mates asked me to get in on a horse so I did, and it actually did well coming in second last Monday."
The passion for performance and excellence is evident in both golfers and horsemen. The mutual respect and appreciation for each others' universe ties them together.
Elisa Gaudet brings a wealth of entertainment and golf experience to Cybergolf. Elisa has spent the past several years in the golf industry in the U.S., Latin America and Spain. She worked for the PGA Tour and the Tour de las Americas before founding Executive Golf International, a golf marketing company that works with clients to develop strategies using golf as the medium. Often referred to as the Maria Bartiromo (a business analyst for CNBC) of golf, Elisa says: "Golf, as a marketing tool, has been around for years. It's amazing how many new ways companies can align their brand with the golf market to reach their target audience. Our goal is to create alliances and establish cross-border relations." Elisa also worked in the entertainment industry for over 10 years, including five in Los Angeles as a model and actress. She can be seen at many celebrity golf events and often gets the inside scoop from PGA Tour players. For more information about Elisa, visit her websites at www.onthelip.com or Executive Golf International www.execgolfintl.com.