On the Lip – Playing with the Greats
By: Elisa Gaudet
What's it like to be wedged between two of golf's greatest players – Gary Player and Seve Ballesteros. I was hoping for a genie effect and that my next round would be spectacular. Unfortunately, a lower handicap did not rub off. As amazing as these two men are on the course was great they are off it.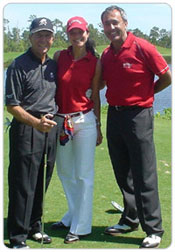 It was a star-studded day at the Eighth Annual Gary Player Invitational, held at the Floridian Golf & Yacht Club in Palm Beach, Fla., Wayne and Marti Huizenga's private golf course. This ultra-private club was built by the Huizengas to entertain friends, and is estimated to have cost over $75 million. The charity event raised more than half a million dollars for the beneficiaries.

The Gary Player Invitational brings together celebrities and businesspeople for a competitive day of golf. It is one of four events Player hosts to raise money for the Gary Player Foundation and Nelson Mandela Children's Fund. The foundation supports underprivileged children's education in South Africa, the U.S. and around the world. Many well-known golfers and golf aficionados participated, including Bernhard Langer, Dr. J, Ivan Lendl, Ahmad Rashad, Patrick Duffy, Shawn Micheel and Seve Ballesteros.

It was interesting to learn that Trajectory, Seve Ballesteros' golf course design firm, has 34 courses either completed or under construction in Spain, Japan, France, Switzerland, Scotland, England, Ireland, Philippines, Portugal and the U.S. Seve's debut in America will be an 18-hole course for the Four Seasons in Orlando. Work is expected to begin at the end of this year.
It was also interesting to hear more European tournaments, including the Seve Ballesteros Trophy. The event was played in 2000 for the first time as a challenge between the British Isles and continental Europe, and with a similar format to that of the Ryder Cup. It was named after Ballesteros, Spain's five-time Grand Slam winner who, as the captain, led Europe to victory in the 1997 Ryder Cup.
In the end, it was evident these two amazing men continue to be champions in many aspects of their lives.
Elisa Gaudet brings a wealth of entertainment and golf experience to Cybergolf. Elisa has spent the past several years in the golf industry in the U.S., Latin America and Spain. She worked for the PGA Tour and the Tour de las Americas before founding Executive Golf International, a golf marketing company that works with clients to develop strategies using golf as the medium. Often referred to as the Maria Bartiromo (a business analyst for CNBC) of golf, Elisa says: "Golf, as a marketing tool, has been around for years. It's amazing how many new ways companies can align their brand with the golf market to reach their target audience. Our goal is to create alliances and establish cross-border relations." Elisa also worked in the entertainment industry for over 10 years, including five in Los Angeles as a model and actress. She can be seen at many celebrity golf events and often gets the inside scoop from PGA Tour players. For more information about Elisa, visit her websites at www.onthelip.com or Executive Golf International www.execgolfintl.com.