On the Lip – Slice Right
By: Elisa Gaudet
In life and golf I always prefer a straight-down-the-middle approach. I was never one to have a strong slice or hook in either area. So, imagine my surprise when I happened to "slice right" twice in three weeks by getting together with Newt Gingrich and Rush Limbaugh.
After spotting Newt, sitting four rows in front of me on a flight from Washington D.C. to Miami, I wondered how I could find out if this former speaker was a golfer. As we disembarked, the opportunity arrived when he stepped into the aisle in front of me. After I asked "Hello Mr. Gingrich, are you a golfer?" we started chatting en route to baggage claim.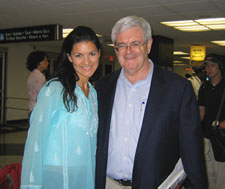 For once I was thankful the distance between the arrival gate and baggage claim was a bit of a hike. It was quickly established that one of the reasons Newt began golfing was because he is a "walker," his exercise of choice over the years. Keeping pace with Gingrich in 3-inch heels was an interesting challenge. Thankfully, years of modeling experience had an unexpected payoff.

"If I had golfed I probably would not have been Speaker of the House. However, had I been a golfer prior I would have been a better Speaker," Gingrich said. When asked to expand on this he expressed the time needed to play golf would have distracted him from his goals. However, had he already been a golfer he realizes that the game forces you to focus, to excel and really think.

Newt does not have a handicap as he recently took up golf after ending his term as Speaker of the House. Walking has been his exercise of choice over the years and, having been invited to speak and attend conferences all around the world – many held at beautiful golf resorts, he would walk the golf courses for exercise. After retiring, he decided to take up the game. He marvels at the beauty of Pebble Beach and Pinehurst and looks forward to playing now that he has more time. His wife is an avid golfer who has played since the age of nine.

Newt Gingrich
Handicap: None
Favorite Course: Princeville in Hawaii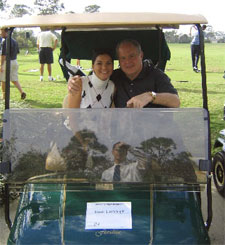 Rush Limbaugh

While attending the Gary Player Invitational I had the opportunity to meet Rush. He was not who I expected, anticipating Limbaugh to be an unapproachable tough guy. Surprisingly, I found a friendly and very likable man who shares with me a similar fondness for fine cigars.

Rush started playing golf in 1997 thanks to friends and Florida weather. His comments on the two former presidents – George Bush and Bill Clinton – playing together in Greg Norman's "Two Friends One Goal" fundraiser: "Great, I read that Clinton gave up his bed for Bush 41 in the Outback during the Tsunami tour."

Limbaugh also said, "Clinton is a different guy since the heart surgery. When you have that type of massive heart surgery you must get a sense of your mortality and you start taking things a little more seriously." Rush describes playing golf with the elder Bush as, "Aerobics golf – he never stops. His goal is to play 18 holes in 2 ˝ hours."
When asked what attracts people to golf, he says: "The game is seductive. It looks so easy, the people who do it well make it look effortless. The ball isn't moving; it is just sitting there begging you to hit it. Then you find out how difficult it is. It gives you a way to instantly measure your improvement and challenge yourself mentally and physically. After 18 holes of golf, you will find out what somebody is made of."
Limbaugh also notes that golf and cigars are a great way to bridge gaps and give people a commonality where there might otherwise be none. "I have met a great number of people I otherwise would not have because of cigars and golf."

Limbaugh said his greatest golf experience was making the cut at the Pebble Beach AT&T two years ago and playing on Sunday, money day, with the pros.

Handicap: 15
Favorite Course: Pebble Beach "the most beautiful plot of land on which sits a golf course"
Dream Foursome: Tiger, Peter Jacobsen and Davis Love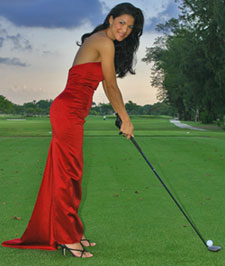 Elisa Gaudet brings a wealth of entertainment and golf experience to Cybergolf. Elisa has spent the past several years in the golf industry in the U.S., Latin America and Spain. She worked for the PGA Tour and the Tour de las Americas before founding Executive Golf International, a golf marketing company that works with clients to develop strategies using golf as the medium. Often referred to as the Maria Bartiromo (a business analyst for CNBC) of golf, Elisa says: "Golf, as a marketing tool, has been around for years. It's amazing how many new ways companies can align their brand with the golf market to reach their target audience. Our goal is to create alliances and establish cross-border relations." Elisa also worked in the entertainment industry for over 10 years, including five in Los Angeles as a model and actress. She can be seen at many celebrity golf events and often gets the inside scoop from PGA Tour players. For more information about Elisa, visit her websites at www.onthelip.com or Executive Golf International www.execgolfintl.com.