On the Lip: Swimming with Sharks
By: Elisa Gaudet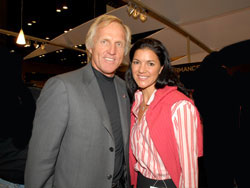 The great white shark is a streamlined swimmer and ferocious predator. Yet this much-feared creature, like all sharks, can only move forward as sharks can't swim backwards.

Perhaps the reporter who nicknamed Greg Norman the "Great White Shark" at the 1981 Masters Tournament was referring to Greg's aggressive game and charismatic demeanor when he dominated the golf world for much of the 1980s and early 1990s. Fast forward to today and the accolades and successes Norman has achieved in his various business ventures are as plentiful as his golf titles.
Sharks are interesting creatures. They must move forward or they die. Like the shark that is constantly moving ahead, Norman is not fearful to head off into uncharted waters.
Norman serves as chairman and CEO of Great White Shark Enterprises, a multinational corporation with divisions in golf course design, residential development (Medallist Developments), turf, event operations, licensing, web publishing, a production company, wine (Greg Norman Estates), and apparel (Greg Norman Collection). Greg recently launched his Signature Series, a line of apparel that combines exceptional styling, ultra-luxurious fabrics and high performance.

Norman is a spectacular multi-tasker. But from the moment you meet him, you sense an intense focus and are given 100 percent of his attention. It is this characteristic, and a professed never-do-anything-halfway tenacity, that has led to his myriad successes.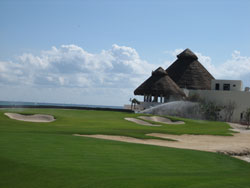 Norman has won 91 professional events around the world, including 20 PGA Tour titles and 71 international victories. He was the world's No. 1-ranked player for 331 weeks, a remarkable achievement. The two-time British Open champion (1986 at Turnberry and 1993 at Royal St. George) and five-time Australian Open champion was inducted into the World Golf Hall of Fame in 2001.

There are many other firsts for Norman. He was the first person in PGA Tour history to surpass the $10-million career earnings mark. Now, the Tour will conduct the first-ever official-money event in Mexico on a Greg Norman-designed golf course. The Mayakoba Classic will be held on the Riviera Maya, south of Cancun, the week of February 19-25, 2007, and will offer a purse of $3.5 million. The tournament will be contested on the 7,067-yard El Camaleon course, which is managed by Fairmont Hotels and Resorts.

"Mayakoba is truly a special place, and I am thrilled that it will be showcased to the world with the first-ever PGA Tour event in Mexico" said Norman. "I am also very excited to be starting our next Mexican course in Litibu."
Located above Puerta Vallarta on Mexico's Pacific Coast, Litibu will take advantage of the stunningly diverse landscape of the country's western coastline. Established in 1987, Greg Norman Golf Course Design is now one of the leading golf course architecture firms in the world, with 55 courses open for play across five continents and 13 countries (25 in the U.S.). Another 30 projects are in various stages of development.

When Norman was elected to the World Golf Hall of Fame, he said, "We never really reach the top of the mountain we want to reach. But at the end of the day, that's why dreams are a blueprint of reality. My dream is to be the best I can possibly be in the game of golf."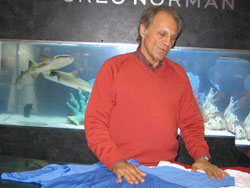 Norman has not only succeeded at being the best in golf, but also in business. His multifaceted successes will remain long after he is gone. But before that day comes, only the future will tell where the Shark will go next. He has not reached the top of the mountain, and there is still a great deal of wide open sea to explore. One thing we can count on from the "Great White Shark" is he will continue to move upward and forward.

For more information regarding Greg Norman Golf Course Design, contact elisa@execgolfintl.com.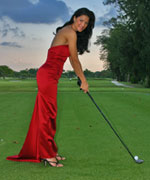 Elisa Gaudet brings a wealth of entertainment and golf experience to Cybergolf. Elisa has spent the past several years in the golf industry in the U.S., Latin America and Spain. She worked for the PGA Tour and the Tour de las Americas before founding Executive Golf International, a golf marketing company that works with clients to develop strategies using golf as the medium. Often referred to as the Maria Bartiromo (a business analyst for CNBC) of golf, Elisa says: "Golf, as a marketing tool, has been around for years. It's amazing how many new ways companies can align their brand with the golf market to reach their target audience. Our goal is to create alliances and establish cross-border relations." Elisa also worked in the entertainment industry for over 10 years, including five in Los Angeles as a model and actress. She can be seen at many celebrity golf events and often gets the inside scoop from PGA Tour players. For more information about Elisa, visit her websites at www.onthelip.com or Executive Golf International www.execgolfintl.com.